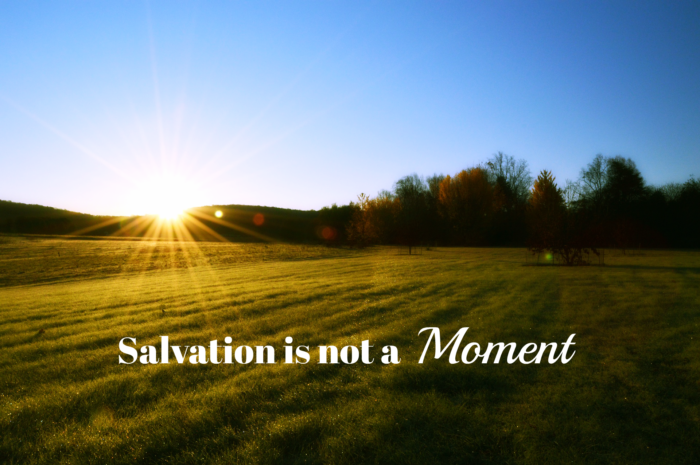 Does one prayer give us fire insurance from hell for the rest of our lives? Does it secure our place in heaven forever? Well, it might. But it might not.
You see, salvation is not a moment. And since we can't know someone's heart when they say that prayer it takes time to figure out if they truly were serious.
We learned this many years ago when one of our young employees was really struggling in life. My husband talked with him about the Lord and connected him with our pastor. He "got saved" and things seemed to change. We saw him around church for the next few months. And then, gradually, he stopped coming. A year or two went by and he ended up cheating our company by using our machines to do his own work on the side while he was supposed to be working for us. That was the end of his employment with our company and the last thing we ever heard about him was that he died in a motorcycle accident, leaving a wife and two young children.
Do I know he wasn't genuinely saved? No, I can't possibly know that. We lost touch and he could have changed. And, honestly, we can't possibly declare if anyone is or isn't saved. Only God knows the heart.
But what we can see are the repenting person's transformation, or lack thereof. This young man, in desperation, called out to the Lord. But when things started to get better, the things of the Lord grew uninteresting and unnecessary.
It reminds me of the parable of the sower in Matthew 13:1-9–
That same day Jesus went out of the house and sat by the lake. 2 Such large crowds gathered around him that he got into a boat and sat in it, while all the people stood on the shore. 3 Then he told them many things in parables, saying: "A farmer went out to sow his seed. 4 As he was scattering the seed, some fell along the path, and the birds came and ate it up. 5 Some fell on rocky places, where it did not have much soil. It sprang up quickly, because the soil was shallow. 6 But when the sun came up, the plants were scorched, and they withered because they had no root. 7 Other seed fell among thorns, which grew up and choked the plants. 8 Still other seed fell on good soil, where it produced a crop—a hundred, sixty or thirty times what was sown. 9 Whoever has ears, let them hear."
I believe this passage teaches that there is only one type of prayer that leads to genuine salvation and that is the prayer that comes from the good soil of a repentant and humble heart and then produces a crop of spiritual fruit. Just because someone says a prayer doesn't necessarily mean they are saved. We honestly can't find it anywhere in the Bible. While Jesus tells us that to be saved we just need to believe in Him (John 3:16), we also know that true belief gives us a hatred for wickedness and evil by reading verses 19-21 of that same chapter–
And this is the judgment: the light has come into the world, and people loved the darkness rather than the light because their works were evil. 20 For everyone who does wicked things hates the light and does not come to the light, lest his works should be exposed. 21 But whoever does what is true comes to the light, so that it may be clearly seen that his works have been carried out in God."
So you see it is impossible to claim Christ as your Savior if you don't love the light. While believers are not perfect and never will be on this side of eternity, we do love the light. We do desire to walk like and be like our Savior. We hate sin and yearn for righteousness.
If there isn't even a smidgen of these new desires in someone you love who claims they are a Christian because they said a prayer, you have cause for concern. Pray for them. And talk with them as God gives opportunities (but never, ever saying they aren't saved, because we can't possibly know, but, instead, taking them to the scriptures and showing them what the Word says about genuine salvation).
I get why we like to think salvation is a moment. It is a comfort to us, isn't it? It assures us that we will spend eternity together with those we love. But the Bible clearly shows us that this is a false belief. Oh, how I wish it wasn't so, but it's there. All through the scriptures. Not just at one, vague place but all through them. True salvation yields change.
Therefore, if anyone is in Christ, he is a new creation.[b] The old has passed away; behold, the new has come. (2 Corinthians 5:17)
So what does this mean for those of us that are genuinely saved? It should give us a more passionate prayer life and compel us to speak the truth in love and grace. For what could possibly be sadder than believing that a sentence you prayed as a kid saved you for eternity and then finding out too late that you have believed a horrible lie?
It is better to speak the truth that hurts and then heals, than falsehood that comforts and then kills. (Adrian Rogers)

Yes! a thousand times, yes! May we be kind. And may we be filled with God's love. But may we speak the truth that heals rather than comfort people with lies that lead to their eternal damnation.
Salvation is not a moment.