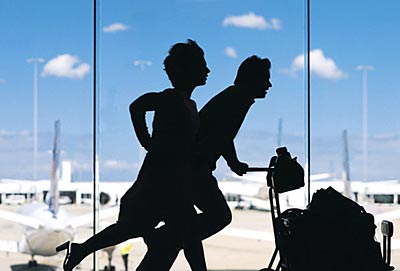 All families have stories that crop up around the holiday table or family campfire once in awhile. One of ours is about the time when I flew with my 6 year old and my parents to California to see my brother. We were loaded down with luggage and my dad, being the only man, carried the bulk of it. This was before there was luggage with wheels. Imagine it, if you will–two women, a little girl, and a Grandpa loaded down with luggage. I am sure we were a rather funny sight to behold as we walked to the ticket counter.
It was my first visit to California and we all had a great time seeing the sights and enjoying family time together. A week or so later we headed to LAX for our return flight. Upon arriving, we found out that our flight home was quite delayed. This was a concern because we had a connecting flight in Cincinnati without a whole lot of time to catch it. Of course, it was completely outside our control so we settled in to wait.
When we finally landed in Cincinnati a few hours later we were dismayed to see our connecting flight taking off in front of our eyes. My heart sank. I had left my husband and babies at home and was quite anxious to see them. I was not thrilled about spending the night somewhere other than my own bed. We trudged to the closest agent to find out our options. To our delighted surprise, we were told that we could catch another flight home today! But it came with a condition — we would only be able to take it if we could get to the gate on time. It was across the airport and it was leaving shortly.
Oh, my. Now we really looked ridiculous, I'm sure. My dad took off running, my daughter keeping up with him. My mom and I did our best, but we are not runners. On each of our shoulders were big carry-ons and bags because – remember– luggage with wheels either didn't exist or was too expensive to own at this point. I wouldn't really classify myself (or my mom) as athletic, so  I am guessing–although I didn't personally witness it– that we were the butt of a few jokes after that run through the airport.
The good news is that we made it to our connecting flight. The bad news is that my mom and I have never lived down that run through the airport, because my dad and my daughter are sure to remind us how silly we looked as we made that run. We aren't offended because we know it was true. We still just laugh when we think about that unexpected–and quite stressful– moment.
But, you know…
That run would have been totally different if we had prepared for it by running or at least exercising on a regular basis. It would have been totally different if we wouldn't have had to carry any bags on our shoulders. These two things slowed our journey across the airport considerably.
Yeah, you know where I am headed with this by now, I'm sure.
Why are we so out of shape spiritually? And why do we insist on carrying so much baggage with us on our spiritual journey?
We say that we want to live fulfilled lives that please our Savior and yet we are never in the Word, we have no idea what it says, and many of us attend churches where the preacher never even opens the Bible. We rely on shallow feelings and emotions to take us to some kind of "deeper" walk with God, and yet never search the scriptures for the Truth. We have thrown out doctrine and absolute truth and then we wonder why we are never satisfied spiritually. We are never fulfilled because we have been hoodwinked by false teachers. Oh, be so wary of what you believe. It will slow you down considerably. Only by faithful studying of the Word will we be prepared for our spiritual journey through life.
And then, along with not studying God's Word, we insist on carrying heavy loads with us. It's like we have backpacks full of rocks– each with a different label. One rock says Terrible Parents. Another may say Wayward Child. Or Deadbeat Husband. Or Complaining Wife. They may say Sexual Abuse or Rejection or Betrayal. Many of us carry rocks that say Unforgiveness, Anger, and Bitterness. We hang on to these rocks and let them weigh us down. Some of us are so weighed down by our past — and even our present circumstances– that we can't ever seem to make any headway in our spiritual journey at all. But this is never what the Lord intended for us. In fact, the Bible says just the opposite–
Psalm 55:22 Cast your burden on the Lord, And He shall sustain you; He shall never permit the righteous to be moved.
Matthew 11:28-29 Come to Me, all you who labor and are heavy laden, and I will give you rest. Take My yoke upon you and learn from Me, for I am gentle and lowly in heart, and you will find rest for your souls.
We are to cast our burdens on the Lord.
But here's the thing. Removing these rocks and baggage are decisions we have to make very deliberately. It will never  just happen. It takes some serious effort. And, really, it never ends. I know that for me, personally, I have to give some of my heaviest burdens to the Lord every single day. Thankfully, as we get into the practice of doing this, the burdens do feel lighter. Which is exactly what God promised.
And, thankfully, removing those rocks is a lot easier if we are exercising. Because when we are in the Word and learning about who God is and what He promises for those who love Him, we are better able to hand our burdens to the Lord. We learn to trust Him in a much deeper way and rely on His Word. We submit to His Sovereignty because we know, without a shadow of a doubt, that He loves us and will work all things together for good for those who love Him (Romans 8:28).
But by not being in the Word and carrying the heavy rocks of burden, we slow our pace down and then wonder why we never grow.
Think about removing some of those rocks today. And start by digging into God's Word. Go. Do it now. It's so much more important than this blog or the news or Facebook. Seriously. You don't need a devotional or a special book. Just go get your Bible and start reading through one of the Gospels.
And I hope you will think about joining me for our Chronological reading through the Bible this coming year, starting January 1. We can hold each other accountable as we grow stronger in our faith together!
Have a great Monday!
Would you consider sharing this post if it has encouraged you? Thank you.