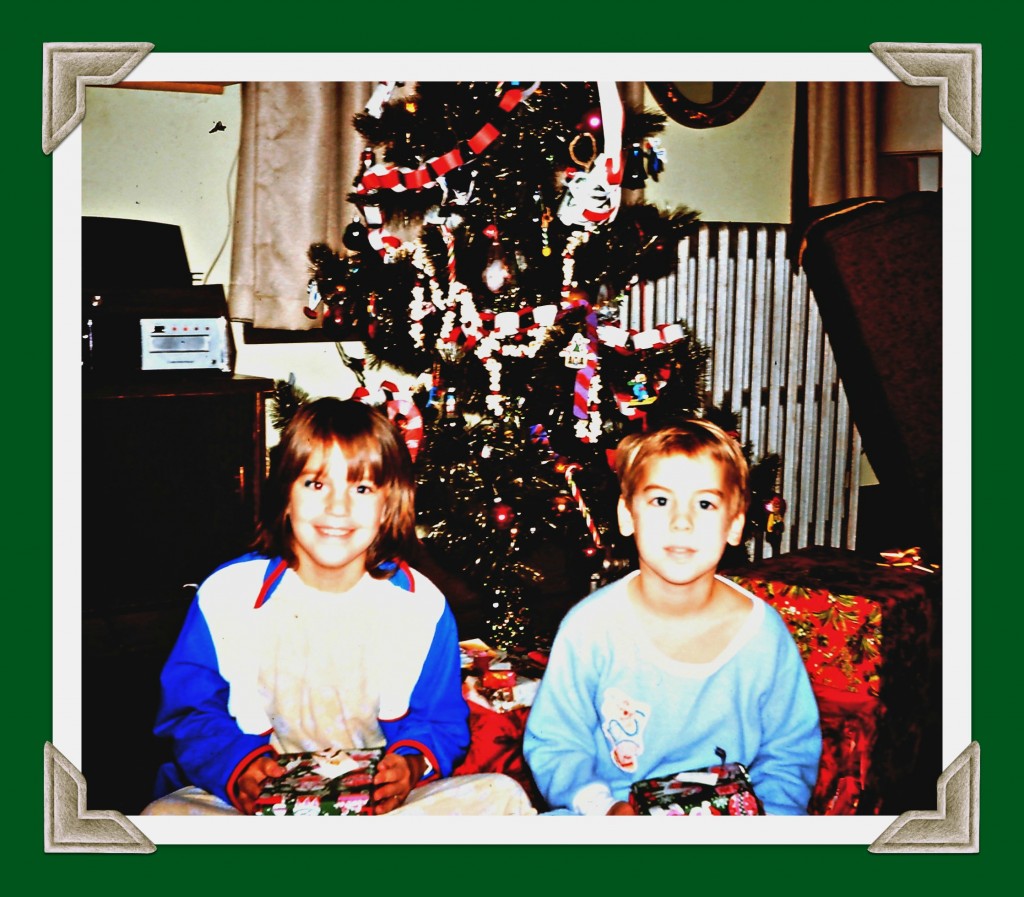 Christmas is such a blessed time, especially if we truly understand the reason for the season. But, inevitably, as we grow older this time of year also comes with a bit of sad nostalgia as we remember favorite childhood memories and loved ones no longer with us.
Sometimes I am so caught up in the busyness of the season, I don't really take the time to reflect on past Christmases, but this season has purposefully been a little slower paced and so I found my mind going back–
One of my favorite Christmas memories was making homemade Christmas ornaments with my mom and brother. Sometimes my grandmother, aunt, and cousins would join us. Sometimes we would make them on Thanksgiving Day. We would play Christmas music and cut and paint and glue and glitter. We would watch colorful plastic shrink in the oven until it became a quarter of its original size (anyone else remember the wonder of shrinky-dinks?) I especially remember the felt ornaments we tried one year. There was the Christmas tree with the rick-rack garland and the ornament shape with glued sequins and ribbon decorating it. I am pretty sure my mom still hangs some of these handmade ornaments each year on her tree.
I remember coloring with my brother. Every year we would buy the same matching Christmas coloring books. Its pages held a story about a girl and a boy and Santa. We would lay on the floor on the brightly-colored blue, red, green, and gold afghan my grandmother had crocheted, listening to Alvin and the Chipmunks while we colored in our coloring books with a brand new box of Crayola crayons. I always colored the girl's hair a golden yellow.
I also remember my very favorite song called Christmas Chopsticks sang by Bobby Vinton on my very favorite Christmas album called a Very Merry Christmas. I think it was an album put out by a hardware store. Remember those? I used to play that record over and over again. Jim Nabors (i.e. Gomer Pyle) sang a song on the album in a deep bass voice. It was nothing like his Gomer Pyle voice at all.
And one of my fondest memories is spinning around in circles to Christmas music. My brother and I would try to stay on the blanket (yes, the same brightly colored afghan) and twirl and twirl until we got dizzy and we fell down. If any part of our bodies left the blanket we would be the loser. It was a made up game we loved. We did that every Christmas for years.
I remember my dad taking forever to get ready on Christmas morning. We kids would sit there in anxious anticipation, lining up our presents in the order we would want to open them. And then re-lining them up again. We would shake them and stare at them, trying to guess what was in each brightly colored package. And then we would re-line them again. After what seemed like an eternity, my dad would slowly walk down the steps, smiling. It was just part of our family's tradition and we loved it!
And I remember my uncle Dave, pretending to be Santa and the excitement and expectation of him walking through the door– even though I knew he wasn't really Santa. I remember family gathering, and laughing, and playing games, enjoying one another's company. I remember mounds and mounds of yummy Pennsylvania Dutch food. We were not a gourmet family by any sense of the word and the foods that were prepared would make any healthy eater shudder, but I still, to this day, enjoy a good carbohydrate-laden holiday meal.
You know what I don't remember?
I don't remember any of my gifts. Oh, wait–I take that back. There was one Christmas that I wanted my own phone "real bad". Back then, of course, that meant running wires and putting in another line. My mom thought it would be funny to put a play phone in a box and wrap it up. I still vividly remember opening that blue play phone with its rotary dial. I actually didn't think it was that funny.
But I don't remember many other gifts. It wasn't that I didn't get gifts. My mom loves Christmas and we were never disappointed (except for that phone incident!) But now I can see that the gifts weren't really what was important about Christmas.
For Christmas is most importantly about Jesus coming to earth as a babe to save the lost. It's about God sending His Son into this fallen, sinful world to grow up to be a man and then die on a cross for sinners. It's about that Son rising again with victory over sin and death. Christmas is a big part of the plan of salvation, that is available to all people, through God's grace and mercy.
But Christmastime is also about family coming together, forgetting for a brief time the cares and problems that keep us apart. Christmas is about spending time together, making memories and loving one another. I didn't have a perfect family. My mom's family was not perfect and neither was my dad's. There were serious issues going on in my extended families, unbeknownst to me at the time. But I am so thankful for family members who could enjoy one another's company for a few hours each holiday season to make beautiful memories for the child that was me. What a blessing.
As we look at our Christmas gift list for the tenth time this year, stressing over all we still have to buy, let us remember that Christmas isn't really about the gifts under the tree, after all.
Let's try to bring joy and hope to our family gatherings this year. Let's not discuss topics that will start arguments. Let's ignore the sharp tongue of that critical family member. Let's overlook the faults of another for this short time. Let's act and react with grace and kindness. Let's give our families the gift of peace.
Let's plan some fun activities — making ornaments, completing a Christmas puzzle, reading a Christmas story, watching A Christmas Carol, picking out a tree– anything that will make great memories and strengthen our family relationships. Let's give our families the gift of happy memories.
And let's focus on what matters. Let's be sure our children know why we celebrate Christmas. Let's keep Christ at the center of it all. Let's strive to please our Lord and Savior all through the year. Let's give our families the gift of a life lived for Jesus.