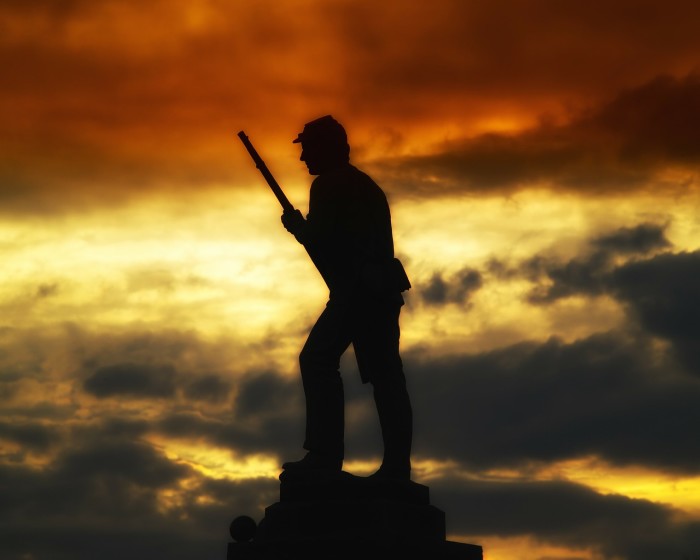 The young man stood waiting with the other soldiers. He lifted his elbow to wipe the sweat that clung to his brow. He was scared but he was ready. He felt the weight of the gun hanging over his shoulder and trembled, realizing that he might not walk away from this battle alive. Around him, a few fellow soldiers were laughing nervously. Some, like him, were standing in silence, thinking about life and death, wondering what this day would hold.
Suddenly, it was time. The small band of soldiers was told to stand at attention by the great Commander and they prepared to fight hand-to-hand combat. The young man stood in the first row, proud to fight for this great man. When the call came to move, he marched forward with boldness and great courage.
A few moments later, the enemy army approached from over the horizon. The young man surveyed the company. It was massive–much larger than their small band– and looked to be well-equipped. An all-encompassing fear filled him as he continued to march forward.
Suddenly, he heard a great commotion behind him. He turned his head slightly and saw many of his comrades slinking away from the battle, disappearing into the dense forest that lay to the right of the marching soldiers.
What had been a small band to begin with now became almost pathetic in its size.
As the enemy army drew closer, the young man could see that it was comprised of strong, burly men with fire in their eyes. This caused more of his brigade to disappear until only the great Commander and a few courageous stragglers were left to fight the important battle.
It was at that moment, that the young man remembered something the other men must have forgotten–
The victory was theirs, already promised, without fail, by the great Commander.
And so he continued to march forward with confidence, even when his fellow soldiers disappeared one by one, in the face of such a formidable enemy.
My dad gave this analogy to my daughter a few weeks ago. She had felt discouraged about having to stand for what's right in a certain situation. She had to stand totally alone, even though she was surrounded by other believers. Both her faith and mine were strengthened by this analogy.
You see, I think, so often, we are like Gideon–
Lord, the enemy coming towards me is too big! It's far too terrifying and fearsome. I can't do this, Lord, even with your help. Are you quite certain that You know what You are doing?
And God says–
The battle is mine. Victory belongs to me. (Proverbs 21:31) There is no salvation apart from me (Psalm 60:11-12). I have already delivered the enemy into your hand (Judges 7:9).
Ah, what a frightened and cowardly people we often are, we soldiers of the Lord, disappearing from the battle and sometimes even joining the enemy in our efforts to keep ourselves comfortable and far away from conflict–
We know that what our small group is discussing is not biblical.
But we stay silent.
Our team or workforce or classmates carouse and party.
And we join in, afraid to stand apart.
Our friends or family use bad language, or play ungodly music, or watch evil movies.
And we just go along with it, without a word.
These reactions make us useless for The Kingdom of God, rendering us completely ineffective in furthering the cause of Christ. We are, in a sense, standing in the woods, hiding from the battle.
But there is no peace of mind or joy when we cower in fear instead of bravely standing as a representative of our Great Commander.
Our courage isn't based on our own bravado or some naive notion that we are invincible in our own glory. Instead, it is based on the claims of victory that are given to us in the Bible–God's very own words assuring us that we are on the winning side. While we may lose some battles to the enemy, the victory will not only be God's, but we cannot be harmed. We are, in essence, untouchable when we become a soldier for Christ. Oh, yes, the enemy can touch our physical bodies and make life pretty miserable here on earth for us. But only if it is allowed by our Great Commander. And the enemy cannot touch our souls, for they are saved forever from the chains and bonds of the enemy. He can never recapture our souls.
Where do you find yourself today? Are you on the battlefield, bravely fighting? Or have you slid into the forest, far away from the action? When I ponder these questions, a passage from I Peter 4 comes to mind–
Beloved, do not think it strange concerning the fiery trial which is to try you, as though some strange thing happened to you; 13 but rejoice to the extent that you partake of Christ's sufferings, that when His glory is revealed, you may also be glad with exceeding joy. 14 If you are reproached for the name of Christ, blessed are you, for the Spirit of glory and of God rests upon you.[d] On their part He is blasphemed, but on your part He is glorified. 15 But let none of you suffer as a murderer, a thief, an evildoer, or as a busybody in other people's matters. 16 Yet if anyone suffers as a Christian, let him not be ashamed, but let him glorify God in this matter.[e]
We are blessed if we suffer for the sake of Christ. May this embolden us to fight the battle. May this fact keep us from slinking into the woods and retreating.
"No Retreat" must be our motto if we are to be effective soldiers of the Cross!