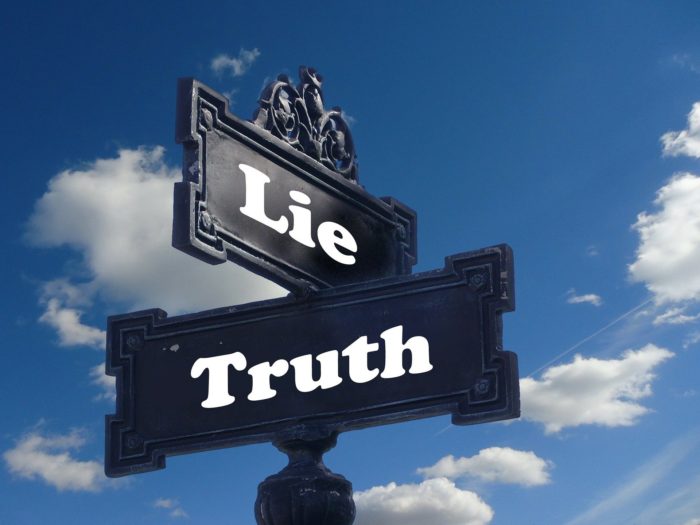 Lies are told all the time and everywhere. Children to their parents. Employees to their bosses. Citizens to their tax collectors. Reporters to their readers. Politicians to their hearers.
Lying seems to be very normal and rather frequent in this world. And we should expect this, given that Satan is the father of lies (John 8:44).
But I never really thought too much before about how our lives may be affected if we choose to love the lie we are being told. And then I read this verse yesterday in Revelation 22 (v 15) about who won't be in heaven–
But outside are dogs and sorcerers and sexually immoral and murderers and idolaters, and whoever loves and practices a lie.
Now, we know that these people aren't in heaven because they have never repented of their sin. Jesus's blood covers all of the sins listed above, so that there will be former murderers, sexually immoral, and all other kinds of wicked sinners walking those streets of gold with us. And, in fact, may we remember that we, too, were part of that group listed above.
But that last phrase caught my eye: Whoever loves a lie.
I am amazed at how Satan inspires vain and humanistic philosophies as well as twists and perverts scripture to confuse and lead people astray when it comes to their eternal destiny. For this is the lie that really matters, is it not? The Gospel, if not presented as the Bible teaches, can be twisted beyond recognition. And it often is.
Think with me, if you will, about some of the more common lies the world believes about salvation and how to get to heaven–
—I believe I just need to be a good person and/or follow a certain set of rules. (Buddhism, Islam, Hinduism, and just about anyone you meet anywhere in the world.)
—I believe that Jesus and my good works/following a certain set of rules will save me. (Catholicism, Mormonism, Jehovah's Witnesses, Legalism)
—I believe that a prayer I said at camp when I was a kid is enough to guarantee my salvation and I can then go on to live my life however I want, fulfilling my own dreams and pursuing what I want. I'm not convicted of sin, because I know God will forgive me for my sleeping with my girlfriend or cheating on my taxes. (Mainstream Christianity).
—I believe that God exists to please and bless me. (Prosperity Gospel).
—I believe Jesus died for everyone and all people are going to heaven. (Universalism)
These are lies that most of the world believes in one form or another. Satan is extremely deceptive and so he offers a smorgasbord of options–some that are far off from the real Gospel and some that are just a teeny tiny bit off from it. He doesn't care which lie people believe, as long as they believe, love, and practice the lie.
The very sobering fact is that loving a lie about how we get to heaven is damning.
But let's take it a step further, shall we? Loving a lie is always harmful, even if that lie is about our child or spouse or anyone else. When we refuse to face the truth, that lie has the potential of doing great damage.
God hates lies. I wonder if this is because He knows how much damage it causes in the lives of us humans.
This is why it is incredibly important that, instead of loving lies (at worst) or being careless and apathetic (at best), we passionately search for truth. There is no more important way to do this than through knowing and studying God's Word. This must be our grid through which we run every single story, personal experience, philosophy, or religious demand we are ever told. We run every blog post, book, sermon, news article, TV show, and every single conversation we have with family, friends, co-workers, and even mentors and church leaders, through this grid.
You see, because the Bible is the inerrant (meaning without error), absolute true Word of God, this is the only protection we have from any lie but, most importantly, it's the only protection we have from the eternally damning lie of a false Gospel.
So don't love a lie! Know the Word so that you can compare anything you hear to it. Know the Word so that the lies show themselves to be what they really are. And then pray. Pray that God will reveal the truth to you through his Holy Spirit.
As believers, we desire to LOVE the TRUTH. We desire to love the truth of God's Word more than we love our families, our friends, our churches, our jobs, our homes. As we grow in our understanding and comprehension of the awesomeness of God and His Word, we will grow in this love for truth.
If you don't have it yet, don't despair. Dig into the Word without preconceived notions and, as you do this, you will love it more and more deeply. You will find yourself recognizing the lies and being less and less willing to compromise on biblical issues. You will find the lies less and less appealing and your love for truth deepening as you grow in your knowledge of the Word.
So let's not be like the rest of the world or even the mainstream church.
Instead, may we love the truth and hate the lies!