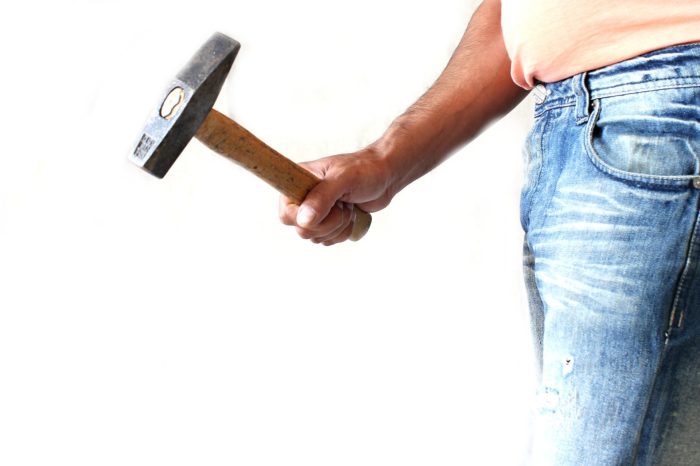 I felt crushed. I was only trying to help. But I had just made things worse. Have you ever done that?
Most of us find ourselves one of two personalities–there are those of us who like to fix problems. And there are those of us who like to ignore them. There are those of us not afraid of confrontation if it will make things better and there are those of us who would rather have our arm broken than deal with any kind of confrontation.
I have always been a fixer. I don't like confrontation, but I am willing to endure it if it makes things better. This has gotten me into trouble on multiple occasions. I think a little conversation and airing out will help, just to find out that it has actually made it worse. Some people don't want to fix things. It takes a very wise person to discern when to speak.
Thankfully, by this point in my life, I have learned a lot and am much more cautious about when and when not to say something. I am certainly not perfect, but I felt pretty good about this…
Until I became a parent to adult kids.
My method became: I would notice something, so I would mention it. Just for the record this is a bad idea. I am learning, ever so slowly (as my kids will attest) to keep my mouth shut unless I am asked for advice.
I like to give advice. And, more importantly, I like to keep my precious kids from learning hard lessons. My intentions are good. They really are. But this is not what my adult kids want nor is it what they need.
As I have been reading through the Gospels this year, I have realized that I am quite a bit like Peter. Always talking. Always trying to fix things.
When the Lord was going to wash Peter's feet, remember how Peter exclaimed "You shall never wash my feet!" (John 13:8) or how about the time that Peter rebuked Jesus for saying He was going to be killed? (Matthew 16:22). And, of course, we all know the time that Peter declared that he would never deny Jesus (Matthew 26:35), only to deny Him three times later on in the same chapter.
I love that Peter is in the Bible as one of the Lord's disciples. It shows me that the Lord can use those who speak too quickly. Those who are always trying to fix things. Those who are impulsive.
Going back to my kids, I have recognized that they need me to be a support and encouragement. They need me to speak kind words as they embark on their own lives. Unless I see something that is a biblical issue or has the potential of really hurting them, I need to keep my mouth shut. Of course, the opposite of this is to never speak at all to adult kids about anything. This isn't good, either. Serious issues that could and should have been addressed lovingly by parents are often avoided and this ends up causing so much heartache, too. It is so much about balance.
This is a new and wild world I find myself in. It started when they were teens. Knowing when to speak. Knowing when not to. Always praying. Always praying.
Somehow my parents had this balance. I am trying very hard to follow their example. They were so encouraging. When we went to them for advice, they were not judgemental or critical. And, yet, there were a handful of times that they approached us about something of a concern. Because of the relationship we had with them, we soberly considered what they were saying. We were thankful they had shared with us. Through it all, they were praying for us and for the kids. We always knew this. It was like a safety net of support that we knew was there.
I hope to be the same for my kids. I hope that you are (or will be) the same for your adult kids. Our children need our love and support. They need us to pray for them (and for their kids when they come along). They need us to pray for things of eternal value–for them to love God with all of their heart, soul, mind, and strength; that they will hunger for the Word; and that they will love righteousness and hate evil. We need to be willing to speak, but only with great discernment and very rarely. Instead, we should use our words to build them up.
I hope I can do this as well as my parents did. I really do. I am blessed to have had such a good example. I know that many of you do not. I am not there yet, but at least I know where I want to be and that is always the first step, is it not?
While I know some of you are parenting adult kids, many of you are not. You probably wonder what to even take from this post (if you are even still reading). I hope that what you will take is that it takes great wisdom to know when and when not to speak. And it takes courage to speak when we should. How we respond will affect us as parents, as children, as siblings, as co-workers, and as church leaders. Whether we are a fixer or an ignorer, let's endeavor to grow in this area.