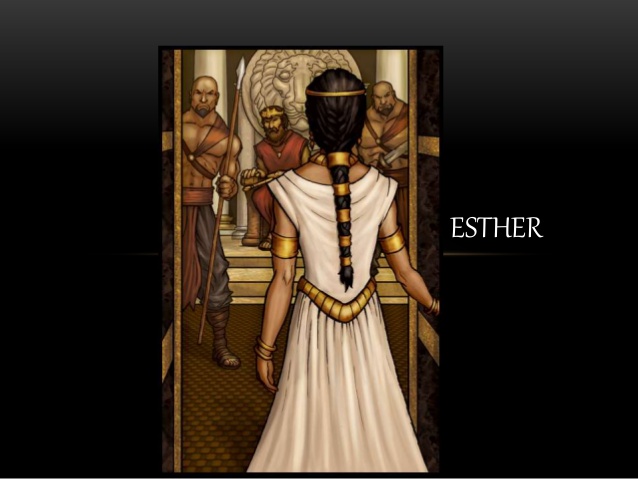 After reading the prophets, I have to admit that I breathed a big sigh of relief to get to Esther. I have loved this story since I was a child. With this time through, I found it very helpful to see where it fits in chronologically. I did not realize that this story takes place while the Jews are still exiled in Babylon. I guess I just never really thought about the details of the story before.
As I was reading this time around, I was amazed at the practical lessons that we can take away from what appears on the surface to be just another story of God's miraculous work in saving the lives of the Jews–
1.   Sometimes God uses beautiful and powerful people. We tend to place a lot of emphasis on the fact that God uses the weak and the broken. We sit in our mundane lives filled with financial pressures and family struggles and we enviously watch the lifestyles of the rich and famous, clinging to 2 Corinthians 12:9 and comforting ourselves with the promise that God uses normal people like us to accomplish His will. And He sure does. But Esther shows us that, sometimes, God uses beautiful people like Esther to accomplish His will, too. She, of all of the young women chosen to present to the king, is the one he prefers. God raised her to a place of great power and position and, through this providential placement, saved the Jews. God can use anyone. There are no limitations.
2.  You are where you are for such a time as this. When Mordecai presents the terrible plot to kill the Jews to Esther, he asks her to go to the king. She hesitates, knowing that he could command her execution on the spot (aren't you glad you don't live in that kind of world??). Mordecai then reminds her that just because she is in the King's palace doesn't mean she will escape death. And then he gives Esther a final and compelling reason: "And who knows whether you have not come to the kingdom for such a time as this?"
Since we know the end of the story, we know that she was put in the kingdom for just that reason. Just as we all are exactly where God wants us to be. We were born at the specific time and place God planned for us. There are no accidents with God. He knew that you and I would be in this world right now–a world that is pushing globalism and one-world everything. A world that is heating up in the Middle East. A world that is dark and lost and needs Jesus Christ–the real Jesus Christ of the Bible– not the fake, feel-good version so many claim to follow. What are you doing for God? What is the eternal reason you are where you are right now?
3.  Keeping ourselves as our top priority hinders our work for the Lord. After Mordecai presents his argument as to why Esther needs to go to the king and beg for the lives of her fellow Jews, she agrees. She asks him and all of the Jews in Susa to fast for her and then says she will fast, as well, in preparation for the fearful duty of speaking to the king. She concludes with this statement: If I perish, I perish.
Esther was willing to put her own safety and well-being aside in her efforts to save the Jews. How convicting is this for us? We don't even want to give up our comfort and convenience to do good. We don't go to church for reasons like soccer games or needing more sleep. We don't visit our elderly neighbors or grandparents because it makes us uncomfortable or we find it boring. We don't speak up when God's name is cursed because we are fearful for our reputations. Why is this? Because we are our top priority. Our comfort, our convenience, our desires, our success, our health, our pride– these are the things that often keep us from doing the right thing. Saying no to self and submitting to God's will is a constant battle but one we can never stop fighting. Esther sets a great example for us.
4. Planning is best. Some of us — we know who we are– are the ones in this world who speak before we think. Instead of thinking and planning, we emphatically present our half-baked ideas in our efforts to fix things. Esther shows us a better way. Instead of going to the king and stating her case with tears and anger, she asks him to come to a banquet, along with Haman; carefully planning her presentation to the king. I have to be honest, reading that this time around, convicted me. She was so deliberate and so tactful in how she went about it. That does not tend to be how I present things. I want to be more like her when I have an urgent situation that needs to be remedied, don't you?
5. When you live a life of sin, your whole family pays. Haman was a wicked man. His pride and desire for power cost him not only his life, but the lives of his ten sons. I wonder if sometimes we forget about the cost that is involved for our kids when we practice sin? When we can't make our marriages work, it isn't just us who pay. When we cheat or lie or steal, our kids are watching. Our pride, our complaining spirits, our grudges–all of these hurt those around us. Sin is not a solitary exercise, is it? Instead it encompasses everyone in our circle of influence, raining down consequences on those we love.
6. God can turn what looks to us like inescapable tragedy into triumph. Instead of the Jews' enemies being able to eradicate them, the tables were miraculously turned and the Jews were able to rid themselves of many of their enemies through the king's edict. Verse 1 of chapter nine says that "the Jews gained mastery over those who hated them." Think about how dreadful things looked for them only a few days before– there was much weeping and mourning about their certain doom. And yet, only a short time later, there they were– the victors! Of course, it doesn't always happen this way, but we certainly do need to remember that anything is possible with God! The same God that saved the Jews in the book of Esther is the God we serve today. He has not changed. What a comforting thought!
And so concludes my lessons in Esther. I am sure there are more lessons there to be learned in this short book. Do you have any to share?
Today is October 1– and that means that we are now in the month that we start the New Testament! If you are still with me in the Bible Challenge, we can now say that we have made it almost 3/4 of the way through! Let's keep going. Only a few months to go :)