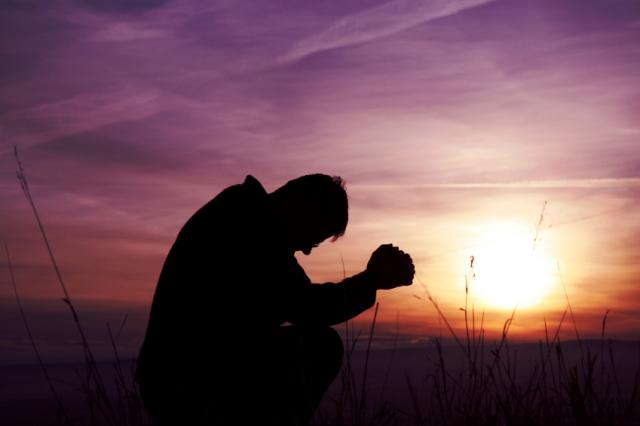 I saw the movie War Room on Friday night. While I sat watching the big screen in front of me, I found myself contemplating my own prayer life and the great need for growth in that area of my walk with God. While there are a few things in the movie to concern the biblically discerning viewer (I've listed them at the end of this post), I think it does remind people of a very important principle of the Christian life that we often forget:
We need to fight on our knees.
Oh, how often we get caught up in our daily lives, barely squeezing in a chapter or two of the Word and a few sentences of prayer each day. It is interesting to reflect on just how much this world would change if we Christians would pray longer, more often, and more sincerely.
But one of the things that worries me is, while I do think it is a good idea for Christians to pray more, I am also very concerned that Christians– moved by this movie to create their own War Room– will pick up unbiblical resources on prayer. And, oh, there are so many of them! This subject of prayer has been hijacked by the enemy and it's one of the quickest ways for him to gain access to our hearts.
One of the most popular ways to pray right now is called Contemplative Prayer. This prayer focuses on saying the same word or sentence over and over and then being still and "emptying and opening" your mind for God to speak to you. However, prayer is never described in this way in the Bible.
Many people use Psalm 46:10 to promote this type of prayer. And yet, to do so would necessitate taking this verse very much out of context. If we read the whole chapter we will see that the verses before verse 10 are focused on God's help in our time of storm. It is clear to see that when  we get to this phrase "Be still and know that I am God" that it is referring to resting in the Lord, even in the raging storm, because God is still in control. This is a great example of how damaging it can be to take a verse out of its context.
There is a short, very helpful article over at gotquestions.org on this topic of Contemplative Prayer. I really encourage you to read it, so that you will be able to better discern the information you read or hear about prayer. But let me share a paragraph of that article here–
Contemplative prayer, by design, focuses on having a mystical experience with God. Mysticism, however, is purely subjective, and does not rely upon truth or fact. Yet the Word of God has been given to us for the very purpose of basing our faith, and our lives, on Truth (2 Timothy 3:16-17). What we know about God is based on fact; trusting in experiential knowledge over the biblical record takes a person outside of the standard that is the Bible.
The pattern for prayer that we are to follow was given to us by our Lord and Savior, Jesus Christ in Matthew 6:6-15. As we read through the Lord's example of praying, we will notice that He gives us no indication whatsoever that we are to sit still for hours, waiting for God to mystically speak to us, neither before we start speaking to God or after we are done speaking to Him. In fact, there really is no mention of this anywhere in the Bible.
And if we do just a little research, we will find that this practice of emptying and opening our minds for supernatural messages comes straight from false religions and has nothing to do with biblical Christianity.
So, yes, there is a wrong way to pray. And we need to be very careful. As I've mentioned so many times before, Christianity today is full of land mines. We need to constantly keep our guards up and be looking for red flags. Not in a "witch hunt" type of way, but in a concerned and prudent way, comparing everything that comes across our path to what the Word of God says.
If you are truly interested in strengthening your prayer life, as I am, then where can we turn for some good biblical resources on this subject of prayer? Unfortunately, we have to go back a few years to find the best resources. If you've never read some of these classics, I highly encourage you to do so.
Perhaps you say to yourself, "I just can't read stuff like that." Well, then, let me tell you a little story. I was right where you are. I felt the same way. I found them dull and dry and could barely get through any nonfiction book, much less an old, musty one written by a guy who lived fifty or more years before I was born. But, one day, I simply made the decision to push through the book Humility by Andrew Murray. And that book changed my life. Not only with what was written within its pages (which is excellent, by the way!), but by showing me that I could not only read those books but also that they would be a great asset to my growth as a Christian. Yes, it was work to get through the first book like this and sometimes I had to read a paragraph three times before I got it, but, oh, it was so very worth it! And the good news is that it grows easier and easier with each one. You are never too old to train your mind.
So did my little story convince any of you to pick up one of these books on prayer? I hope so! I asked my brother, Pastor Dean, for his favorite books on prayer. Here is the list he gave me–
A Call to Prayer by J.C. Ryle (this one is more of a booklet and a great one to pick up first)
A Privy Key to Heaven by Thomas Brooks
Prayer by John Bunyan
A Method for Prayer by Matthew Henry
If you do prefer to read more recent authors, then I would recommend this book. I found it to be biblically sound and extremely helpful–
Alone with God by John MacArthur
Prayer is a very important topic and we can't treat it lightly. Contemplative, mystical prayer has become almost the norm. Test all things through the scriptures–no matter how good and "spiritual" it sounds–as you work to build a stronger and deeper prayer life.
Issues and concerns from the movie War Room for the biblically discerning viewer–
 There is a scene where the main character moves throughout her house shouting at the devil to get out of her home. But I can't find anywhere in scripture where we are ever encouraged to have a conversation with the devil. I believe that God will take care of that for us. He fights for us and we can rest in His hands. Getting into that shadowy world of speaking to Satan and demons is dangerous and unbiblical business. Here is a great post on this topic if you'd like to study this further.
I think this movie may have the possibility of leading us to the grave danger of treating our heavenly Father like He is our own personal genie, waiting to do our beck and call. While I understand the dilemma presented in this movie for the producers–they had to show the mighty power of God and how He can work and so we needed a happy ending–I would hate for anyone to think that God is going to make life perfect if they just start praying. The truth of the matter is that many women pray for years and years for their husbands to be saved. If you read last Thursday's post, you will remember that my friend prayed for 32 long years before her husband came to know the Lord. Just because we get on our knees and pray does not mean we will get the answers we want in the time frame we desire. Prayer is not some magical formula that puts all the puzzle pieces of our lives together. Now, can God work? Oh, my goodness! Yes! I have seen Him do marvelous things! But does He always choose to? No. And the fact that this wayward husband turned to the Lord so quickly, while making for a nice happy ending, was pretty unrealistic. If you are a wife who was convicted to pray for her husband by this movie, please, please don't get discouraged if things don't end up like this. It might take years. It may even take a lifetime. I remember reading once of George Muller's prayer list of five unsaved people. In his lifetime he watched three of those people come to know the Lord. But the final two never got saved until after he died. We need to keep praying, even when we don't get the results we want. And that may be the hardest thing of all.