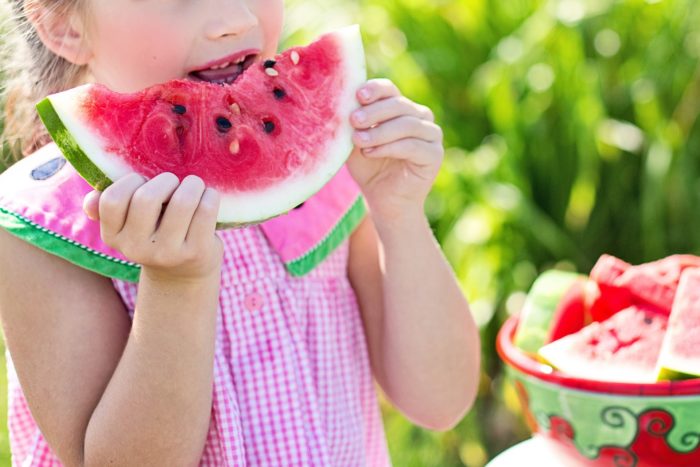 The last time you were at the grocery store, I imagine you saw the words "organic" and "natural" more often than not. Recently, people have become very passionate about having food that is free from pesticides and poisons. Food that is in its purest form and hasn't been processed or changed.
Somewhere around the middle of last century, food changed. As we turned from an agricultural-based society where we all grew our own vegetables and baked our own bread to a more industrial society, we became a society eating things like wonder bread and boxed mac and cheese. As shelves at the stores filled with processed, genetically modified, and prepackaged foods we became unhealthier as a nation. As we filled ourselves at fast food chains, we grew fatter and wider.
However, in the recent years there has been a real push to stop feeding people food like this. Some of the biggest industries have been taken on and challenged to change things. Big name restaurants and corporations are doing their best to offer healthier options, while still making a hefty profit. The two don't generally go hand in hand, so I am sure this has been a bit of a struggle for them.
When my kids were little and I was homeschooling, I remember that we could all eat lunch at McDonald's for $6. This would be a treat for an especially trying day or on the way home from a field trip. Now many of us won't touch McDonald's. If we do, it is with a huge sense of guilt and we don't do it often. When we go to the store, many of us examine ingredient lists closely as we look for the healthiest options possible. And we try to feed our kids the most organic, pure versions of food available. Even baby food has become suspect and many moms make their own at home. It is amazing how the world has changed in just 15 short years in regards to this. For me, personally, I have become much more conscientious about the food I feed to myself and my family. We have always gardened and we never ate a lot of processed foods, but we eat even less now and, except for an occasional trip to Chick-Fil-A, we rarely go to fast food restaurants anymore.
So why am I talking about food on a blog about spiritual growth?
Because I believe that our passion to feed our bodies and our children pure food should be matched–or even surpassed–by a passion to feed our minds and our children's minds pure spiritual food.
We are all worked up about making sure we don't poison and contaminate our bodies–something that is temporal and is going to end up old and shriveled eventually, no matter what we eat. And yet so many of us don't worry even a second about what we are feeding our souls. We don't give any thought to if we are poisoning and contaminating our minds.
And, wow, let me tell you–there is so much available that will contaminate and poison our minds and to move us far from a biblical viewpoint. It is unbelievable how unraveled Christianity has become as we have moved far from the Word of God and have turned instead to mysticism and psychology.
I receive an email each day with "Christian" books that are on sale for Kindle at Amazon. I normally will glance through it, looking for classics and authors I trust. I would say that on any given day about 10% of the books in that email are written by authors I trust. Another 40% look like they could be okay, judging by the title, forward, or author's name but I couldn't recommend them without reading them first. But at least 50% are pure rubbish. Books that have nothing to do with scripture and everything to do with twisting and mangling the Gospel and biblical truth. In fact, the telltale sign for most of them are their titles. You can also tell a lot by who writes the forward or recommends the book.
Books and music are very powerful. Just like food changes the composition of your body, so, too does Christian literature and music change your composition spiritually. We need to do all we can to keep our minds pure from poisons.
You may be thinking that you don't know how to discern. If that's the case, please read this post, where I give five steps to help you get started in this area of discernment.
Of course, being dedicated to purity in Christian resources is not met with such accolades as being dedicated to purity in our food sources. While people understand why we want to feed our bodies and our children pure and organic foods, they do not understand our passion to feed our minds and our children's minds pure and organic spiritual food. And, so, this move towards purity does not come without its challenges.
Prepare to be called narrow-minded and harsh and judgmental. Prepare to lose some friends and to be ostracized. Just by commenting to a group of friends that you are not reading a certain book because it isn't biblical or that you don't allow your child to listen to a certain music group because they aren't biblical will leave you open to ridicule and criticism. Eating organic food is not cheap, is it? Neither is eating pure spiritual food. While it won't cost you in dollars and cents, it may cost you in reputation and friendships. We are not in a Christian culture that values discernment.
But what do you get in return? You get a healthy spiritual heart and mind. You get kids who know that scripture is their final authority and go to the Word to discern. This isn't a guarantee, of course, but God does honor your desires to keep your family pure from worldly and vain philosophies and false teaching. And God fills in the gaps and meets your needs, making anything you may have to sacrifice worth the sacrifice as you step out in dedication to God's Word and to run everything through its grid of Truth.
We tend to believe this is a new issue for this day and age, but it isn't. Satan has always been busy trying to get Christians to read and listen to things that are either subtly twisted or in complete opposition to the Gospel. Of course, Spurgeon can say this so much better than I can, so I will conclude with this portion from one of his sermons called The Soul's Best Food–
Now, dear Friends, I am sure that the topic on which I have been speaking is a very important one, yet it is a very neglected one. A great many young Christians and, I am afraid, some old Christian people, especially women, read no end of tales and novels. That is not eating that which is good—it is doing that which is worse than useless! There is no spiritual nutriment and little if any mental food in most of the stories that come out nowadays. We used to keep our tales for our children—our babies—but, now, the stories are written for grown-up people—and newspapers and magazines sell best if they contain pretty stories for the great babies of the present day. Nothing will suit them but stories. "Eat what is good." But they eat ashes! They feed upon the wind—that is their spiritual meat. Sometimes we complain of present-day Christians that they have no backbone, no stamina, no strength compared with the Christians of past ages. I should think so—they do not eat the food out of which spiritual manhood can grow. They eat what would not nourish a mouse and then hope that they may be "strong in the Lord, and in the power of His might."
And, then, how common is the neglect of reading the Word of God itself! A great many persons take all their religion secondhand. They never go to the good old Book themselves. Years ago it was a very difficult thing to get milk—it was not milk that was called by that name. The only way to be sure of having milk was to keep a cow—and I recommend everybody to ensure getting the unadulterated milk of the Word of God by keeping his own cow, that is, by reading the Bible for himself. If you want to get pure water, go to the fountainhead. I was once going over the mountains in Northern Italy and I wanted to drink from a little stream, but my guide would not allow me to taste of it. I did not understand why, but he went on some considerable distance and then he allowed me to drink as much as I liked. And I noticed that I was drinking at a spring just where the water flowed out, but, the time before the stream had been running down the mountainside and was full of all sorts of impurities and, besides, it had lost its freshness and sweetness by travelling over the earth in the warm sun. The guide wanted me to have water that was worth drinking—to drink that which was good. And so I would advise you, my Friends, to take no notice of anything I say that is not according to the Word of God!
Put it away among the lumber,  for it is good for nothing—and whoever it is that preaches and whatever book you read—if it is not according to this Book, say to yourself, "Well, I have not any time to try experiments. If I do eat, I want to eat that which is good. And if I do delight myself, I want to delight myself in what God calls fatness." There is plenty of carrion about—plenty of religious carrion, I mean—tainted through and through with false doctrine. And unhappy is that man who has a taste for it—it looks as if he were no true child of God.