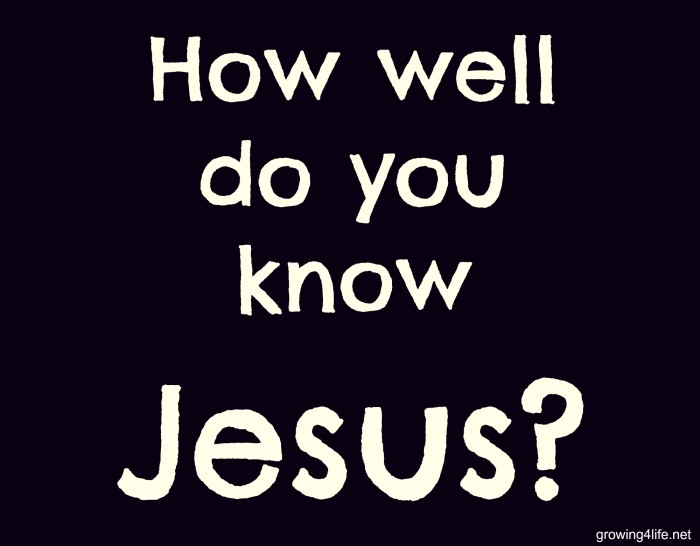 One of the things that I find really fascinating in this current church age are the lies that are told about Jesus. One clear example is from the movie Walk to Remember. It's the story of a terminally ill pastor's daughter who falls in love with the typical bad boy. While the story was beautiful, there was a line in there that was not biblical in the least. The teen-aged girl and her father sat on a porch swing talking about her relationship with this boy and she made this statement–
"I believe He {Jesus} wants me to be happy."
Her father never pointed to scripture and said no, your happiness is not the purpose of life (which any godly pastor would have done, by the way).
Have you heard that statement before? Do you believe that Jesus wants you to be happy? What other misconceptions do we have about Jesus?  Thankfully, the lies we have heard about Jesus are cleared up quite nicely as we read the gospels. If we believe the Bible, then we simply cannot believe these statements–
Jesus wants me to be happy and to fulfill my dreams.
When He had called the people to Himself, with His disciples also, He said to them, "Whoever desires to come after Me, let him deny himself, and take up his cross, and follow Me. (Mark 8:34)
Jesus says that we will be loved and adored by the world.
If you were of the world, the world would love its own. Yet because you are not of the world, but I chose you out of the world, therefore the world hates you.(John 15:19)
Jesus came to bring peace on earth.
Do not think that I came to bring peace on earth. I did not come to bring peace but a sword. (Matthew 10:34)
Do you suppose that I came to give peace on earth? I tell you, not at all, but rather division. (Luke 12:51)
Jesus expects us to eliminate poverty.
For you have the poor with you always, but Me you do not have always. (Matthew 26:11)

Jesus never said a negative word to anyone.
But woe to you, scribes and Pharisees, hypocrites! For you shut up the kingdom of heaven against men; for you neither go in yourselves, nor do you allow those who are entering to go in. 14 Woe to you, scribes and Pharisees, hypocrites! For you devour widows' houses, and for a pretense make long prayers. Therefore you will receive greater condemnation. (Matthew 23:13-14)

Jesus tells us that we need to be like the world to win the world.
You are the salt of the earth; but if the salt loses its flavor, how shall it be seasoned? It is then good for nothing but to be thrown out and trampled underfoot by men.(Matthew 5:13)

Jesus unified people wherever He went and expects us to do likewise.
And there was much complaining among the people concerning Him. Some said, "He is good"; others said, "No, on the contrary, He deceives the people. (John 7:12)

So there was a division among the people because of Him. (John 7:43)
Jesus's death and resurrection means that I can do anything I feel like doing.
She said, "No one, Lord." And Jesus said to her, "Neither do I condemn you; go and sin no more. (John 8:11)

 If you keep My commandments, you will abide in My love, just as I have kept My Father's commandments and abide in His love. (John 15:10)
Jesus would never allow anyone to spend eternity in hell.
And do not fear those who kill the body but cannot kill the soul. But rather fear Him who is able to destroy both soul and body in hell. (Matthew 10:28)
 If your hand causes you to sin, cut it off. It is better for you to enter into life maimed, rather than having two hands, to go to hell, into the fire that shall never be quenched— (Mark 9:43)
Jesus would never be so narrow-minded as to say there is only one way to heaven.
Jesus said to him, "I am the way, the truth, and the life. No one comes to the Father except through Me. (John 14:6)
Have you, too, heard these lies about our Savior and King? Does it pain your soul like it does mine? Jesus has been remade to be someone who He is clearly not in so many of our churches. Can you understand why it is so important for Satan to undermine our trust in the Word of God? For it is there– and only there– that we can truly learn about our Savior.
If you are continuing in the G4L Bible Challenge with me, you will be discovering who Jesus really is for yourself. When I sat down and read the gospels through for the first time last year, I became really and fully aware of just how warped the view of Jesus is in the minds of most people–even many Christians. And I believe this is mostly due to the fact that we do not know the Word and what it says about our wonderful and merciful Savior.
The Gospels (Matthew, Mark, Luke, and John) give details about the life, ministry, death, and resurrection of Jesus. While each of the gospels tells each event just a bit differently and some add details that others don't include, they all harmonize in a marvelous way. Each author is from a different background and education and, at the time, was writing for a different audience, and yet, we can clearly see that God is the Master Author of them all.
The more we study the scripture, the more we will get to know Jesus. So keep reading. And if you haven't started, I hope that you will join us! You can find the reading schedule here. You can just pick up with us where we are (Week 43, Day 4) or you can start from the beginning. Just get into the Word and start learning to know who Jesus really is.