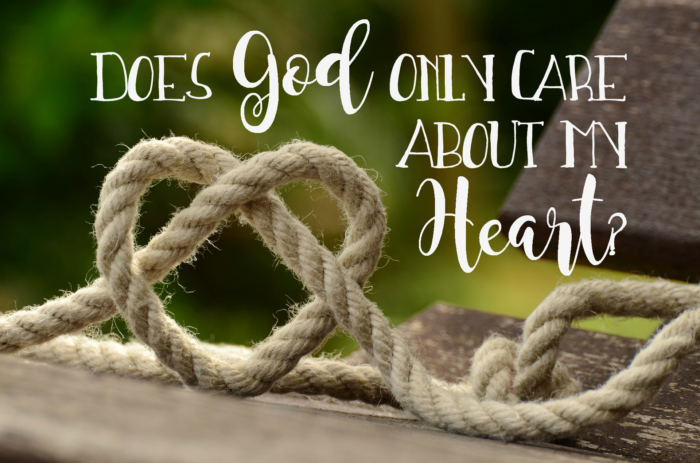 I remember having a conversation many years ago with someone about what to *wear to church. The verse used to support their argument for dressing down was I Samuel 16:7–
 But the Lord said to Samuel, "Do not look at his appearance or at his physical stature, because I have refused him. For the Lord does not see as man sees;[a] for man looks at the outward appearance, but the Lord looks at the heart."
Since that time I have also heard that verse used many times to support licentiousness (which–simply stated– means the freedom to continue living in sin after salvation). The argument is that God only cares about my heart and He doesn't care about my behavior. And it has had far-reaching effects on families and churches, as it condones living in sin while still having assurance of salvation.
But is this what that verse is saying? Does God only care about our hearts? If you are a regular reader, you probably already know the answer to this, but let's go to scripture and unpack this a bit. I think it's kind of interesting.
First, let's talk about what's going on behind I Samuel 16:7. Samuel has been told by God to anoint Israel's new king. Things have gone badly with the people's choice (Saul) and now God is going to choose the king. Samuel travels to the home of Jesse as directed and quickly spots his tallest, strongest son: Eliab.
Surely this is whom God has chosen for Israel! Or in Samuel's words: "Surely the Lord's anointed is before Him!"
This is when God says to Samuel that He looks at the heart, not at the outward appearance. By the way, aren't you so glad God doesn't care anything about how we look? He has made us all so different. Some are short, some are tall. Some have large feet or big noses and some do not. We have a variety of shades and colors for our skin, eyes, and hair. And this is all good! We are told in Psalm 139:13-14 that God made us fearfully and wonderfully, which means our physical features are not only good but are actually  just the way He designed us!
So this is what God is talking about in I Samuel 16:7. He will often choose the weakest or the youngest or the most unlikely candidate to use for His glory.
So why do people so often use this verse to defend their sin or their own personal agenda?
It is the age-old temptation to twist a verse in the Bible to make it mean what you want it to mean. And I'd like to prove from the Bible why this verse could never mean that God doesn't care about our outward behavior. There are an abundance of New Testament verses that will show that God most certainly does care about how we behave. Here are two of the most compelling–
Romans 6:1-2—What shall we say then? Shall we continue in sin that grace may abound? Certainly not! How shall we who died to sin live any longer in it?
James 2:17-19—Thus also faith by itself, if it does not have works, is dead. But someone will say, "You have faith, and I have works." Show me your faith without your works, and I will show you my faith by my works. You believe that there is one God. You do well. Even the demons believe—and tremble!
We can see very clearly from these verses that I Samuel 16:7 does not give us any right to continue in our sin at all.
BUT–you may say–I thought I don't have to do anything to be saved. Isn't what you are describing legalism?
No! A thousand times No! This is the lie in which Satan has so many ensnared.
Let me clarify–Legalism is believing that you have to do something to be saved. That you have to do x, y, and z in order to go to heaven. And if you don't do x, y, and z, you can't be saved. The Bible shows us that this is false! In fact, this is the easiest way to tell if a religion is true or false–does it require works or is it simply based on faith?
But this does not let us off the hook to continue in sin, as we read in Romans 6. We have been saved from sin to go and sin no longer! We have not been saved from sin to continue in its destructive path. True faith in Christ yields a transformed life. It isn't a based on some legalistic set of rules but on a deep and abiding love and desire to please our Savior.
O, how tragic that so many are deceived. How many Christians are living weak, powerless lives because they are living in sin–believing that God only cares about their heart.
If we think about this further, we can see that someone can have a clean outward appearance and be filthy inside–like the Pharisees. But it is impossible to be humble, holy, and pure on the inside and not have that shine forth on the outside. True believers are yielded to God and He is the one who works in them for His will and good pleasure (Philippians 2:13). This shines forth as fruit in a saved life (Matthew 7:20).
Of course, we can understand how appealing it is to think that we can be saved but still continue in our sin. This would mean that no sacrifice or self-denial or hard work would be required. Who doesn't like the idea of that? A free ride to heaven with no sacrifice here on earth. But, of course, again, there are a myriad of scripture verses to dispute this, as well. My favorite is Luke 9:23-24. This passage makes it very clear what we should expect when we choose to follow Christ–
Then He said to them all, "If anyone desires to come after Me, let him deny himself, and take up his cross daily,[a] and follow Me. 24 For whoever desires to save his life will lose it, but whoever loses his life for My sake will save it.
The Christian life is hard work. It is a life of sacrifice and denial. If we are saved we have an overall desire to stop sinning and to please the Lord. While we still battle our flesh every day–even every hour–we have the Holy Spirit to convict us of our sin and help us to overcome it. We experience victory over sin and develop a hatred for evil and a love for righteousness, growing slightly more like our Savior with each passing year. The Christian life leads to victory over sin not to a broken, sin-ridden life!
I don't know why God placed this on my heart this morning, but I hope that it may help at least one of you who is struggling with this–or perhaps even help some of you use the Word of God to help someone else caught up in this lie.
Let's never be satisfied with status quo and may we continue to grow in our faith for our entire lives!
*Of course, conversations about what to wear to church are completely irrelevant now but that was at the time when everyone still dressed up to go to church and there was this movement–that was quite successful, I might add–for churches to dress down so as to appeal to the lost. If you would like to know my thoughts on how to dress for church you can find them here. But one thing I didn't see when I was writing that post was the reason behind this push to dress down and how unbiblical it is. The argument was that we needed to make the lost feel comfortable at church and our suits and dresses just didn't do that. But here is the problem: Church is for the saved. And the saved are to seek the lost. But everyone wants a shortcut now and they just want to bring their lost friends to church instead of having tough conversations about sin and hell and eternity. It is my opinion that this philosophy has deprived Christ's bride of boldness and has really curtailed their knowledge of scripture, as churches dumb down their teachings for goats instead of feeding the sheep.