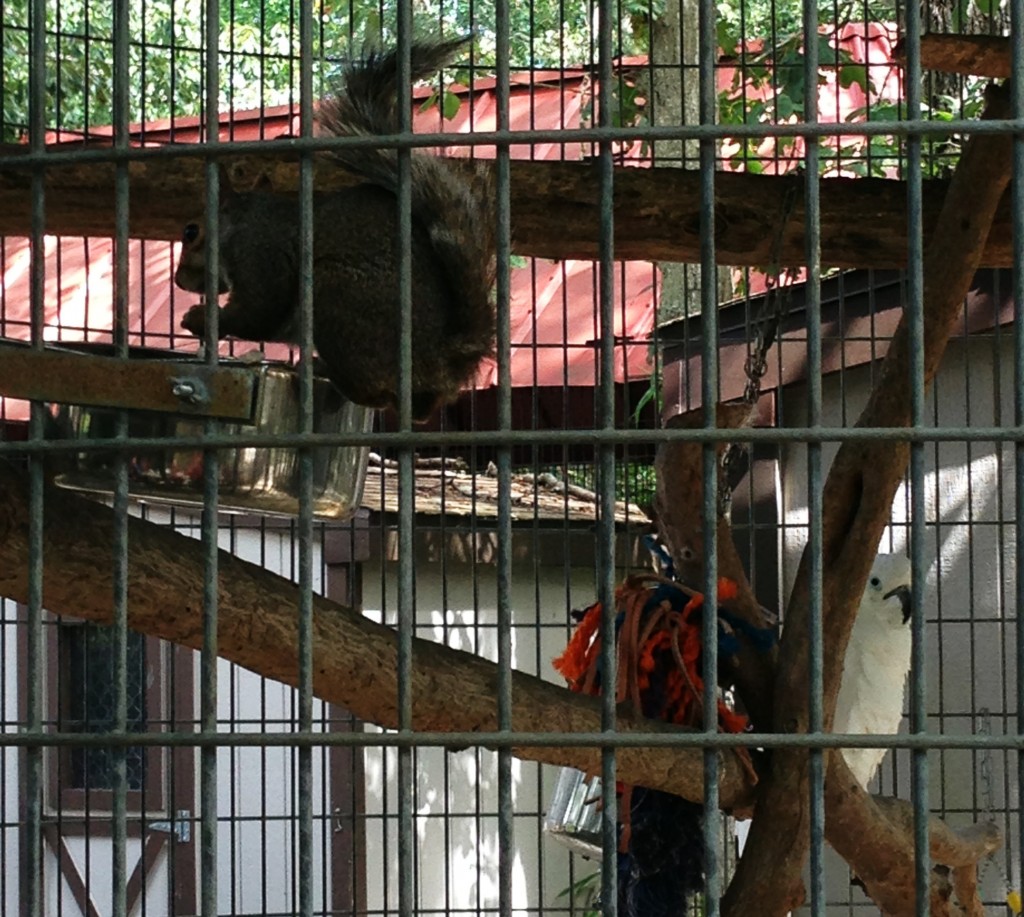 The Cockatoo sat nonchalantly on its perch in the center of the giant metal cage. We spotted its white feathers as we walked towards it. It was a beautiful day to go to the zoo and we were enjoying it. We had just passed the parrots and were moving on to the beautiful white bird that is native to Indonesia.
At first our eyes took in the bird, but then movement at its food dish caught our eye. We laughed as we saw the squirrel chowing down on the cockatoo's food. And then I took a picture–because I just knew there had to be a blog post in there somewhere.
We watched the squirrel eating for a few moments while the cockatoo sat indifferently and unmoving on its perch, and then we walked on to the next cage. But the sight had started my thoughts turning.
Why didn't the cockatoo protect its food? It easily could have, using its loud squawk and large wingspan.
Was it frightened?
It didn't really look like it.
Was it distracted?
Could have been, with all of those people walking by.
Was it satisfied and unthinking about the future?
Probably.
You may already know where I am going with this.
I think we often make the same mistake with our children. I watch parents let the world swoop down and steal their kids away, barely putting up a fight.
Did you know that Satan is after the souls of your children? He would like nothing more than to break the chain of your family's Christian heritage and to render your child useless for God's Kingdom.
And many of us fall prey to his schemes.
Are we frightened?
Some of us are very frightened. We are scared we will lose the hearts of our children and so we allow them to do anything they want, not realizing that doing so is almost a certain formula for the very outcome we are trying to avoid. We want to be the friends of our kids, instead of the parents that God designed us to be. We don't want to step on any toes and so we set few boundaries and rarely discipline.
Are we distracted?
Many of us are very distracted. We are busy with careers and committees. We are busy with our girlfriends and our fantasy football leagues. We are busy at church and at school and at club. We lose sight of the battle for our kids' hearts because we are distracted.
Are we satisfied and unthinking about the future?
Yes, I believe most of us are. Oh, don't get me wrong–many of us think about the future, but our thoughts generally center around the choices of college and career. We think proudly of their straight A's or their future basketball career, while we strive to get them the scholarships they deserve. But how often do we think about their walk with God in relation to the future? What kind of Christian do you want your child to be as a grown-up and what steps are you taking to help that happen?
What can we do to keep the "squirrels" from stealing our most precious possession?
1. Parent with courage. It takes courage to say no when every other parent is saying yes. It takes courage to have meaningful conversations about sex and alcohol and creationism and God. It takes courage to set a good example and do what's right, even when no one is watching. It takes courage to lovingly and graciously tell the truth. If you must fear, then fear the consequences of your child's heart turned to stone towards God. So many of us parent selfishly, desperately worried about our child's opinion of us. We should probably be much more worried about our child's opinion of God. For that, in the end, is what determines their eternal destiny.
The irony of all of this is that if we can parent with courage, most of us will reap wonderful benefits for ourselves. For if our kids love the Lord, then they will love us, too. If they love the Lord, then we will share a biblical worldview and a common purpose. There is nothing sweeter than this.
2. Make your kids a very important priority. There is nothing wrong with doing things outside the home. I think the problem comes in when we are not discriminatory with our choices. We can't do everything and yet we try. But something has to give. What are you willing to sacrifice in order to spend time with your kids? It may even be one of their activities that has to go. Most kids would benefit much more from a game night with Mom and Dad than from a weekly dance lesson. We cannot allow the world to tell us what is important.
Many years ago, my husband was actively involved in a softball league. Baby J and I would spend many summer evenings watching the games. After a year or two of this, another baby came along and Eric became aware that he was going to have to make a choice. At the time, he was in the first years of starting a business and this occupied much of his time. He knew that in order for his kids to be a priority, he would have to quit softball. How thankful I am for a husband who made our kids a priority.
It sounds like a no-brainer. Of course, the kids are the priority. But, unfortunately, I see this isn't true in the lives of many parents, and if I am being honest, especially fathers. Many fathers check out when it comes to spending time with their kids, disciplining their kids, and talking with their kids about the hard stuff. Dads, you are one of the most important factors in determining your child's future relationship with God. Fight for their souls!
And one more thing here, for the grandparents who are reading this–the value of your support in helping your children raise their children is inestimable. You can have incredible influence in the lives of your grandchildren. Our children should not stop being a priority for us just because they have reached adulthood. You can really make a difference in the lives of your grandchildren.
3. Think of your child's spiritual future. We would consider it irresponsible not to consider our child's future education or vocation. And, yet, many of us do not think about our child's future spiritual condition. We need to consider this in the conversations we have and the things we allow in our home and the places we allow them to go. We need to give this consideration as we choose which church to attend and the friendships we encourage our kids to develop. But, most importantly, we need to be who we want them to be. If we want them to be honest and kind and loving and courageous, then we need to be those things.
_______________________
I know that almost all of us love our children with our whole hearts. We'd do anything for them. But sometimes we lose sight of the world as it swoops down and steals the hearts of our children, while we sit, our eyes half-closed, on a perch nearby.
I say that it is time to open our eyes wide and parent with vigilance and abandon for the very short time we have them in our homes. We need to fight for the souls of our children!
Redeem the time and fight! For the heartache that comes with grown kids who aren't following the Lord is a very real and painful thing.