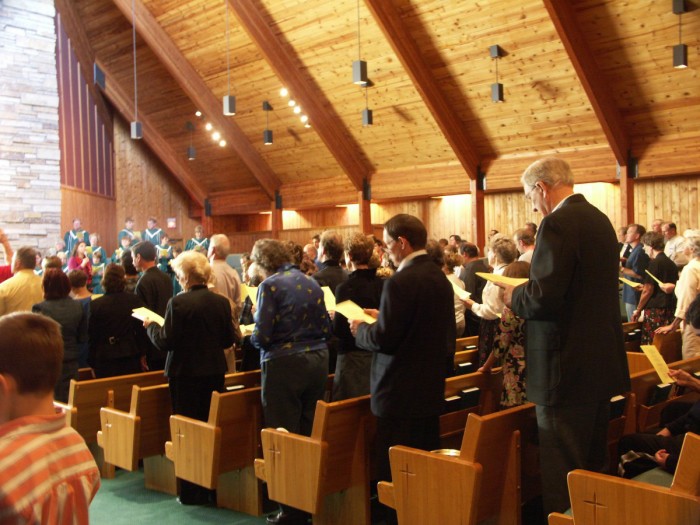 It is often said that 20% of the people do 80% of the work. Whether you are on a project at work or in a church family, this generally holds true. You have a few who lead, a few who serve in the background, and the rest just fill in the chairs.
I thought of this ratio yesterday in Sunday School, as our pastor taught us about spiritual gifts and assured us that every Christian has one (or more than one) and that we are to use them to equip the saints and edify the body (see Ephesians 4).
Being raised in Christian homes, this was something my husband and I had always been taught and as we got married and raised a family, we faithfully put it into practice. And so for years we poured our lives into our church, serving in many capacities, as you are apt to do in a small church.
But one day we realized that we had to leave that church.
And, suddenly, we were confronted with the fact that it was kind of comfortable and really easy to not have to do anything at church–we didn't have to be there on Sundays or Wednesdays, we didn't have to go to meetings, or deal with all the drama, or worry about whether the church was staying true to God's Word. Instead we could just sit. After giving our hearts and souls to a church family for over 25 years, it felt incredibly strange, but also quite nice and we felt ourselves growing used to it after a few months.
And so we'd gather everyone up as late as possible on a Sunday morning and slide into a pew towards the back, way out of the way, where we wouldn't be noticed.
But somewhere deep inside of us, the conviction was growing that if we were going to commit to a new church, then we needed to also serve at this church. And, so, it was with great trepidation and not a little dragging of the feet, that I signed up to help with our church's Awana program.
Let me state, first and foremost here, that I did not want to commit to attending Wednesday nights. I was thoroughly enjoying not having to go to church during the week and wasn't all that anxious to start up again. I also was okay being in the background and not being responsible for anything.
But there is a flip-side to that position, isn't there?
Because I wasn't there much or not responsible for anything, I didn't really know anyone. We'd come and go on Sunday mornings and realized that few people would even notice if we weren't there or, in fact, if we ever came again.
That was probably the hardest thing about going to a new church for me, personally. We had left what felt like a family and were plopped into a bunch of strangers.
But that old adage came back to me — in order to have a friend you must be a friend. And, so, instead of expecting people to reach out to me, I decided to obey God in this area of serving and  intentionally get involved.
And here is what I found– after my first year of helping, people recognized me, asked me how I was doing, and I started to develop some friendships. I started to feel like I belong. It certainly wasn't instant but it gradually happened. As is often the case, when we follow God's commands, we are blessed. In this instance, following God's command to serve had blessed me tremendously.
So why am I sharing this here?
I believe in this age of "consumerism", many of us Christians have become rather complacent in our church service. We go on Sundays so we can check it off of our list, but we aren't really vested in any church body. I know there are several reasons for this. Trust me, I get it. Especially after our experience of being super-involved and then not involved at all. No involvement is definitely easier.
But, if we are a believer, is that option of no involvement really even open to us if we are to live in accordance with God's will for our lives?
I now fully understand how intimidating and overwhelming it can be to go into a group of strangers as the newbie. I totally get that it's no fun– and for some of us could even be described as torturous.
So, in a nutshell, why should we take this uncomfortable step? Let me give you a few reasons–
1. You will be following God's command to use your spiritual gifts and to serve the church body.
2. You will start to feel like you "belong there".
3. You will begin to recognize the visitors and be able to reach out to them in a special way, because you know just how they feel.
4. You will be setting a good example for your children by making church a priority. Who is going to serve in the church of the future if our children don't see us using the gifts He has given us to serve the church family?
5. You will develop friendships.
And so, if you are one of those that is totally and completely uninvolved, I hope that you will consider getting involved in a ministry at your church. You can start small– like I did, working with the kids. You don't have to do anything that's really out there or up front. Join the kitchen committee, help the janitorial staff, or work in the nursery.
Just do something. Give back to the One who died for you. And you will be blessed!