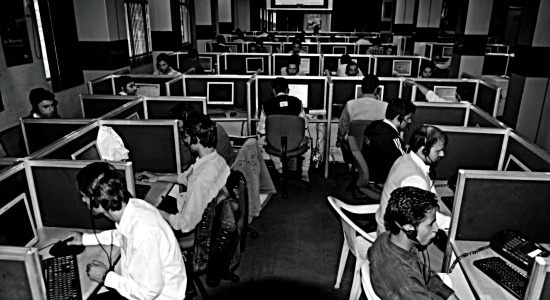 "Hi, Ma'am, I'm calling from Microsoft," started the voice with a thick accent, indicating he was from a country far away. He continued, "We have been watching your computer, ma'am, and we see that there is a dreadful virus that is running haywire on your computer, ma'am."
My naturally skeptical self rose to the surface. Yeah, right.
"Umm…which computer are we talking about here– a desktop or a laptop?"
With only a slight nanosecond of hesitation, "your laptop, ma'am. It's very serious, ma'am. If you don't fix this, we will have to discontinue connection to your IP address. You will lose all access to your computer. This is very serious, ma'am."
"How do I know you are calling from Microsoft?"
"Ma'am, I am calling from Microsoft. We keep track of all computers. You have a terrible virus that will start to affect all of the computers around you if you don't do something about it."
He went on to give me the worst possible consequences if I didn't take care of this matter immediately, trying to frighten me into taking his bait.
By this time, I was fairly sure I was dealing with a scam artist. I was in the midst of a really busy day and was in no mood to entertain a scam artist on the phone and so, after assuring him that I would check into this threatening virus with a professional I know, I hung up on him.
When I did finally think to ask my computer specialist, she confirmed my suspicions and assured me that Microsoft is not in the habit of calling customers to let them know their computers have a deadly virus.
I am sure the scam artist was very disappointed not to get his hands on some American money. I am also sure that, without blinking an eye, he called the next number on his list.
And the sad thing is that there will be some sad soul who believes him and is scammed out of hundreds, if not thousands, of dollars. But this scamming doesn't only go on over the phone from international thieves. It goes on wherever there are people. And it goes on in a multitude of ways. Scamming has been a famous way to gain money or power since time began.
When we talk about being scammed financially, a lot of it has to do with naivete and lack of discernment. If we do not make an effort to be at least somewhat knowledgeable of the world around us and the dangers that are a part of it, we will be easily fooled. But if we do listen and read and take initiative to understand what kind of world we live in, we will be less easily scammed should the situation arise.
But there is something much more dangerous than financial scamming and that is spiritual scamming.  If we don't take the initiative to know and understand God and to read His Word, we make ourselves very vulnerable to the spiritual scammers of this world. Another part to protecting ourselves is to be constantly aware and on guard.
I could have been very easily scammed by the foreigner on my phone had I not immediately been wary. Let's be honest, we live in a culture where scams are, unfortunately, a very real and frequent threat.  I was on guard as soon as I heard the first sentence, as many of you would have been, as well.
But so often we don't practice this same principle when we are listening to a preacher or reading a book. We don't listen to the song lyrics that are on in our car and we pay little attention to the philosophies behind our church's decisions.
But in order for us to keep from being spiritually scammed — and to discern truth from error (Philippians 1:9)– we need to apply this same principle to all we put in our mind. It doesn't matter if it is a sermon by my favorite preacher or the lyrics to a song I've heard on the radio a hundred times or a book by my favorite author, we should always be running everything through the grid of God's Word. Of course, this is only possible if we actually are reading and studying the Bible.
Yes, all of this takes so much work and effort, but if we don't do this, we are so easily scammed.
Why do some people pay money to a preacher, believing this will lead to healing?
They don't know God's Word.
Why do some people believe they can gratify the lusts of the flesh, living in any way they desire and yet still go to heaven as long as they "asked Jesus into their heart"?
They don't know God's Word.
Why do some people believe that all ways lead to heaven and that Christianity is just one of them?
They don't know God's Word.
Why do some people believe that homosexuality is not a sin?
Because they don't know God's Word.
If we study God's Word with humility and a desire to obey what we learn, and if we pray, asking for insight and understanding, God will answer that prayer (Ephesians 1:15-23). As we become more familiar with the Bible, we become much more astute and discerning when someone teaches something that is not scriptural.
Don't be a victim of a spiritual scam. Know God's Word so well that it isn't even possible to scam you.
In case you are wondering why I seem to be writing so much about the Bible lately, I want to fill you in on a couple of reasons–
1. My own passion of God's Word has grown so much over the past year and I would love for you to have that same passion. In 2015 I am hoping to have a Growing4Life Bible Reading Challenge. More details will come on that soon.
2. I truly believe that the main reason the modern-day church is walking away from its very foundations of truth is because its members do not know the Word of God. We have become so used to being spoon-fed spiritually and, if we are honest, have turned the bulk of our attention to the temporary things of this life. We have become obsessed with our experiences and how we feel about them. These changes have opened wide the door for doctrinal error to enter the church doors. It is my hope that I can encourage even one person to turn back to the Bible and a focus on the eternal. It is truly my hope that this blog will encourage you to include  increasing your knowledge of God, through reading and studying the Bible, in your busy schedule so that you will grow as a believer and be able to discern in these dangerous times.