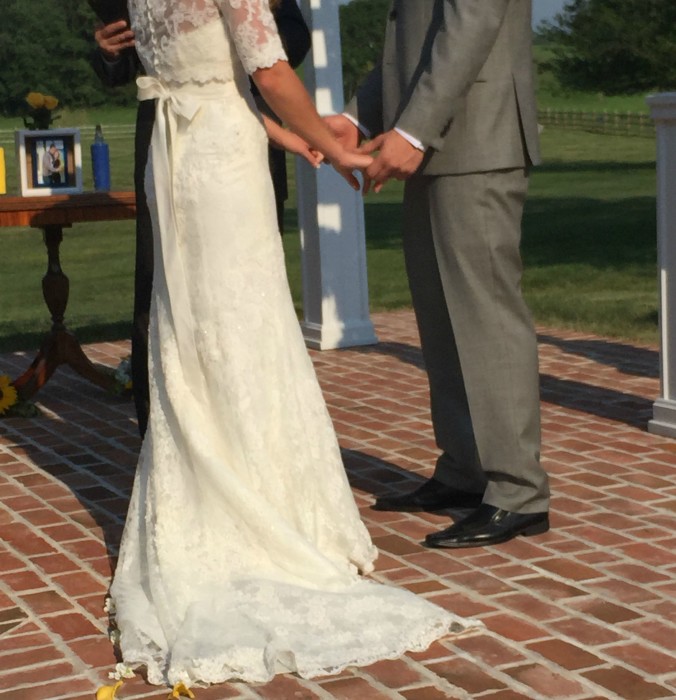 It's Monday morning and I find myself surrounded by wedding stuff that was thrown in boxes and stuffed in baskets after the big event, waiting to be sorted and organized. The last couple of years have flown by as we were always preparing for the next big event. Three weddings in thirteen months. And now all of them are over. Our three oldest kids have kissed us good-bye and traveled into their futures, holding the hands of the ones that we have prayed for since they were children. We are so thankful for each of the young people joining our family and feel so blessed.
But with these wonderful additions to our family comes change. Lots of change.
Ever since my oldest daughter got engaged, I knew that my upcoming couple of years were going to be a real roller coaster ride of change. I was watching my oldest kids and realized that there was likely more than just one wedding in the near future and started pondering the months ahead. Over the course of the following year and a half, we had our oldest daughter get married, our son get married, and then this past Saturday, we had the wedding of our middle daughter. We had a gorgeous day, with just a slight breeze keeping us all comfortable on a hot July day and her chosen theme of sunflowers seemed to fit perfectly with the beautiful rural setting. Our family and friends have been so gracious to come to so many weddings, two of them being only six weeks apart. We are so grateful for their presence at these precious celebrations and appreciate their efforts to be there.
As I lived through the past couple of years, I had an urgency to prepare for the future, knowing that going from having four kids living in my house to only one would be a big change. But the weddings and all that goes with them were almost all-consuming. Along with the weddings came quite a few other dynamics that we could have never foreseen. They all worked together to make for a very challenging time for my husband and me. It's certainly been stretching us and growing us, that's for sure. And that means little effort has been given to preparing for our new normal. And, honestly, how do you emotionally prepare for a drastically reduced "nest", anyway?
I know that this empty nest thing doesn't affect most of you. But this is a good lesson for all of us, no matter what stage we are in. I think we want to– we try to-– find our normal. There is something so comfortable about routine and the familiar. But sometimes we are simply in limbo and it's just not possible. Sometimes there is no normal to find because life just keeps changing and throwing us curve balls. We have to learn to flex and bend and yield our will to God's.
For me, it has been the steady stream of kids leaving our home that is teaching me to yield my will to God's. It is teaching me about myself. And it's teaching me about God. But for you it may be chronic health issues or a shaky job situation. We are all in limbo at one time or another and any normal we ever find ourselves in is always tentative at best.
With this being the case, it is probably best to hold on very lightly to our "normals". No one is more surprised than me at just how tightly I was clinging to my normal. I never had any idea that my purpose, my worth, and my very soul were so wrapped up in my kids. I thought I was a good Christian mom who loved her kids and tried to raise them to honor the Lord. I never realized just how much I relied on my role as Mom. Thankfully, I still have my youngest daughter at home, helping to make this transition a little easier, but it has certainly been a real eye-opener for me and has forced me turn to God for comfort and guidance. (His faithfulness through this time has been incredible. I will write about that some time soon).
Perhaps this is one of the main reasons are we are shaken out of our "normals". Because when we are comfortably ensconced in normal we often don't rely on God. It takes a good shake out of our comfort zones to remind us where our true worth and purpose lies. It also reminds us of just how weak we are and how desperately in need of a Savior.
And so I wait patiently for my new normal. I have no idea what that will look like. I do know it will be so much quieter and peaceful. It will be cleaner and neater. But those things aren't as good as they are cracked up to be. (Are you listening to me, you moms who are surrounded by little ones?)
I do hope that in my new normal I grow closer to God, finally having the time to dig into the Word more. I look forward to getting to know my youngest daughter in a deeper way, now that she is stuck with just Mom and Dad at home. I hope that I can minister to and bless others, as my parenting and housewife duties have decreased substantially. And I guess I am most looking forward to loving the grandchildren that will hopefully join our family in the future.
But I know one thing– I don't want to get stuck in status quo, growing lazy and satisfied with the unimportant and trivial. I want to use this time for God's glory! Any normal we find should always have this first and foremost in mind.
And as life naturally brings the changes of new babies, graduations, marriages, adoptions, illnesses, financial difficulties, job pressures, relationship troubles, and death, our normals are constantly changing. And, yes, it can be very painful. But if we are humble and teachable, it will never be worthless.  For after it is all over, we can see how God used it to grow us and change us and make us more like Jesus.