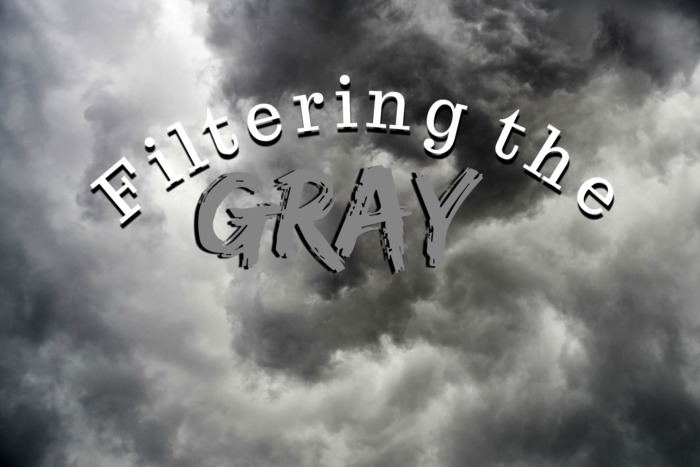 Life can be challenging. And one of the greatest challenges for many of us who are sincere believers can be filtering the gray issues. As we weigh out what is the best course of action, we can get a little muddled sorting through the things in the Bible that don't fall under the categories of "thou shalt" or "thou shalt not".
Yesterday, my pastor presented seven World View Filters that will help us make these decisions. (I will include a link to the sermon below). I found them incredibly helpful and I think you will, too.
But before I give the list, I want to share a few thoughts. First, in this sermon, my pastor clarified the difference between justification and sanctification. If you don't know, I will give you a brief description here but listen to the sermon for further elaboration. Justification means that we are right with God based on Christ and Christ alone. What Christ did on the cross covered our sins and put us in right standing before God. Jesus covers us with His righteousness because we can never be righteous enough on our own. But it doesn't end there. And that's what so many people think. Scripture clearly teaches that we are to also be sanctified. Sanctification is the process whereby we follow the commands found in scripture and grow more like Jesus. We give our efforts to be as righteous as possible–not to be saved or to gain favor with God. No, most certainly not! We do this because we are saved and want to please God. It is the natural response of a soul saved by grace (2 Corinthians 5:17; Philippians 1:9-10; and so many more).
I share this because there is a lie that so many who claim Christ believe, which is that they can have "fire insurance" from hell and live no differently because God will just continue to forgive them as they purposefully continue on in sin. The Bible teaches not only that this can't be– but that it won't be. A man or woman that is truly saved doesn't want to continue on in their sinful life. In fact, they abhor it! While we believers all continue to struggle with sin after our new birth, it grieves us because we recognize that it grieves God.
Now, changing the subject a bit, I would also like to draw your attention to the fact that we often will use filters like these listed below in regards to the areas we perceive to be gray–such as entertainment and worldly activities. However, I would like to suggest we also use them in regards to the areas we don't consider gray but, instead, have accepted as just part of our human existence (rather than viewing them as the sins they really are). So I would like to challenge you to view your fear and anxiety; your anger and pride; how you talk about others; how you respond when someone confronts you; your selfishness and your self-absorption through these filters, as well. If any of you are like me, you will be stunned to find out just how much you do that has ungodly roots.
Okay! On to the filters. These are directly from my sermon notes yesterday–
1. The Biblical Filter(James 1:22; Matthew 7:24)
What are the biblical instructions, standards, and principles that apply to this decision or activity?
2. The Kingdom Filter(Matthew 6:33)
Does my decision clearly reflect that Jesus Christ is on the throne of my life?
3. The Faith Filter(Romans 14:23)
Is the choice you are about to make a clear reflection and result of your faith in Jesus Christ?
4. The Approval Filter(Galatians 1:10)
Is the decision you are making a result of pressure from others or is it rooted in seeking the approval of God?
5. The Influence Filter(Romans 14:21; Mark 9:42)
Can you in good conscience say to all who might be watching: "Do what I am doing and it will lead you closer to Christ."
6. The Impact Filter(I Corinthians 10:23-33; 2 Timothy 2:15-26)
How will your choice reflect on the reputation of the Christian faith?
7. The Ultimate Filter(I Corinthians 10:31)
Does your decision and behavior bring glory to God?
As pastor Chan worked his way through these filters, I recognized that there is so little gray, after all. When we run our choices, thoughts, and words through these filters it becomes so much more obvious, doesn't it? We like to say there is gray because it lets us keep one foot in the world, while still claiming Christ. It lets us live in our flesh, while enjoying all the benefits of heaven. But if we cast aside our fleshly, selfish, and worldly desires and honestly run all we do through these filters, much of the gray falls away and we are left looking at a picture that is black and white. It's not what the worldly church wants to hear, but it is the truth.
I hope these will help you filter the gray in your life as it has helped me. Thankfully, we are not alone in this process. If we are a believer, then God has given us His Word for just this purpose and He has also given us the Holy Spirit to guide and strengthen us as we look to His Word for living the Christian life victoriously.
(By the way, sometimes we can get so mired in the mud of worldliness or anxiety or busyness or any number of things and, suddenly, we find that we have let the gray seep into our lives. And so that's when we must get out of the mud, take a shower, and begin again. That's where I find myself this morning and I hope that a few of you will join me. I am so grateful for a God that keeps forgiving. Aren't you? Today is the perfect day for a new start!)
Please note: You can listen to Pastor Chan's sermon here.