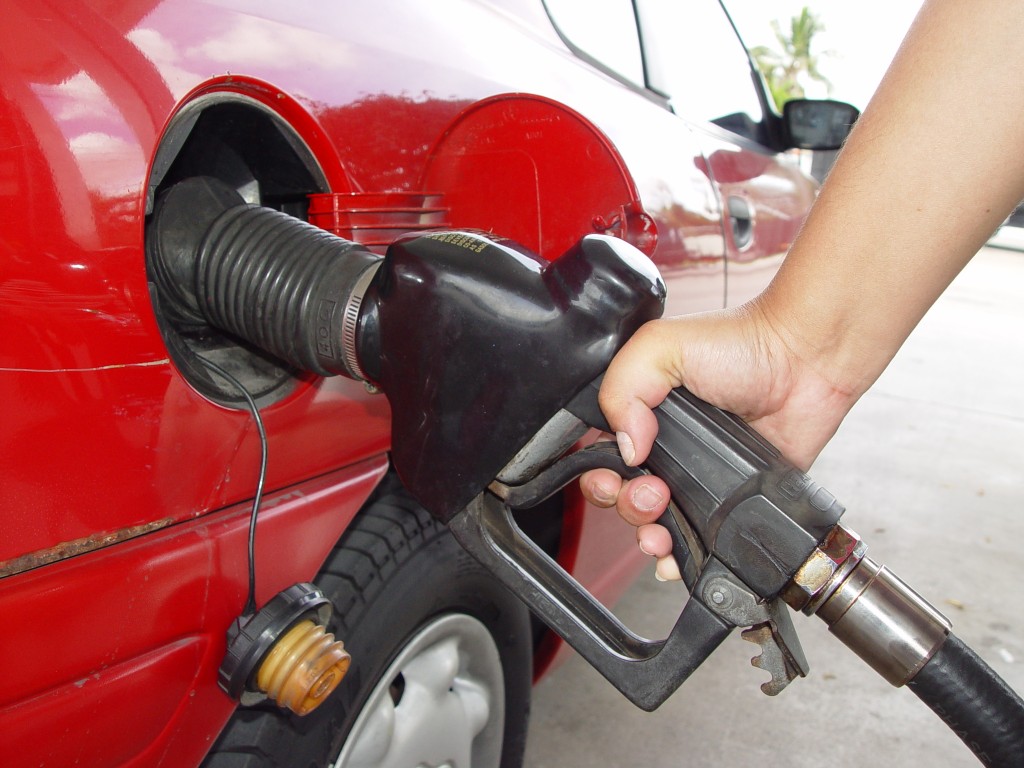 I heard a little ding. My eyes went to the dash. Great. I was on empty. Really empty. I had just left the house to pick up my daughter from basketball practice and remembered that this low fuel light had been on for quite awhile. I was probably not going to even make it to the school.
Does God care about that stuff? I am pretty sure He does, as I have had so many "inconsequential" prayers answered that it defies coincidence. But, at any rate, I pictured that precious gas station just a few blocks away from the school and put in my petition, "Lord, if there is any way I can just make it to that gas station…but, of course, if I don't, it's not the end of the world…"
This was the closest I had come to running out of gas in a long time. I don't like to cut things that close.  I grabbed on to the steering wheel and coaxed the car along, "you can make it!" Yes, I think…if I remember correctly…I was talking to my car. Good thing I was alone.
Imagine my delight when I pulled up by that gas pump. I sighed with relief. I had made it. I reached for my purse…
You have got to be kidding me.
It wasn't there. In my hurry to leave, I had forgotten my purse and all forms of payment. All forms. "Okay, stop, breathe. You can figure this out. Check your emergency money fund."
Normally, I keep at least a few dollars in emergency money. But, alas, (and of course!) it was empty. The time I need it most, the only thing available to me was a handful of change.
So now what?
I called my son, "can you bring me my purse?"
"Aw, mom. Go to the school and see if you can borrow ten bucks from someone. If you can't, I'll come rescue you."
I had doubts I would even make it to the school, much less back to the gas station. But, what choice did I have? And, at least by this point, I had a back-up plan in place, thanks to my son. That made me feel a whole lot better.
And so I tentatively set off for the school. There I found a Good Samaritan in the form of one of my daughter's friend's Dad. He graciously lent me a twenty with a smile. I gathered my daughter and headed off for my third uncertain journey of the day.
As I pulled up beside that pump for the second time that day and filled the car with the precious liquid it needs to get me anywhere, I slumped in the driver's seat, thanking the Lord.
This wasn't do or die. I had a rescuer if I needed it. It was just one of those annoying things in life. And the worst thing about it: it was totally my fault. I had let it get too close to empty. I had left the house without my purse. My emergency fund was dry.
I was reminded of this incident a few weeks ago, when I heard one of my dear friends talk about remaining godly during illness. She has suffered greatly this past year with a strange illness that came by surprise and continues to hold a grip on her life.  She gave a wonderful presentation, but one thing she said especially stuck with me.
Be prepared.
Before anything rocks your world to its core, make sure you are prepared.
How do we do that?
Know God (Philippians 3:10); Fill our minds with the right things (Philippians 4:8); Study His Word (2 Timothy 3:16); Memorize passages of Scripture (Psalm 119:11); Walk with Him daily (John 15:4).  Grow as a believer (I Corinthians 3:2); Care for those in need and hate the world (James 1:27).
Sometimes I think we get so caught up in this busy and very warped world, that we forget what is really important…until it is too late.
But I see very threatening clouds on the horizon of this country. I don't mean to sound like I am predicting doom, but I guess you would have to have your head buried in the sand to not realize that it is probably going to get a lot tougher for us Christians. Are you going to be ready? Will you be able to stand boldly for Christ? Will I?
What about just the normal stuff? Will we be ready for the inevitable trials and tragedies that come at one time or later to all of us?
Only time will tell. But I want to be ready! I don't want to be stuck with an empty tank of gas beside a gas pump without any form of payment. Now that would be stupid.