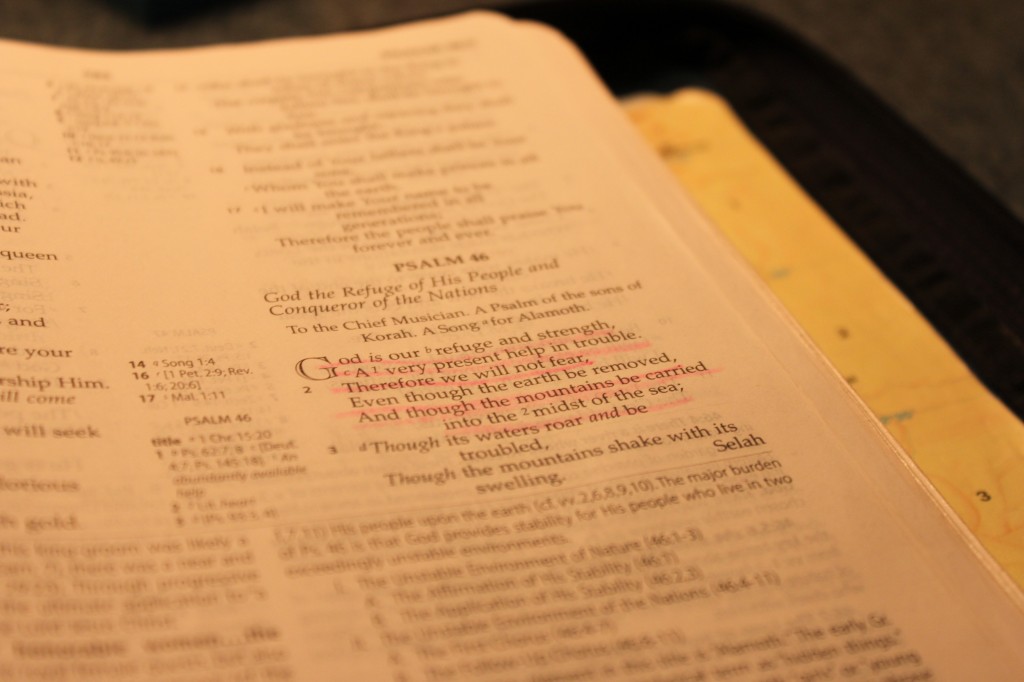 As our congregation bowed in prayer, I found myself distracted by a sudden thought: where is the closest exit? I sighed with relief as I saw a door nearby through half-closed eyes and then went on to think about what I would do if a gunman entered the church. All while we were supposed to be focused on the Lord. I am not excusing myself, but after Friday, I doubt I am the only one finding myself thinking unfamiliar thoughts about murderers and escape routes. What a world we live in.
I never dreamed last week at this time that my heart could feel so heavy for people I have never even met.  That I would be writing about death and murder and fear during the holiday season.  It just feels…wrong. Jesus came into the world to save us and give us eternal life and, while murder is absolutely horrific any time of the year, it seems especially tragic at Christmastime.
We grieve for families we have never met. We hear the cries for gun control from the media. We see Facebook statuses that promote returning God to our schools. Everyone has an opinion.
But there is one thing I haven't really heard much about: FEAR.
There have been multiple stories of shootings and assaults– Friday's was the worst, by far, but there have been others. And, if I am not careful, I can start to become controlled by fear.
When something happens like what happened last Friday, we suddenly become aware that we are not in control of our lives. We could be violently shot down at any time. Life could end for us or our loved ones instantly. We start to fear for ourselves, even more for our children. And then the fear grows as we think about what the world will be like for our children and the worry and anxiety can start overtaking us if we aren't very careful. Or maybe I should say "I". I may be alone here. Not really sure.
So what do we do in the face of fear?
This has happened to me in the past and there are a couple of really helpful things I do that I thought I would pass along, just in case I am not alone.
1. I thank the Lord for what I currently enjoy.  There is nothing like a tragedy to remind you of the fragility of life and the wonderful gifts we have been given in our spouses, our children, our parents, our siblings, and our friends. We need to thank the Lord everyday for these blessings. Somehow — I can't explain it — fear lessens in a thankful heart.
2.  I memorize God's Word. When I went through a very fearful time many years ago, I turned to God's Word and found many scriptures that speak to fear. I memorized a couple of them and when I would be filled with fear, I would start saying them to myself. It was very comforting and I still go to these verses today when I am struggling with fear.
3.  I am very careful about what I watch and listen to.  I am one who becomes very disturbed in my spirit if I hear all of the negative stuff going on. It will give me such a heavy heart. It is very difficult for me to see that someone's life has been destroyed and then go about my business of the day. Because of this, I rarely watch any news at all. If something especially tragic happens, I usually will hear about it from someone or see it on Facebook. But I try to be very careful about how much news I feed myself, because that feeds the fear.
4.  I discipline my mind. This is so much easier said than done, although, after many years of practice, I have become much better at it.  I find in my life a tiny thought will become a gigantic worry if I am not very careful.  And so I try to turn my mind away from dwelling on any thoughts of fear and worry.  Although, I have to be honest, I am definitely being tested in this — as is obvious by my thought life in church yesterday!
5.  Dwell on the Truth. God knows all. Nothing happens without His knowledge. Yes, the world's going to get worse but His grace is sufficient. If we are truly saved, then we truly have nothing to fear. He will take care of us and our children. He will see us through. I have read missionary biographies attesting to this fact. I have talked to people going through the worst of circumstances and yet they see God's faithfulness clearly. We are not alone and bereft. God has not left your heart or this country.
Fear won't disappear in an instant. It will take time. And we will think we have it beat and then it will crop up again in the face of the next tragedy or accident or disease-stricken relative. It is a battle I fight on a regular basis. But we can't give in to it. We are called to live in love, not in fear.
PSALMS 46:1-3
God is our refuge and strength,
    an ever-present help in trouble.
Therefore we will not fear, though the earth give way
    and the mountains fall into the heart of the sea,
though its waters roar and foam
    and the mountains quake with their surging.