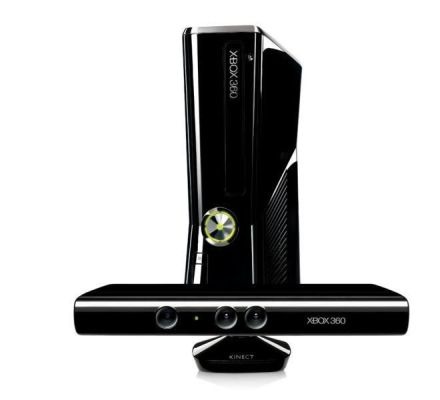 Monday's weather was terrible. It was foggy and damp and downright ugly. It was obvious that I wasn't going to be able to get my normal walk in so I set up the Your Shape game on XBox Kinect.  My knee has been hurting, but I figured I could modify any exercises as needed. I enthusiastically did a few warm up and cardio routines and then decided to go ahead with a 13 minute toning routine.
3…2…1…begin. Arm up higher. Bend lower. The directions came from a mysterious female voice on the TV (I will call her Ms. Kinect) who could see my every move. I could also see my every move and was trying to match it to the "personal trainer" moving beside me on the screen. If you haven't experienced seeing yourself on Kinect you are missing out. Well, not really. But the technology is pretty incredible. You can actually see yourself on the screen of your TV. Do you remember the old Charlie and the Chocolate Factory movie? If you do, then you will remember Mike TV who ended up shrinking to fit into the TV. Well, that's what you look like on XBox Kinect. It really is pretty amazing. ANYWAY…
I started doing this toning routine. But it started hurting my knee (and it was a little too hard for me because I'm a bit out of shape, but we'll just say my knee hurt…!) so I started making up my own modified versions of some of the exercises. I started moving my arms up when the TV trainer's were down and moving my leg forward when the TV trainer's leg was behind him. We weren't in sync at all.
Imagine my surprise when I heard Ms. Kinect say "Bravo!" quite enthusiastically!  She went on to say things like "Good Job!" and "Way to go!" all the while praising me for following my TV trainer so impressively.
It made me laugh because I wasn't following the trainer at all! To her credit, she did catch my errors a few times.
Oh, my. It made me think. Like usual.
Just because someone says "Bravo!" doesn't mean it's true. We can always find someone to say what we want them to say.
If we want to get divorced, we will be able to find someone to say "Absolutely! You deserve to be happy!"
If we want to buy an expensive car or television on credit, we will be able to find someone who says "Yes, what a great idea!"
If we want to involve ourselves in the wrong entertainment, there is always someone saying, "Yes, let's do it! Let's go! It will be so much fun!"
So, it would seem to me we'd better seek wise counsel, instead of listening to just anyone. Proverbs contains many verses encouraging us to seek wise and righteous counsel. So how do we know if it's wise counsel? Here are a few tips to help us–
1. First and foremost, does the counselor's advice match up with the Word of God? If the counsel is full of just their own opinion without any scripture to back it up, how in the world can we know if it is worthy of following?
2. Is the person counseling us striving to live a holy, righteous life? If they aren't, then it means they are not walking with God. Notice I didn't say "perfect life". It is not about being perfect, but about a desire to walk with God in holiness and purity. If someone is not trying to please God with their life, they will not know how to counsel wisely, because they don't know Him at all.
3. Let's be extra cautious if the counselor says exactly what we want them to. There are many people-pleasers who say something just so they will make us happy and no one will be mad at them. These people are not the ones we want to go to for wise counsel. Only those who will tell us the truth are worthy counselors.  Only those brave enough to be honest can be trusted.
These are three things to be on the look-out for when seeking wise counsel for any problem, large or small.
By the way, when I use the term "counsel" I am not necessarily talking about professional counselors. We are all counselors, whether it be to our own kids or our friends or our co-workers. And so, let's not only seek to find wise counsel, but also to give wise counsel.
This world is full of people-pleasers not willing to tell the truth. It's full of "counselors" telling others to make themselves happy, no matter the cost.
But just because they are saying it, doesn't mean it is true. When I heard Ms. Kinect's words, it was easy. I knew that her words were false praise. I obviously wasn't doing the right thing. It's not always so easy in life. But we are called to be discerning and to have a heart ready to listen to wise counsel, whether we like the advice or not. Let's keep our focus on God's Word and listen to those who also make it a priority in their lives. And let's be people who are qualified to give wise counsel– walking with God and willing to tell the truth.
Proverbs 1:5  A wise man will hear and increase learning, And a man of understanding will attain wise counsel.
Proverbs 12:5  The thoughts of the righteous are right, But the counsels of the wicked are deceitful.
Proverbs 15:22 Without counsel, plans go awry, But in the multitude of counselors they are established.
Proverbs 19:20 Listen to counsel and receive instruction, That you may be wise in your latter days.