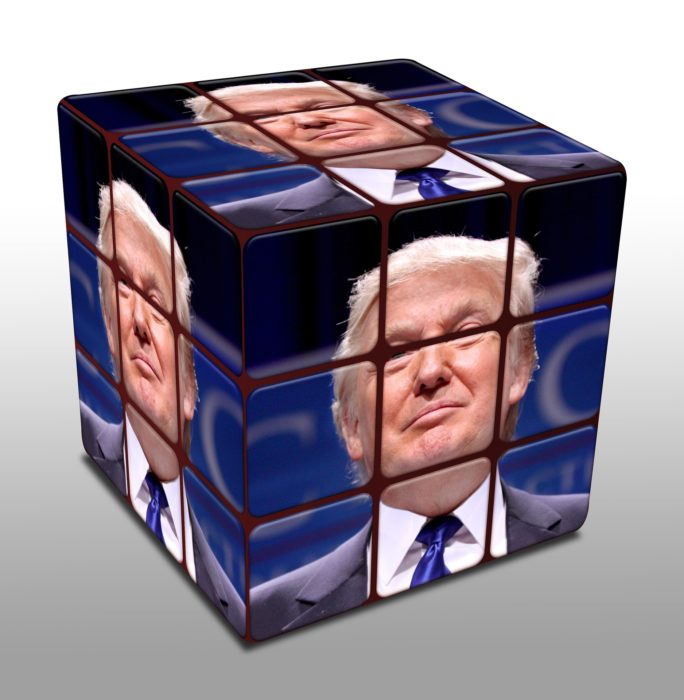 There is a report going around the internet that Donald Trump has recently been genuinely saved. I know many Christians who are super excited about this. I know more who are cautiously hopeful. And then there are those who are downright skeptical.
I probably tend towards the skeptical, although I admit that I am also a bit hopeful. It would be  wonderful for a worldly, ungodly man who is so well-known to be transformed by Christ. With such a large platform, he would have incredible opportunities to share the Gospel and attest to the power of God in the life of a sinner that turns to Him for salvation. Wouldn't that be awesome?
But before we get too excited, let's talk about who Donald Trump has been. Here are a few quick facts from Trump's life "before Christ"—
→He has been married three times. He cheated on his first wife with his second wife. His current (third) wife is a Slovenian model who poses nude (read more here and here).
→Trump has been responsible for building and establishing several casinos, several of which he named after himself. He no longer owns any of them due to financial difficulties, the most recent being sold to Icahn Enterprises in February of this year. He experienced several bankruptcies connected to these casinos (read more here).
→He has regularly made crude and unseemly jokes about his private parts (read more here or just watch one of the debates).
→According to this article, Donald Trump is a chronic liar and told an average of one lie every five minutes during the debates.
→One of the things this man is know for best is his very direct and often cruel comments directed towards others. Here is an article that features 19 of his meanest tweets, but, honestly, just hearing some of his comments during the debates also gives us evidence of this.
This is what I was able to find within a matter of minutes by doing a quick search. There is no dearth of information about this charismatic and outspoken man and he has given the gossip magazines lots to write about over the past twenty or more years.
(Quick note here: Since a few people have been upset with me for focusing on Trump's past, let me assure you I do this only to demonstrate how his changed life will show such a marked and vast contrast to his former life, if he truly has repented and turned from his sin. It is not to berate or criticize him but, instead, to draw our attention to the wonder-working power of the blood of Jesus, should Trump's faith be genuine. Let's face it– we are all sinners. Most of us just don't have the whole world watching and talking about it!)
Of course, most of us don't change instantly when we come to Christ. It would very nice if we did, but we don't. However there are some things we can look for in the life of Donald Trump over the course of the next few months and years to confirm if this report is true or not. In fact, we should look for these signs in any new believer, not just a famous one—
Transformation (2 Corinthians 5:17) –There will be a change in the desires of the heart and outward actions and behavior. It may be instant or it may be slow and steady–but it will occur.
Sensitivity to Sin (Romans 6:1-2)–While the new believer does still sin (as all believers do), they recognize that it is wrong and will be convicted by the Holy Spirit.
Desire to Follow the Commands of Jesus (I John 3:24; John 15:9-10)–A baby believer, once focused only on selfish goals and lusts, now has a passion and desire to obey Christ and His commands.
They Will Not Be Popular With Everyone (John 15:18-19)–Jesus makes it pretty clear that true believers will not be favorites of the world and its godless agenda. Decisions to stop partying, to be honest in business, to keep ourselves pure, etc. can really irritate old friends and unsaved family, who desires the new believer to continue joining them in their debauchery and ungodly living. Speaking the truth of God's Word in response makes them even more angry.
Pride Will Be Replaced by Humility (Colossians 3:12-13)–Unforgiveness will be replaced by forgiveness; a mean, critical spirit will be replaced by kindness. Oh, it won't happen instantly but there will be a gradual change.
Trials and Temptations Will Not Pull Them Away (Luke 8:13)–Many claim to follow Christ but when testing and trials come, when peer pressure becomes too much to bear, they turn their backs on Christ and fall away.
You may be thinking that you know some professing Christians who don't exhibit these signs of true faith. While all of us may have a blind spot or two, true believers will exhibit most of the above. They are the evidence of true salvation and are given to us by God in His Word.
So is Donald Trump really a new believer?
I don't think there is any way we can possibly answer that yet. Only God knows.
But here is what we do know–
This election coming up is a big deal. A very big deal.
I have my opinions about it, as do you, I am sure. It is incredibly important that we give great prayer and thought to how we are going to vote.
Honestly, I still find myself perplexed and not a little dismayed that we have two pathological liars as our candidates. It is so indicative of where we are as a nation that we would support such people.
Did Donald Trump recently accept Jesus as His Lord and Savior? I hope so. I truly do hope so.