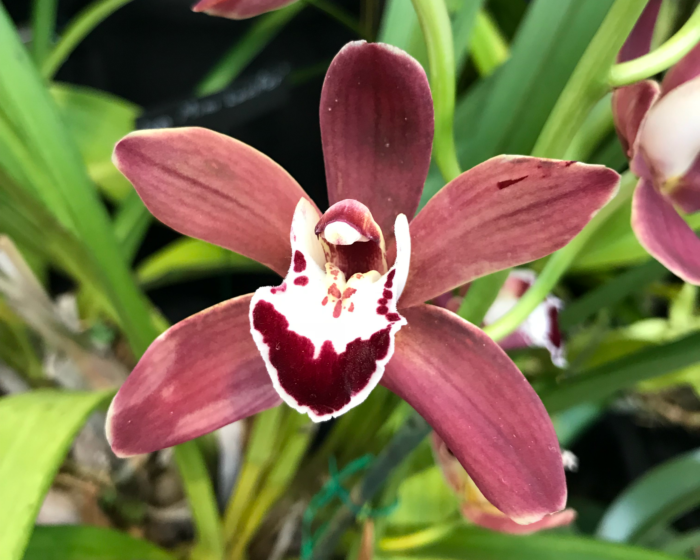 One thing I have noticed in recent years is that Satan takes biblical truths and warps and distorts them so badly that it soon becomes a two-edged sword. By this I mean it does double damage to the family of God. First, by drawing away and deceiving believers and, second, by scaring true believers from truly studying or practicing what scripture teaches. We can see this with the doctrines of the Holy Spirit and prayer. And we can also see this in the areas of unity and diversity.
The other day as I was walking through a local orchid show, I was stunned at just how diverse and amazing the different types of orchids were. I will post a few photos I took below and perhaps add a photo album of all of them to the Growing4Life Facebook page for those interested. There were all colors–red, yellow, pink, orange, purple, white, brown, green. I think the only color of the rainbow missing was true blue. The other thing I noticed was that they were all sizes, from hard-to-spot tiny ones to can't-miss-them giant ones. (I can't imagine how anyone can look at the diversity of those orchids and honestly believe there is no Creator, but I digress!)
As I studied the orchids, it dawned on me that God has created people in much the same way. We are all different sizes and colors. And being human, we are different in other ways, too. We all have different personalities and gifts. We prefer different things, we appreciate beauty differently, and we are talented in different ways. Some of us are poor, some are rich. Some live in cities, others live in the country or somewhere in-between. These differences change how we view the people, happenings, and situations around us.
But here's the thing: We were made to love one another, no matter our differences.
God designed it that way.
While Satan is busy scaring so many believers as he tries to unify the world without God–pushing diversity, ecumenism, and destroying nationalism– we must remember and acknowledge that true Christian unity is a beautiful thing.
There are many verses that come to mind, but I'll just give a few–
Galatians 3:28There is neither Jew nor Greek, there is neither slave nor free, there is neither male nor female; for you are all one in Christ Jesus.I Corinthians 12:4-6There are diversities of gifts, but the same Spirit. 5 There are differences of ministries, but the same Lord. 6 And there are diversities of activities, but it is the same God who works all in all.
Colossians 3:10-11and have put on the new man who is renewed in knowledge according to the image of Him who created him, 11 where there is neither Greek nor Jew, circumcised nor uncircumcised, barbarian, Scythian, slave nor free, but Christ is all and in all.
Do you see what the unifying element is of biblical unity? It is so clear, isn't it? It is Jesus Christ. The biblical Jesus Christ. The One we learn to know and love through what the Bible teaches, as opposed to the popular "Jesus" of today (same name, but utterly unlike the one in the Bible) that is created in man's own mind out of the depths of his evil heart.
And so I believe from these verses that we can and should not only appreciate the diversity with which God created the world, but we should appreciate the diversity with which He created mankind. Quite frankly, I have never understood the hatred of other races and colors. Perhaps this has to do with an opportunity God blessed me with as a young child. I lived in an area where I was only one of three white kids in my first grade class. Perhaps I learned the lesson that skin color just doesn't matter during this time.
Recently, I have watched some movies that have shown me just how downtrodden and abused African-American citizens were in this country in much of the twentieth century. It was a world that most of us who are under fifty-five or so are completely unfamiliar with. But it was real and it was a part of life–particularly in the south. And this even among Bible-believing churches! As I have reflected on this, I almost cry. What are we thinking, as believers? We–0f all people–should be able to see past skin color and into the heart of the man. A man should be judged on who he is and never on what he looks like. The same holds true for those who are physically disabled or are different in any other way that is beyond their control to change.
This actually sounds almost "politically correct", doesn't it? (Of course, with the exception that we, as believers, know homosexuality and other licentious and sinful behaviors are not accepted behaviors nor do they fall into this category of discrimination). And this is why it is critical that we measure each thing that comes our way against the Word of God. Our true Christian brothers and sisters–the ones that are truly living it (and not simply claiming it and have no fruit to back up their claim)–are one body, unified through Christ, no matter what their skin color, their gifts, their nationality, their talents, their disabilities, their families. It just doesn't matter. Or at least it shouldn't.
But we live in an imperfect world. And so, unfortunately, we will struggle with the unity of the body until we reach our eternal home. Perhaps this helps us to keep looking UP with anxious anticipation for the return of Christ. And, hopefully, the strife also keeps us on our knees, begging the Lord to help us live out Romans 12:18-21–
Repay no one evil for evil. Have regard for good things in the sight of all men. 18 If it is possible, as much as depends on you, live peaceably with all men. 19 Beloved, do not avenge yourselves, but rather give place to wrath; for it is written, "Vengeance is Mine, I will repay,"a]">[a] says the Lord. 20 Therefore"If your enemy is hungry, feed him;If he is thirsty, give him a drink;For in so doing you will heap coals of fire on his head."21 Do not be overcome by evil, but overcome evil with good.
And also I Corinthians 13:4-7–
 Love suffers long and is kind; love does not envy; love does not parade itself, is not puffed up; 5 does not behave rudely, does not seek its own, is not provoked, thinks no evil; 6 does not rejoice in iniquity, but rejoices in the truth; 7 bears all things, believes all things, hopes all things, endures all things.
So let's love each other, dear readers, and let's do all that is in our power to unify the body of Christ, casting away our "right" to hold a grudge or to avenge ourselves. Let's appreciate the differences in each other, recognizing that God has created and gifted each individual in just the way He designed (Psalm 139:13-16).
This is what we are called to do as a member of the Body of Christ. Let's not let all the talk of unbiblical and worldly unity, ecumenism, racism, discrimination, and diversity keep us from seeing what the Bible teaches about these things.
I only had my iPhone so the photos aren't great, but hopefully you can appreciate the beauty of these incredible orchids from these photos. See more here in the photo section of the Growing4Life Facebook page.