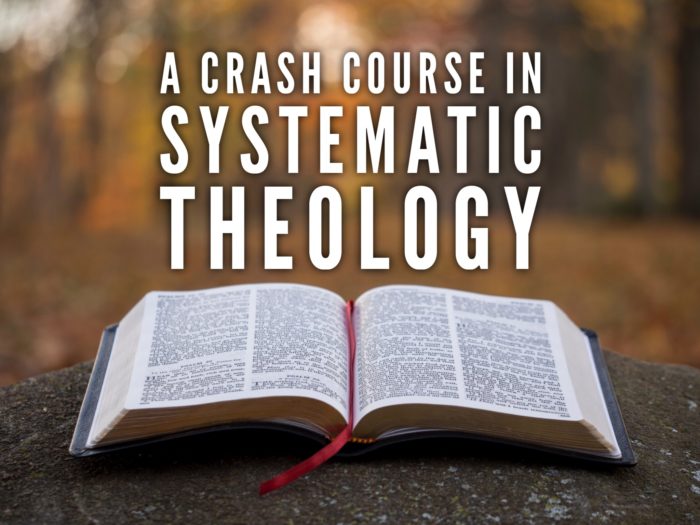 The term "Systematic Theology" can scare us if we aren't very educated. However, in its simplest definition, it just means organizing all the Bible teaches into categories. See? It's not really all that scary! Systematic Theology gathers all of the information that the Bible has to say from Genesis to Revelation about a certain topic–such as God, or angels, or Jesus, etc.
We often hear that Christians are disinterested in doctrine. And I do think that is true. But, honestly, I think there are also quite a few who are intimidated by it. If we don't have a lot of background in these things, the terms and phrases can be rather daunting.
But it doesn't have to be this way! Pastor Dean Good makes it possible to learn the basics while removing the "intimidation" factor. He also makes it clear that we must never make theology or education our goal. As believers, our goal is to walk in the Truth of God's Word. Nothing should ever take the place of that.
This past September I started teaching a Bible Study on the Fundamentals of the Faith. As I tried to deepen my knowledge of the doctrines we are studying, I found these Bible Study sessions by Pastor Dean, which he taught at the church where he is pastor (Grace Church of North Olmsted). Not only have they benefited me greatly but they have also helped those attending the studies who are interested in going that extra mile to learn more.
As I was reflecting on this over the weekend, I decided to compile these sessions all on one page so that you, my readers, might learn from these, as well. They give a wonderful overview of each topic in a way that anyone can understand.
I really think you will enjoy these if you take the time to listen. I hope this will be very helpful to you as you strive to grow in Christ. In the introduction Pastor Dean does a fantastic job giving us insight into why a study of doctrine is so important, so that's a great place to start.
(P.S. Don't let the big words scare you on this list. The academic words simply represent very familiar concepts.)
1. INTRODUCTION
Every good course needs a good introduction and this is one of the best around. Pastor Dean offers an easy-to-understand overview, as well as a few really practical reasons why this study is important.
Introduction to Systematic Theology
---
2. SCRIPTURE
What does the Bible say about itself? Why do we believe it to be the inspired and inerrant Word of God?
---
3. GOD
What does the Bible teach us about God? Learn why we should be in such awe of God, the Father!
---
4. TRINITY
What does the Bible teach us about the trinity? This session may clear up some of your questions about this rather confusing doctrine.
---
5. CHRIST
What does the Bible teach us about Jesus Christ? Do you know who He really is, according to the scriptures?
---
6.HOLY SPIRIT
This is one of the most maligned and twisted doctrines of scripture in this current church age. What does the Bible say about the Holy Spirit and His work in our lives?
---
7. ANGELS
What does the Bible teach about angels? Does what you believe about them match what scripture says?
---
8. MAN
Man is made in God's image but what exactly does this mean? Find out what the Bible has to say about this.
---
9. SIN
What does the Bible teach about sin? What is sin? Are there levels of sin?
---
10. SALVATION
What does the Bible teach about salvation? Pastor Dean spends four different sessions on this important topic.
---
11. CHURCH
What does the Bible teach about the universal Church and what is the role of the local church? This is an extremely important issue, especially with the development of the modern seeker-friendly and business model churches. Is this really what God had in mind?
---
12. ISRAEL
What does the Bible teach us about Israel? There are many people who believe that there is no role for Israel in the future. You may be one of them. I hope you will listen and find out why Pastor Dean believes that God is not yet finished with Israel.
---
13. PROPHECY
What does the Bible teach us about the last days? There are many different ways that people interpret Daniel and Revelation and it's certainly not a salvific issue. But, while this is something we can agree to disagree on, Pastor Dean approaches Revelation the way he approaches all of scripture: Literally. He shows why we can and should interpret books of prophecy in the same way we interpret the rest of scripture.