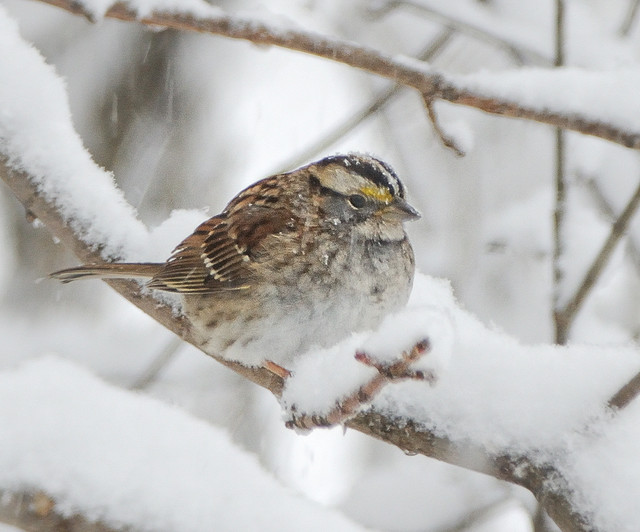 As I looked out my window at the blowing snow this morning, I couldn't help but notice the four little sparrows hopping around our bird feeder. One was on the feeder, while it blew in the wind, and three were on the ground below, their feathers all fluffed out as they searched for fallen seeds. The temperatures are cold this morning–26 degrees Fahrenheit– and I know I wouldn't want to be outside. And I couldn't help thinking–
I'm so glad I'm not a bird today.
But then I remembered that God created them with very specific features. They have exactly what they need to survive this day.
And so the sparrows that sit in the trees and sing on warm summer mornings are the same sparrows that have to endure winter. But God has prepared them and, most likely, they will survive to see summer come again.
Thinking about this made me realize that God will prepare you and me for whatever winters come our way, as well. I was talking with some friends the other day about the great Christians who have been martyred in other times and other lands. As we talked we pondered about the possibility of that happening in our country and whether or not we would have the strength to stand for what is right if it came. I said, "God would give us the grace. He promises to give us the grace." But as I said it, inside my head I wondered a bit. Would He really??
And then this morning He showed me the birds. And I knew. He will prepare us for whatever is to come. He will not leave us or forsake us through the dark valleys that are ahead. Just as the birds have been prepared for their winters, so will we be prepared for ours. If we are a true believer and Jesus Christ has saved us, then we can rest in this thought.