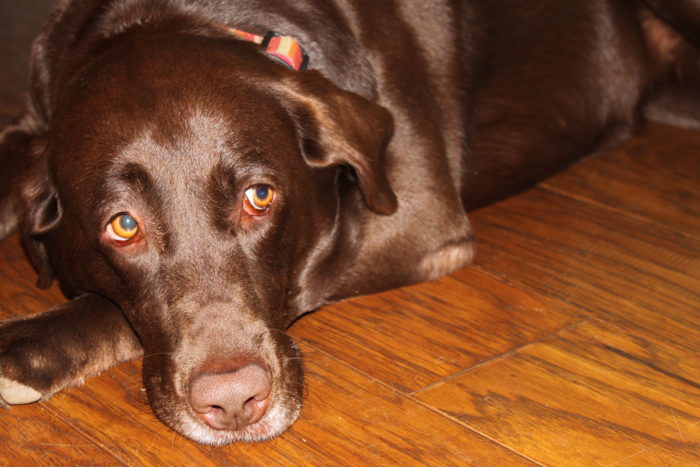 We have a chocolate Lab named Macy. If you've been a reader for awhile, you will probably remember other posts about her. She is passionately–even desperately–attached to me. She goes into a bit of a panic if I am not around. If I run over to the office or take some trash out, I can be sure she will be right behind me because she has even learned how to let herself out of the house. If I am working outside, I can be sure she will be laying somewhere nearby. If I hop on the Gator she runs along side it, trying to keep up. I usually slow down a bit so that she can.
The other morning I awoke really early. I couldn't get back to sleep so, finally, around 5am, I stole quietly from the room leaving my husband and Macy sleeping peacefully. I glanced to make sure she wasn't ready to get up yet and then closed the bedroom door and headed downstairs to sit outside and watch the sun rise. The sky was already brightening as I took my cup of coffee outside.
I sat there for an hour or so, when suddenly I heard a scratch at the door. My husband was not far behind and opened the door, letting me know that she had discovered I wasn't in the room and had been crying. I felt kind of bad. He doesn't get to sleep in very often. I had been so sure she was sound asleep. How did she even figure out I wasn't in my bed…?
But that's how she is. If I'm around she's at peace. If I'm not around she's not. Macy doesn't like to disappoint me and so she is a very obedient dog. If I tell her to come, she comes. If I tell her to lay down, she listens to me. Well, unless there is food involved. She struggles to be obedient when there is food involved.
But, overall, she does everything in her power to please me and to be close to me. She follows me everywhere. It can actually be annoying sometimes–like when she follows me into the bathroom or she stops right in front of me and almost trips me in her efforts to make sure I am following closely behind her and am not taking some surprise detour. But it is also a bit endearing. How can you not love a dog that loves you soooo much?
As I reflected on Macy's passion and zeal for me the other day, it gave me pause for thought.
I mean, I know she's a dog and all, but bear with me.
As I pondered her passion and zeal for me, I had to ask myself: Where is my passion and zeal directed? Am I even passionate and zealous about anything?
Do I feel like all is wrong in my world if I am doing my own thing apart from God? Do I hate to disappoint my Master? Do I do everything in my power to remain close to my Master's side?
I finished a book yesterday called Hunted and Harried. It is about the persecution of the Scottish Covenanters during the 1600's. (I recommend it. It was very thought-provoking and easy to read.) As I read of these men and women who chose to be martyred rather than to turn from true faith, I wondered if I would do the same thing? Could do the same thing?
Is my passion and my zeal for the Lord more important than my reputation? Than my family? Than my possessions? Than my very life?
If it's not, then something is dreadfully wrong. Jesus challenges us with this very thought in Matthew 10:37-39–
He who loves father or mother more than Me is not worthy of Me. And he who loves son or daughter more than Me is not worthy of Me. 38 And he who does not take his cross and follow after Me is not worthy of Me. 39 He who finds his life will lose it, and he who loses his life for My sake will find it.
And Paul reiterates this in Colossians 3:3–
For you died, and your life is hidden with Christ in God.
And Galatians 2:20–
I have been crucified with Christ; it is no longer I who live, but Christ lives in me; and the life which I now live in the flesh I live by faith in the Son of God, who loved me and gave Himself for me.
True Christianity means dying to self.
Dying to self in order to follow Christ may lead us into great suffering and persecution. It will probably lead to unpopularity in the Church and to antagonism from the world. Obeying and pleasing Him will most certainly make us appear odd to a world bent on pleasing self.
But none of that should matter to us. Like Macy, we should have one goal in mind and that is to stay close to our Master. And what is the best way to do this?
We read, study, and memorize the Word. We submit and obey what we find there. We yield our wills, desires, and dreams to the will and purposes of the Father.
It's so incredibly opposite of what we hear these days coming from the pulpits across America, isn't it?
And, yet, we can't study scripture and understand it any other way.
The wonderful thing is that while we are dying to self and serving God with passion and zeal, He is faithfully caring and protecting and loving and growing us. He is a the perfect Master and yielding our lives to Him brings true peace and joy that the world can never experience.
I am human and sometimes I can get frustrated with Macy. But God never does this. He wants us close by His side. He never grows weary of us or rejects us for even a second. His love is completely and utterly unconditional. He is wholly deserving of our most fervent devotion and dedication.
We can get caught up in this world and become oh, so distracted. We can forget, as we go about our everyday lives full of busyness, that we are not are own.
So perhaps we should regularly ask ourselves this question: Just how much passion and zeal do I have for God?
Am I willing to follow Him anywhere? Am I willing to lose popularity, reputation, family, or even my life for Him?
Come what may, I hope the answer to these questions for all of us is YES. May we be willing to follow Christ at all costs.