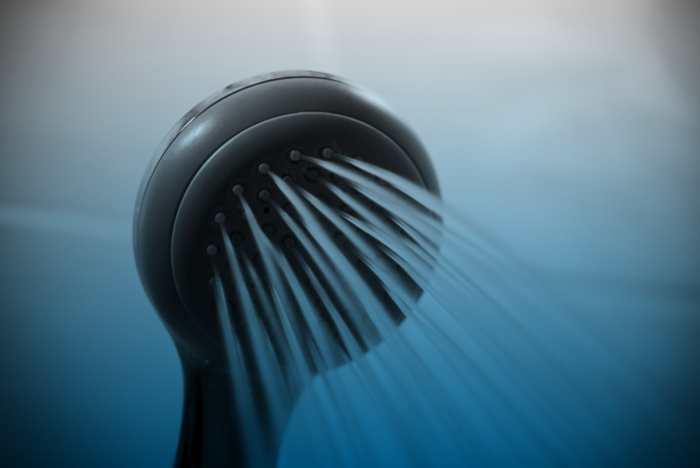 I stood under the shower trying to rinse out my short hair in the pathetic stream of water that trickled from the shower head. What in the world? The water stream had been weakening as the weeks passed by. And I kept forgetting to ask my husband about it.
Finally, after weeks of these miserable showers, I asked him what was going on. He informed me that the shower head needed replaced, as years of gunk and buildup had impeded the water flow. He had already bought a new one but hadn't gotten around to installing it yet.
A day or two later, he switched out the shower head and–Wow! What an incredible difference! The change in pressure was like night and day. Taking a shower was once again easy and even enjoyable. I had not realized just how weak the water flow actually had been because the change had been so gradual.
This incident reminded me of I Thessalonians 5:19–
Do not quench the Spirit.
I found this paragraph on this verse at StudyLight.org, written by Adam Clarke–
"The Holy Spirit is represented as a fire, because it is his province to enlighten and quicken the soul; and to purge, purify, and refine it. This Spirit is represented as being quenched when any act is done, word spoken, or temper indulged, contrary to its dictates. It is the Spirit of love, and therefore anger, malice, revenge, or any unkind or unholy temper, will quench it so that it will withdraw its influences; and then the heart is left in a state of hardness and darkness. It has been observed that fire may be quenched as well by heaping earth on it as by throwing water on it; and so the love of the world will as effectually grieve and quench the Spirit as any ordinary act of transgression."
Just like our shower head became filled with debris that stopped its flow, so, too, can our lives so gradually become filled with habitual sins, unholy attitudes, or a love for the world, that we quench the Holy Spirit's work in our lives. We can quench it by following after false teaching, by our lack of submission and obedience to God, by holding grudges, by keeping immoral company, and by a lifestyle of idleness or selfishness.
A lack of prayer and a disregard for our time spent in the Word keeps the gunk and buildup firmly in place, hardening there and diminishing the flow of the outworking of the Holy Spirit in our lives.
And then one day–just like that day in the shower when I realized just how bad the pressure really was–we suddenly realize that we are living a powerless Christian life that feels dead. We do not feel close to God and we do not understand why.
An honest inventory of our lives will often reveal the real reason. Some sin we love. Some worldly entertainment that we aren't willing to give up. Some person we aren't willing to forgive. A lack of trust in or anger over God's sovereign will in our lives. The list goes on. Something is there that is quenching the work of the Spirit in our lives.
I Corinthians 13:5 puts it this way–
Examine yourselves as to whether you are in the faith. Test yourselves. Do you not know yourselves, that Jesus Christ is in you?—unless indeed you are disqualified.
But most of us do not enjoy self-examination. It is painful and change can feel daunting. Or we love our sin and aren't willing to give it up. And so we content ourselves with a weak and ineffective Christian life, never feeling like we live in victory.
And this is when so many fill in the gaping gaps left with the things that make one feel close to God–supernatural experiences, personal messages from God, being led by dreams and visions. I am convinced that an unwillingness to examine our lives for sin and unholy attitudes has left us with a gaping hole that is being filled in a desperate attempt to feel close to God without sacrificing our own personal and fleshly desires.
You see, scripture makes it clear that a holy life is necessary if we are going to truly be close to God. But that takes a lot of work and sacrifice and so we must decide: Is it worth it?
Are we going to stand in a shower that trickles, looking for counterfeit ways to convince ourselves that we are in a shower that is full pressure? Or are we going to go to the work of cleaning, fixing, and repairing so that we actually return to full pressure?
Are we going to pretend that we are close to God (something that Satan is more than happy to help us with) or are we going to follow the scriptural principles of self-denial, confession of sin, and sacrifice that is required for a healthy relationship with God?
And let's not forget: Confessing sin and denying self leads us into the most fulfilling and wonderfully victorious Christian life we could live. It seems a contradiction, but it is true. What looks so unappealing to our flesh actually leads us to the full working of the Holy Spirit in our lives.
Which is truly a miracle.