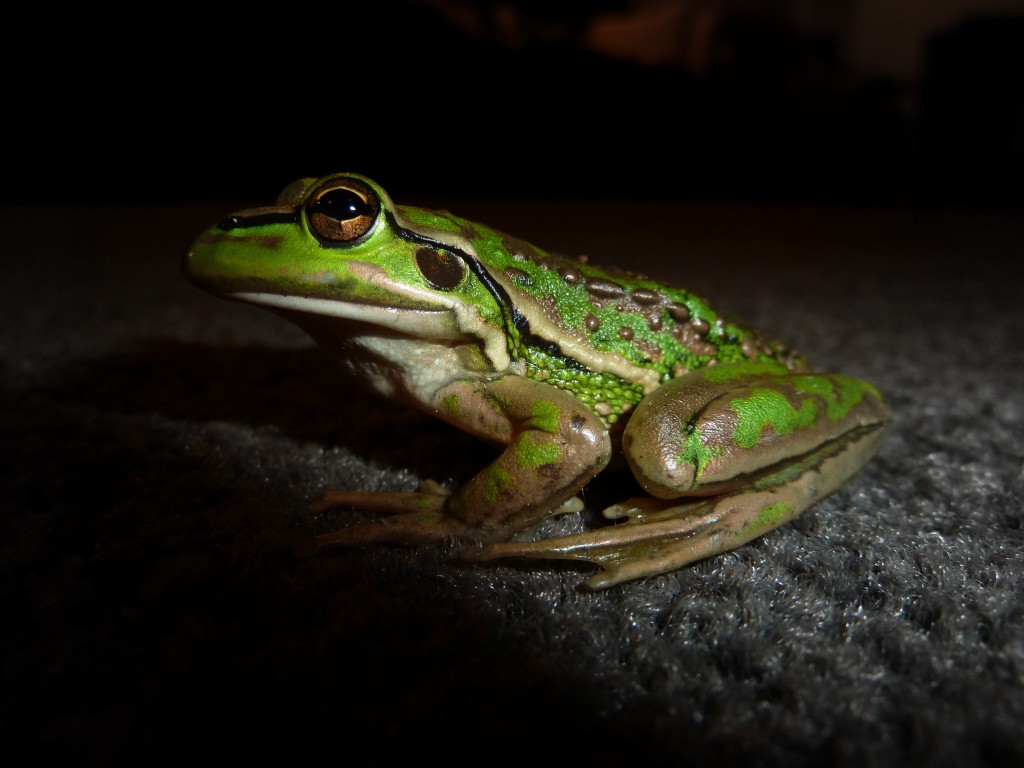 We have all heard of the proverbial frog boiling in the pot. You put a frog in cool water in a pot on the stove and turn on the heat. Instead of jumping out as the water grows hotter, it will lay there, seemingly unsuspecting, as the water grows hotter and hotter, not knowing that it is going to die a slow and tortuous death. Now I have never tried this. Has anyone? But if it is true, then I can't help but thinking that perhaps many of us Christians are just like that frog–sitting in water that's now starting to boil and not jumping for our lives. Why do I think that, you may ask?
Here are a few reasons–
–I heard a statistic yesterday that 91% of Christians no longer believe in absolute truth.
–I read recently of a Christian organization that received angry mail from Christians for their biblical stand against homosexuality.
–Thousand upon thousands of Christians attend churches where social justice (a term that comes directly from Karl Marx, by the way, and has no biblical basis) has taken top priority and doctrine has become irrelevant.
–Many believers are judged as judgemental (don't you just love the irony??) by Christians if they stand up for what the Bible teaches.
Not convinced yet? Let me give a few more reasons–
–Entertainment in the this country is filled with everything God hates, and yet Christians, by the hundreds of thousands, waste their God-given time and money, filling their minds with sexual sin, crude and profane language, witchcraft, and dreadful violence, and see absolutely nothing wrong with it.
–It has become acceptable for Christians to hang out at bars and casinos.
—Christians debate over the age of the world and its creation, as if somehow science trumps God's Word.
Now, I do admit I am using the term Christian rather loosely. Of course, many of those who call themselves Christians are that in name only and do not have a personal relationship with Jesus Christ. But it is amazing how the culture has shifted even in my lifetime. We shouldn't be surprised, though.
The pot was put on the stove a very long time ago. Take a quick walk through history with me. In the 30s and 40s we can see Hollywood's push for worldly living to see that all was not well in this country. If we read anything by A.W. Tozer (who was born in 1897 and died in 1963), we can see that the church has been sick and on a downward spiral for a very long time. Everyone wants to talk about how perfect the 50s were but if you do any studying you will see that that decade was simply the beginning of the huge rebellion that would take place in the 60s, the era when the bubbles really started to form on the surface of the water. Of course, in the 70s and 80s, we grew to love ourselves and our entertainment more than we loved God. We were taught there are no absolutes and that God is irrelevant in our day to day lives, at best. And here we are, in 2013, in a culture that is drastically different than most of us remember from days gone by.
So what now?
Well, first, may I encourage you to jump out of any specific pot that is effectively killing your relationship with Christ. It may be a church that is subtly leaving the truth. It may be your TV, where the offerings grow worse and worse each year, hardening your heart. Or it may be your group of friends, who are not encouraging you in your walk with the Lord, but instead draw you into worldly living. It could be your computer, where you spend hours wrapped up in Facebook or the news or the happenings of the celebrities. Or maybe it's the books you read or the music you listen to that is slowly chipping away at your faith. It could even be the college you attend, where God is attacked on a regular basis and you know that you are not strong enough to stand for your faith and are starting to falter.
Just jump out of that pot TODAY!  Don't be like the frog, sitting there in ignorant naivete of his circumstances.
And, second, may I encourage all of us (including myself) to live with our armor on securely and our eyes wide open, always looking to discern between truth and error. We cannot afford to sit comfortably letting life happen to us, but instead need to be proactively learning scripture, using our hands and feet to do things that are pleasing to the Lord, and turning away from sin.
If not, we will become like that frog, slowly but surely dying a tortuous death in a pot instead of living victoriously for Jesus Christ!
This has been shared at the Encourage One Another Link-Up #96.