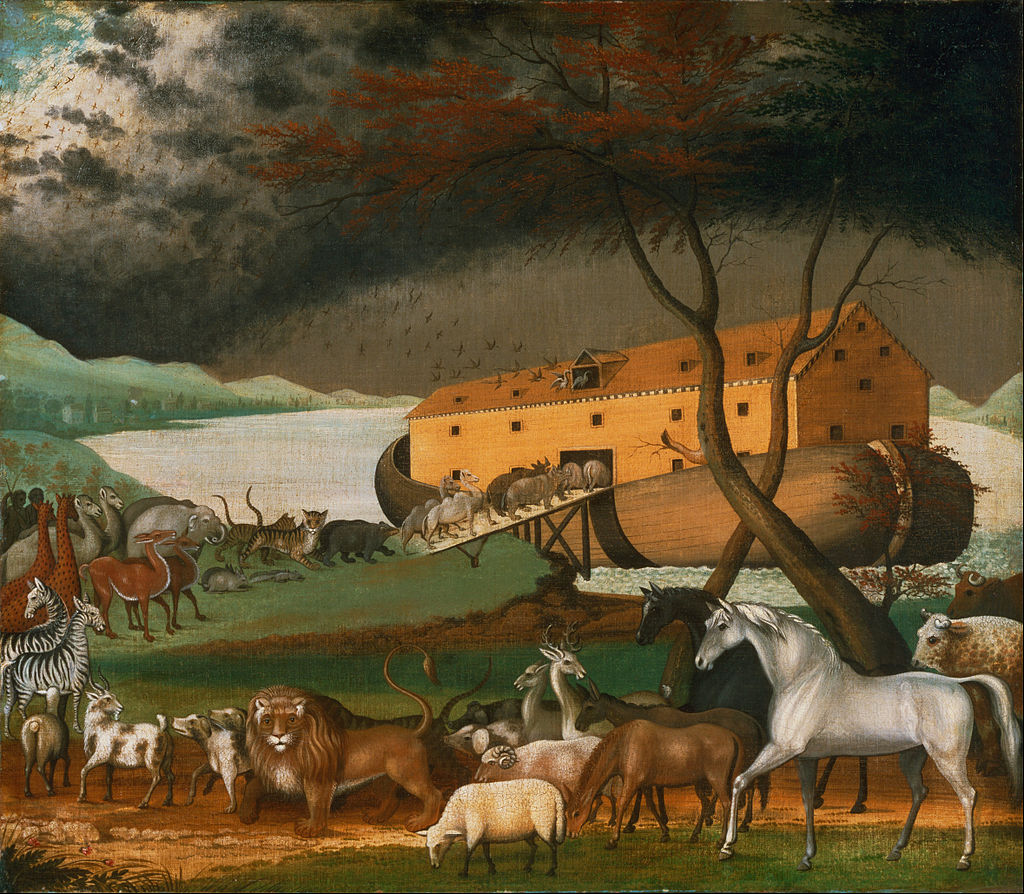 There are just a few short chapters that tell us about Noah in the Bible. Most of our attention has been focused on the building of the ark, the flood that wiped out life on the earth, and the beautiful rainbow that was the sign of a holy covenant. But yesterday as I sat through a dramatic presentation of this fascinating piece of history, I realized how very much we have in common with this man who lived so long ago. If Noah was human (and scripture assures us that he was), then it is very likely that he, too, struggled with some of the same things we do–
1. Doubt. It had never rained before. Noah and his family must have doubted a few times while they built a huge boat far from the sea, waiting for the rains to come.  But God had told him and they were trusting. Like Noah, we are waiting for an event–the rapture–that has never happened before. But God has told us in His Word and we are trusting. It may not be in our lifetime, but then again, it may be!
2. Wickedness. Noah and his family were the only ones found righteous on the earth. They loved God and truly wanted to live by His statutes. Can you imagine? Sometimes we may feel like we are alone as we stand for righteousness and Truth in a world gone crazy. Although, while the number seems to be shrinking each day, we can be thankful that there are still many out there who love God and truly desire to live by His Word.
3. Mockery. I couldn't find this in the scriptures, but I can't help but wonder if as Noah and his family were busy building that boat they felt the mockery and hatred of others. It is just human nature to despise and make fun of anything that is different. Building a boat in your backyard is certainly different. These days we aren't building a boat, but, instead standing against the flow of what is popular. It is not a very comfortable place to be, but I wonder if Noah felt that way sometimes, too?
4. Confirmation. Through the building of the ark and the subsequent flood waters, Noah must have seen God's Hand work in amazing ways. Just the fact that he gathered wild animals and kept them in a big boat for many days would have required a miracle or two. These workings of God were perhaps assurance to Noah that he was doing the right thing. We have confirmations, too. God is truly personal and cares so much that He provides us with encouragement just when we need it. Oftentimes He teaches us a new truth from His Word, confirming that we are on the right path. How faithful is He!
5. Heartache. How great the heartache must have been to shut that ark door, knowing that all of humanity outside would perish. Have we ever thought of that before? They weren't just all strangers to Noah and his family.  I am sure there were many aunts, uncles, cousins, and other family members. The wives of Noah's sons probably had parents and siblings. All would perish in the flood waters. Don't you sometimes feel great sorrow at the many who are perishing today? We encourage them to come into the ark of safety through repentance and faith in Jesus Christ, but they have no interest. We experience that same heartache, as well.
It is not my intent to add any words to scripture. I just think that oftentimes we forget that these stories were true happenings to real people. They weren't fairy tales. Old Testament men and women weren't perfect. And many of them dealt with similar feelings and experiences that we are dealing with today. Somehow I find that comforting in this world where so much seems to be going wrong. And knowing that God is in control and has a plan that we can read in His Word is encouraging. Sure, just like Noah, we don't know every detail. But we know we will be with God, just as Noah knew he and his family would be safe in the ark. We just need to trust that God will care for us through the storm of wickedness and evil that seems to be overtaking this nation, knowing we will land safely in Heaven eventually.
I thank God for showing us the examples of men and women who loved Him deeply and were willing to sacrifice whatever was necessary to serve Him. May we be like them, as we strive to please our King!