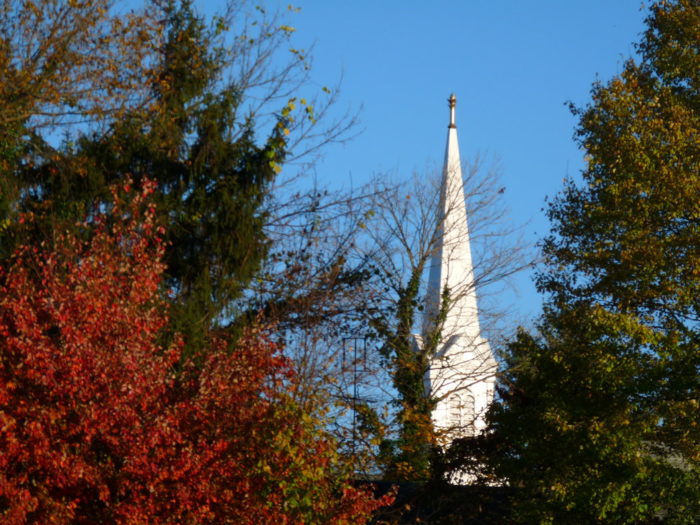 Most Americans are obsessed with comfort and convenience. We may as well admit it. We do not like to do anything that takes us out of our "comfort zone". We spend millions of dollars each year on making sure we are comfortable in our homes, our work places, and, yes, even our churches.
I have been mulling this over in my brain for a few weeks now–this obsession with comfort in the church and how we have gotten a little mixed up. Yesterday at church my pastor talked a bit about it, too, explaining how feeling welcome is not the same thing as feeling comfortable. Oh, how true!
Since when should unbelievers feel comfortable in church? Who decided that? Since the inception of the church, unbelievers felt uncomfortable. Oh, many times they felt loved and welcomed– but they certainly did not feel comfortable.
How come?
Because they were in a place where their sin was exposed. Where they came face to face with the fact that they need a Savior. It was the pastor's job to encourage his congregation towards holiness and purity of life and this was in direct contrast to the self-centered lifestyle of the unregenerated sinner. This, naturally, created a bit of discomfort.
I heard John MacArthur say this in a recent Q&A: "If an unbeliever isn't uncomfortable in church, it's not a church."
That's something to consider, isn't it? And I believe it is absolutely true. When we study the church in scripture we can see that it is always referring to a body of believers. Together, they strive to serve Christ and to grow in holiness (read this if you want to know what the Bible says specifically about church).
This was the definition of church for thousands of years.
Until one day some guy decided that it's the church's job to witness to unbelievers during the worship service. Oh, it doesn't matter that we do not find this purpose for the church anywhere at all in scripture. His theory caught wind and it took off, forever changing what we know as church.
I have a passion for the lost and many other Christians I know do, as well. But we believers should be getting fed in our churches so that we can reach them as we live our everyday lives. We shouldn't be bringing them to church to get saved. That's not our pastor's job–it's the job of every believer (Matthew 28:19-20; Acts 1:8).
As this movement took hold and has infiltrated almost every congregation to some extent, it has literally changed the face of Christianity.
No longer are true believers getting fed meat, but they are forced to squeak out a meager existance on milk in their church homes so that no sermon makes anyone feel uncomfortable. This leads to Christians who are not growing in their faith.
No longer are true believers feeling a passion for the lost because we rely on our churches to do that messy, unpleasant work.
No longer are true believers focused on serving and pleasing God, but on fulfilling personal dreams and desires as they search for happiness. (Well, these people may not even be true believers, as this is the antithesis of saving faith. But I am not the judge. People do get caught up in lies.)
But, probably, most tragic of all, is the fact that millions of unbelievers are sitting in churches across this nation on any given Sunday and are never being taught the truth! They are sinners in need of a Savior. This need isn't focused on making their dreams come true or making them rich or in making them happy. The true Gospel has taken a backseat to a self-centered, false gospel–a necessity if preaching to the unregenerate. For they wouldn't stay for anything else.
Oh, I know there are many churches that sit somewhere in between these two. Fence-sitting–just like many believers– trying to make both styles work somehow.
But what are the fruits of this?
It is my belief that this movement is full of bad fruit. We now have a "church" that thinks it is wrong to judge sin. We have a "church" obsessed with personal fulfillment. We have a "church" full of the unregenerate–people who, tragically, never even hear the true Gospel in a service. And we have a "church" captivated by the world and its methods.
So what can we do?
If we are in a good church already, first and foremost, be thankful! There aren't many of us and we are truly blessed. And then let's make sure that any unbeliever that comes to visit  feels welcome. An unbeliever can walk into a church full of people who are dressed up and singing hymns and feel loved. They might not feel comfortable, but they can feel loved. Why we have equated feeling comfortable to feeling welcome is beyond me. They aren't even the same thing.
If we are in a church that is fence-sitting, perhaps it is time to take your concerns to leadership. Ask them to give a scriptural reason for their latest shift or change. Find out if leadership is more interested in pleasing God or pleasing man. Yes, this takes courage. But, if done in love and with respect, it can be a wonderful thing. But, beware, this can also grow really ugly really fast if leadership is full of pride. It is definitely a risk, but one worth taking if we care about God's true church.
If we are in a church that has sold out to the world, then it's time to get out. I heard recently –from two different people– of young persons living in sin who just love the worldly mega-church they attend. What is wrong with this picture? If your church is allowing their members and attenders to live in sin, it is time to leave. If your church is infusing the worship service with the things of this world to attract unbelievers, it is time to leave. This is not church. This is entertainment.
So perhaps it isn't so bad if we feel uncomfortable in our churches. In fact, it's a good thing. Feeling uncomfortable often leads to spiritual growth. If we are humbly and eagerly sitting under a pastor that is challenging and encouraging us from the Word of God, we can't help but be changed. We can't help but to grow. It is how it is meant to be.
I truly believe that the church has been infiltrated by the enemy and it is time to kick him out!