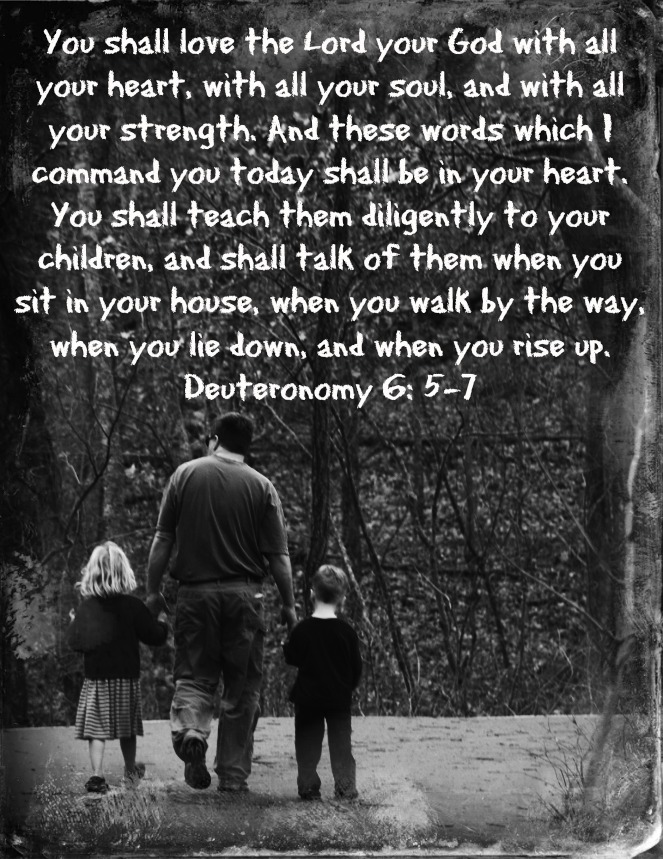 When a father provides for a child's material needs, he is considered a decent father.
When that same father provides sound teaching in the ways of the world, such as how to handle money, hold down a job, and control one's temper, he is considered a great father.
But when a father provides godly counsel using scripture, along with heartfelt prayers to God for the souls of his children (and, later, grandchildren)–is there even a word to describe that?
It reminds of those credit card commercials that always show the price tags of items and vacations and then, at the very end, show a memorable moment followed by the word "Priceless".
You cannot put a price on a father who cares about the spiritual welfare of his children.
I was reminded of this when I received a phone call from my father yesterday. He knows that I am bearing a burden that is feeling pretty heavy. He called to let me know he loves me and to encourage me. He then went on to give me some wise counsel from scripture, first making sure that I wanted this counsel (yes, please!)
His words encouraged me to look at the situation from a little different perspective. He helped me to see what is perhaps the root of the problem. But, most importantly, he let me know that he is praying for me and the parties involved and that he and Mom are available for me, should I need them in any way.
Can I express to you the feelings of comfort and blessing that this call provided to even a grown daughter with almost-grown kids of her own? To know that my father cares deeply about me and my family and is pointing us to God and His Word is a great encouragement and a balm to my soul.
I can't speak from the perspective of being a father because I am not one. I can only speak from the perspective of being a daughter. But I have a few questions for you fathers–
Do you have conversations about the stuff that matters with your kids?
Do you pray regularly for your children and their walks with God, asking Him to guide and protect them?
Do you know the principles of God's Word, so that you can provide your kids with godly counsel?
You see, it isn't enough to make sure your kids have enough to eat and a roof over their heads. And it isn't enough to play ball and board games and even dolls. These things are good things and it is a part of being a good father.
But many, many kids' hearts get lost even with good fathers because Dad never provided the spiritual component so desperately needed in the family.
And so kids grow up and instead of a godly role model to turn to as they go through difficult times, they have a nice guy whom they love and respect but would never turn to for their big questions and tough problems.
May I suggest that perhaps the primary reason we are losing our kids' souls is because of this?
"But I wouldn't even know where to begin?" you may think.
Start when they are young. I would like to give you an example from the life of my husband to encourage you. From the time the kids were very small he was the one who had bedtime devotions with them. He would come home late and so very tired from his quest of starting a new business, but would make time for the spiritual well-being of his children. It showed our children that mommy wasn't the only one who cared about their relationship with God. The kids had lots of good and helpful conversations in those bedtime hours with their father. Another great way to make this happen is over the dinner hour (be sure to have one–don't let sports and other activities steal it away!) We spent many hours with our kids discussing our own problems and the problems of the world, always using God's Word as our guide. Kids need to hear and participate in conversations like this with their dads.
And if your kids are grown (or almost grown), then might I suggest that you open up the door for good conversations by becoming vulnerable? Your kids want to know–need to know–that you have struggled, too. That you don't have it all together. They need to hear of how God has been faithful to you through the years. They need to see you growing more like Christ. They need to know you on a personal level. This is scary, I know, but it is the only way to set the stage, so that when they are facing a spiritual battle or personal problem, they know you will be open to talk with them and probably have something worthy to say.
I think this is the only post I have ever written specifically for men. I know I can't understand all you are going through.You have burdens we women can't even imagine. Work stresses, the burden of caring for the physical needs of your family, and forever trying to meet your wife's expectations. I know it is not easy. But amidst all that's going on, I hope that you will consider my words.
I know that you love your child. But do you want to make the life of your child the best it can be? Then be a dad who knows the Word of God and be available to give them wise, godly counsel that comes from a heart filled with deep and caring love.
For very few things matter more than the souls of your children.