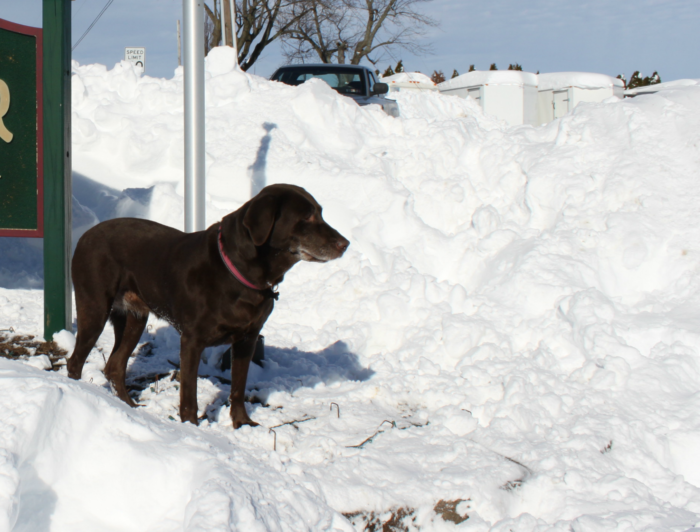 Have you ever wondered why we are so afraid of what people think of us? Many of us actually let this fear control what we will wear or what we will buy. We let it control what we will listen to, read, or watch because we are deathly afraid of being labeled uncool. We will let this control what we share on social media (after all, we don't want to sound too religious) and what we will say to friends and co-workers about God and His Word, being oh-so careful never to be too controversial but to instead stick with very generic phrases like "I'll pray for you" or "Isn't God good?"
We have a Chocolate Lab named Macy. She is a fairly big dog whose deep bark can scare almost anybody. I feel much safer when she is around, as she will be quick to courageously face the unknown if she hears noises or sees something that is unfamiliar, always desiring to protect me.
And so it is quite funny to see this strong and powerful dog grow so scared when she sees a vacuum.
This strong and brave dog literally cowers when she sees the vacuum. It doesn't matter if it's our little stick vac or our large vacuum, as soon as I hit the "on" button she gets this look of desperation and fear in her eyes and leaves the area as soon as possible!
And yet the vacuum could never hurt her. While a spider or a beetle would have a reasonable fear of a vacuum, a dog would not. And yet she is scared to death of the thing.
I think we can be a lot like that as people. We are terrified of what people will think of us. Oftentimes, we allow this fear to shape our lives, quietly living for Jesus without ever mentioning a word. And yet…
What can they do to us?
Actually, they can do a lot. But they can never take away our assurance of salvation. They can never change the course of our eternal destiny. And they can never, ever take us out from under the loving and faithful care of our heavenly Father.
Of course, they can call us names, they can whisper behind our backs, they can make our lives miserable, they can ostracize us. This is what we face most often and it can be quite unpleasant.
But John the Baptist was actually beheaded for speaking the truth (Mark 6:14-29). Herodias became John's great enemy simply because he spoke the truth. Eventually she figured out a way to make sure he died.
As believers, it is possible to develop great enemies in this world because we speak the truth. Hopefully, none of them will ever be so wicked and devious as Herodias.
I Peter 4 also makes it clear that we should expect trials for sharing the truth–
 Beloved, do not think it strange concerning the fiery trial which is to try you, as though some strange thing happened to you; 13 but rejoice to the extent that you partake of Christ's sufferings, that when His glory is revealed, you may also be glad with exceeding joy. 14 If you are reproached for the name of Christ, blessed are you, for the Spirit of glory and of God rests upon you. On their part He is blasphemed, but on your part He is glorified. 15 But let none of you suffer as a murderer, a thief, an evildoer, or as a busybody in other people's matters. 16 Yet if anyone suffers as a Christian, let him not be ashamed, but let him glorify God in this matter.
Beloved, do not think it strange.
Do not think it strange.
Christians in this culture have been sold the lie that they must always rise up to unify– no matter what heresy is being preached. This is simply not true (Jude 3-4). We are called to speak the truth even if–especially if–it is in opposition to false (and very popular!) teachings. And we will most likely suffer because of it.
Perhaps this is why we are so scared of what others will think of us when we speak the truth of God's Word. Like Macy, whose eyes fill with fear at the sight of the vacuum, so do our hearts and minds fill with fear when we sense even a little bit of disapproval from men. And yet there is no lasting, eternal damage that they can do to us (Matthew 10:28).
I guess there are some of you who are not affected by the approval of men. I would not be one of them. Blogging here continues to be a tremendous test for me, continually begging me to ask the question to myself: Do I care more about God and His Word or about what people think of me? This all-important question needs to be answered almost every time I post because I struggle so much with worrying about what people will think.
But many of you don't blog. Perhaps you don't even post a lot on social media. You may be one who hates confrontations and so you remain in the background. It is fairly easy to just quietly live out your Christian faith without ever speaking about it. But this brings us to another question: Can we please the Savior who died for us by living a good life and yet never mentioning a word about Him?
Let's see what scripture has to say–
Psalm 96:2-4 Sing to the Lord, bless His name;
Proclaim the good news of His salvation from day to day.
3 Declare His glory among the nations,
His wonders among all peoples.
I Corinthians 9:16 For if I preach the gospel, I have nothing to boast of, for necessity is laid upon me; yes, woe is me if I do not preach the gospel!
Mark 16:15 And He said to them, "Go into all the world and preach the gospel to every creature.
These verses make it pretty clear that we should be sharing the Gospel and declaring the glory of the Lord as we live our daily lives. When we become believers, we are transformed from being spiritually dead to spiritually alive! This, alone, should give us a desire to share our faith. What a wonderful and incredible thing! And, yet, so often, we are so frightened by the opinions of those around us that we keep quiet.
So I want to encourage you today to speak up! Don't be afraid. And I want you to know that I face this battle on a daily basis, too! But we know from the verses in Peter (above) that suffering for Christ is a trial we should expect. It is a trial that should produce no shame for us as believers. This verse in Matthew sums it all up rather nicely–
And do not fear those who kill the body but cannot kill the soul. But rather fear Him who is able to destroy both soul and body in hell. (Matthew 10:28)

Let us live bravely and boldly, declaring the Word of the Lord as He gives us opportunities. Let us fear God and never men as we live in a culture that grows increasingly hostile to biblical Christianity. We need not fear, for the Lord is on our side.
The Lord is on my side; I will not fear. What can man do to me?
Psalm 118:6