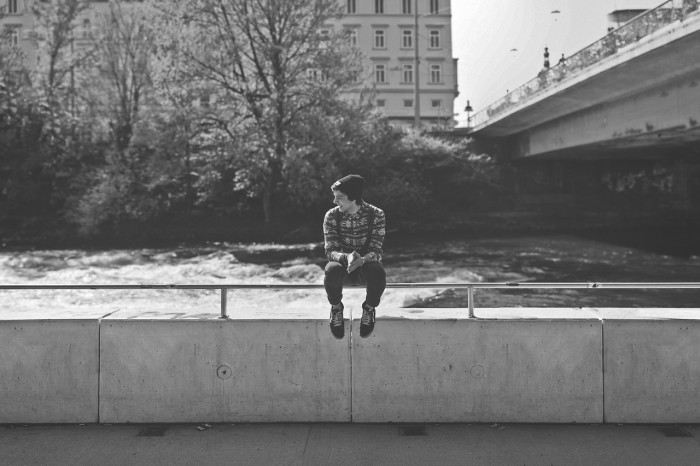 One of the most frightening things about being a Christian parent is the big question mark that lies at the "official" end of our training time. The bags are packed, we say our good-byes, and we watch the car drive away while the question is ever-present in our minds, demanding attention. Will our kids follow Jesus?
And so often today the answer to that question is no. So many good Christian families are losing their kids these days. Over the past ten years, I have watched many parents grieve the choices of their teens and twenty-somethings. A few of these kids come back to the faith, but most don't.
So why are we Christians losing our kids? While there probably isn't just one answer to this question, I whole-heartedly believe that it does have a great deal to do with one thing, in particular.
Christians are having a love affair with the world.
We love the world. Oh, yes, we do. Ask any Christian these days what they are listening to, watching, and doing on the weekends, and you will see that many of them do the exact same things as the rest of the world.
In the old days, we would be taught that to love the world is sinful and that in order to be holy, we must love the things God loves and hates the things God hates. We were taught to separate ourselves from the world and to be different. We were to stand out among unbelievers in a noticeable way. These sermons, books, and lessons were based on the plentiful scriptures about the dangers of loving the world and the stark contrast of worldly and holy living: Romans 12:1-2; James 4:4; I John 2:15-16; John 15:19; John 17:14; 2 Corinthians 6:17; Titus 2:11-12; I Peter 1:14-16; I Peter 4:3-4; I John 2:16. And while people still struggled with loving the world, they knew it was wrong to do so.
Fast forward thirty or so years. Worldliness is not only not taught against, it is actually encouraged! We are told in many of our churches that we need to be like the world to reach the world (if you spend any time in God's Word at all, you will recognize this for the blatant lie that it is). We are told that to have standards is equal to being legalistic. And that to not allow our kids to attend school dances or R-rated movies means that they will be too sheltered and won't understand the world. As if somehow we will become better witnesses for Jesus by participating in the debauchery of the culture. We are told that things like bikinis and gambling and drinking alcohol and entertainment aren't any big deal and that to have standards about these things is completely unnecessary.
And while we listen to this garbage that is surely found nowhere in scripture, Satan is stealing the hearts of our kids.
Think with me for just a moment.
If our kids are listening almost 24/7 to music that glorifies sex, drugs, and violence, should we expect them to follow hard after Jesus?
If our kids are watching horrid violence, sexual perversions of all types, and hearing abundant bad language on the screens that are before their eyes, should we expect them to have a vibrant faith?
If our children want to be like the world and we don't discourage this (and many times even encourage them)– by how they dress, what they attend, and who they hang out with– should we really be surprised when they find holiness and reading God's Word boring and unnecessary?
Really?
And I would add here that, as parents, we are often so tempted to want to be cool and hip to our kids. We don't want to be that downer parent who doesn't let our kids do what everyone else is doing, so many of us– even if we don't really feel a peace about what is going on– will capitulate to the begging and the demands.
In fact, many of us take it a step further and in trying so hard to be the cool parents, we ourselves ignore God's commands for purity and holiness. We wear immodest clothing, watch sinful movies and TV programs on a regular basis, and tune our radios to music that is anything but godly– all in the name of being "cool".
And I get it. It is tempting. I have been the mother of teenagers. In fact, I still am. It is so very hard to stand your ground when all the world– and even most of the "church"– is telling you to relax and just go with the flow.
And if we Christian parents aren't trying to be cool, we are often at the other end of the spectrum, burying our heads in denial. Look, I don't care if your kids go to public school, Christian school, or are home-schooled, they are going to run into bad kids. They are going to be given pornography website addresses and they are going to be offered horrible, ungodly advice. They will have classmates who cut themselves, are addicts, or struggle with eating disorders. They are going to deal with threats, bullies, and unkind adults. They are going to deal with temptations and circumstances that we can't even imagine. We need to help them! The need is urgent. Burying our heads in the sand at this moment could mean spiritual death for our kids!
Let's teach them that we find our standards in God's Word and this is what we base our life upon. Let's live what we are teaching them. And then let's be a safe place that they can go to share their worries and concerns. Don't raise your eyebrows and and control your expressions of disgust or surprise. Many times our kids are facing really BIG problems and we need to be there for them.
I wish I could tell you that we did everything right. But, of course, we didn't. It is truly only by God's great and marvelous grace that our kids are living for Him. We had some rough, heart-breaking moments. We feared for their salvation and futures. We praise Him for His great kindness and mercy to us and give Him the glory!
Raising kids is a scary, daunting task. Especially for Christian parents. We so much want our kids to live for the Lord, but we can't make the decision for them.
However, there are some things we can do to encourage them to choose Christ. The most important thing is to encourage them to love righteousness and hate evil. We need to show them that peace and joy are found in following Jesus– not in a love affair with the world. Teach them to obey Christ in all areas of their lives– not just the politically correct ones. (i.e. of course, we are told to help the poor, but this is just a small portion of what it means to be a Christian– it is certainly not the defining trait of a Christian, as we are being told these days by the mainstream church). We need to teach them by our words and by how we live that our worth and purpose is found in our relationship with God, not in the things of this world.
We won't be perfect, but we need to show them what it means to be going the right direction and growing as a believer.
It's not about perfection, it's about direction.
And, finally, pray. Pray often and pray hard for the souls of your kids. Pray that they would hunger for God's Word. And that they would love righteousness and hate evil.
Satan will try to trick you into believing that your kids are a lost cause–that it is impossible to raise godly kids in this culture and in this era, but don't you believe him! It is not impossible– not when God is on your side. And God has provided His precious Word as a guide.
Yes, it will be extremely hard and require much courage.
And, yes, it will take sacrifice.
You will probably lose a few friends through the process.
And, yes, there will definitely be frequent moments when your kids and their friends will think you are uncool.
But keep your eyes on the goal. Don't let them stray. You have a job to do. You can't afford to get distracted. God will guide and direct you. You will make mistakes, but His grace and mercy will cover them. Stay humble and stay teachable.
And, finally, give up your love affair with the world. Because if you don't, it will cost you. A lot.