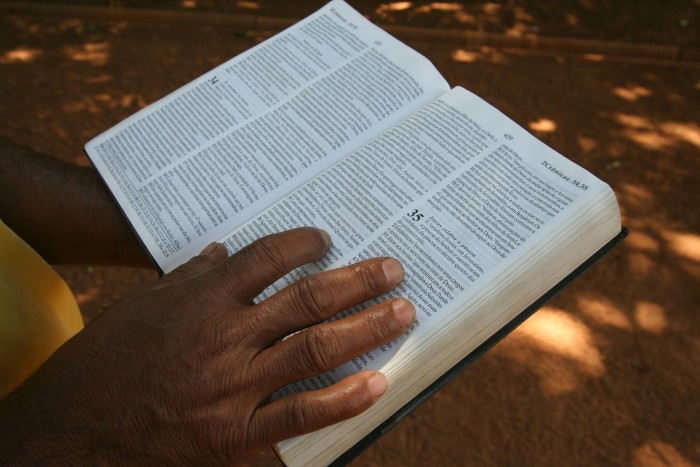 One of the things I have been really struggling with this second time through the Old Testament is the ease with which God seems to kill off anyone that offends Him. Yesterday, I read of the men from the Levite town, Beth Shemesh, who committed the very presumptuous sin of looking into the Ark of the Lord (I Samuel 6). Because of this, they were struck by God and killed. Just like that.
What?? Is this the same God whom we sing about, lauding His grace and mercy?
As I discussed this with my brother, Pastor Dean, he said something very profound. In fact, so profound, that I believe until we fully grasp a biblical view on this, we are going to really struggle with our concept of God.
We either believe–
People are good and God is evil.
OR
God is good and people are evil.
We can't have it both ways. If we believe people are basically good then what we see God do in the Old Testament seems harsh and cruel…and evil. But when we come to the understanding that we are born with utterly wicked hearts and are entirely dead in our sins and that God is perfectly Just, perfectly Righteous, and perfectly Holy, then what happens in the Old Testament starts to make more sense.
It really is impossible to believe that both God and people are good. Because if that is so, then we really have a problem–for how could a good God strike down intrinsically good people who simply made mistakes?
Even as I write this, I recognize the distaste that wells up inside most of us at this thought of people being born with zero righteousness. Even as Christians, this doesn't sit well with us. Surely, we have some good to bring to the bargaining table? And yet scripture is clear–
"There is none righteous, no, not one;
There is none who understands;
There is none who seeks after God.
They have all turned aside;
They have together become unprofitable;
There is none who does good, no, not one." (Romans 3:10b-12)

This intrinsic wickedness that is taught in scripture is just such a hard concept to accept with our Western, human rights thinking. I think many of us, even as Christians, drag our feet in fully admitting man's sinful state.
But when we come to the understanding that God is good and we are not, then what we are reading starts to make so much more sense. A holy, just God cannot tolerate a unholy people. And so when the Israelites were prideful and disobedient, they paid dearly–many times with their lives. But we also see– over and over again–God's generous mercy and grace when the people are humble and obedient.
Let's fast forward a bit. When Jesus Christ died on the cross as a sacrifice for sins and then rose three days later, we moved into the age of grace–this wonderful time where God does not generally strike men down for their sins and disobedience.
But does that make our pride and arrogance any more tolerable? Or our disobedience any less offensive?
Certainly not.
We are totally dead in our sins until we receive God's free gift of salvation through Jesus Christ. Once we receive this new life, our rock-hard hearts are softened, our desires changed, and we naturally take steps to live a humble, obedient life.
Is God's plan of redemption starting to make so much more sense now?
This also helps us to understand why people are moving away from the scriptures as the basis of their faith and why so many choose to believe only parts of the Bible and not the whole. If we are honest, some of what we read in scripture is really hard stuff. We don't like it. And we can't wrap our brains around it. And, most importantly, it places demands on us that many of us find distasteful and unpleasant. "Fire insurance" is what most people are after– the call for self-sacrifice, humility, and obedience is certainly not a welcome part of the plan.
But choosing only to believe the happy parts and the blessings of scripture do not make the hard, difficult truths any less true, does it?
I would say that until we can recognize that all men are born sinners and without merit– no exceptions and no levels– we cannot fully grasp the fulness of our salvation. Reading the Old Testament is helping me to understand just how much God hates sin. It is giving me a much deeper appreciation that God, in His marvelous grace and infinite mercy, has given us a great gift in salvation and that through Jesus Christ alone can I be reconciled to God.
Because God is good and I am not.
Sure, I still have a few unanswered questions. But they are eclipsed by the wonderful insight and knowledge of God I am gaining as I read. I sure do hope that you are experiencing the same thing. If not, then just continue reading, praying each time before you start. God is so faithful. He will speak through His Word to a willing and humble heart. Not every moment. Not every day. Sometimes we read because it is the right thing to do. But you will be so surprised and delighted at the end of the year just how much you have learned!
Isaiah 55:11 So shall My word be that goes forth from My mouth; It shall not return to Me void, But it shall accomplish what I please, And it shall prosper in the thing for which I sent it.