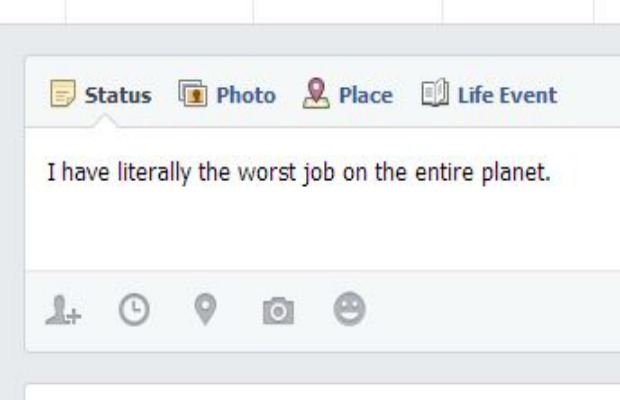 I wonder if most of us realize what Facebook tells the world about us? When I was in that wonderful stage of dating (do you hear the sarcasm??), my parents had no idea what my date's favorite bands were, what he liked to watch on television, or if he went to R-rated movies. They didn't know if he was a whiner or a busy-body or used bad language.
Aah- how life has changed. As a parent, I love the tool of Facebook. I can tell immediately where someone's heart is by looking at their info page. I can judge pretty quickly if the young person would be a friend that builds up or a friend that tears down. Because, like it or not, Facebook often shows our true character. It shows what we love, what we believe is important, and with what we fill our minds.
But it isn't only our info pages that tells the world about us. Have you ever stopped to think what Facebook statuses and comments say about you? If we aren't careful, we can fall into bad habits of complaining or bragging on this modern town square bulletin board.
When I first got my Facebook account, I tended to do some of this. It is easy to complain and now I had a chance to complain to the "whole world"!  There is also a great temptation to share only the good stuff to make yourself look like your life is totally together. But, after awhile, I realized that neither of these tactics was uplifting or benefiting anyone, including me.
Now there is certainly not anything wrong with sharing exciting news or family photos. It is fun to share our lives and reconnect with far-flung family and long-lost friends. And there is certainly nothing wrong with asking for prayer about a difficult situation or sharing with the world something that we are really struggling with (if we are truly okay that the whole world knows it!) Facebook can be a great networking tool for people without jobs or in a situation where we need encouragement. But when we find ourselves in a pattern of only writing the negative, it says something about us. It says we are a complainer. And we all know what God says about complaining:  Do all things without complaining and disputing (Philippians 2:14)  In fact, in the Old Testament, God hated complaining so much that he swallowed some of the Israelites up with fire!
Numbers 11:1  Now when the people complained, it displeased the LORD; for the LORD heard it, and His anger was aroused. So the fire of the LORD burned among them, and consumed some in the outskirts of the camp."
The other thing we can tend to do on Facebook, if we are not careful, is to make underhanded comments or statuses meant to hurt or embarrass others. Have you seen these statuses? They will be stated in such a way that they are not quite accusatory and they certainly do not mention names, but everyone makes their own deductions about who these statements are directed towards, while the intended party of the accusation or embarrassing statement is left to figure out how best to deal with the slight. This isn't a healthy way to use Facebook and certainly not a good way to communicate with others.
And, finally, I have noticed another trend recently. It is the trend for people to only care about their own statuses. They share all of the interesting news in their own lives but never show any interest in anyone else's. But, then, I guess that is the case in much of life in the real world, too, isn't it? I think it is so important to show we care about others and what is happening in their lives, both virtually (if you are part of that world) and in the real world (Philippians 2:3).
Facebook can be a great tool for connecting with others. It can be a great way to stand for the Truth in this very dark world. May we use it in a way that glorifies God. Colossians 3:17 says: And whatever you do in word or deed, do all in the name of the Lord Jesus, giving thanks to God the Father through Him. Believe it or not, "Whatever" includes Facebook, Twitter, and LinkedIn.
Disclaimer:  All characters appearing in this work are fictitious. Any resemblance to real persons, living or dead, is purely coincidental. ;)
**If you enjoyed this post, would you help me get the word out about Growing4Life by sharing it? Thank you!