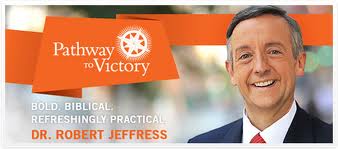 The other day I was flipping around on Sirius radio. There isn't a whole lot on there worth listening to, so I was fairly limited in choices. I came upon Family Talk Radio and started listening to an unfamiliar voice say some very interesting things. I found out later that the pastor was Dr. Robert Jeffress from First Baptist Church in Dallas. I do not know anything about him. What I do know is that this excerpt is certainly worth sharing with you. While Dr. Jeffress was specifically addressing pastors and leaders, his words are great wisdom for all of us.  I copied down a short section to share with you:
But preaching biblically based messages on controversial topics, encouraging your members to vote, challenging laws that violate God's laws, are just some the ways that you can fulfill your role as a prophet.
Now at the risk of offending some, let me be blunt.  Pastor, you will never be criticized by the world for building a homeless shelter, you will never be criticized by this culture for asking your members to give sacrificially to build water wells in Africa. In fact, the culture will applaud you as a pastor for doing those things because that's what a pastor is supposed to do: encourage nice people to do nice things. That is their idea of a pastor.
No one is going to criticize you for that. But if you dare stand up and point your finger at the culture and say "This is wrong, thus saith the Lord," you'd better be ready to suffer. You may be suffering, not the loss of your life as the Old Testament prophets did, but be prepared to suffer the loss of  your reputation, your career, your livelihood.
That's why Paul said in Second Timothy 4, verses 2 and 5, be prepared to endure hardship. Timothy was told that if he fulfilled his role as a prophet it was going to get hard at times. But that's the pastor's role, not only as a preacher but as a prophet. *
He's right, we'd better be ready to suffer, because if we are willing to live and vocalize this kind of Christianity, we are not going to be very popular.  But, then again, we should be much more worried about what God thinks than what others think, anyway.
We need to pray for our pastors and leaders, for our families and our friends, that we would all stay strong in this tide of tolerance and relativity, no matter the cost.
*From the sermon entitled "For Pastors Only, Part 2" by Dr. Robert Jeffress