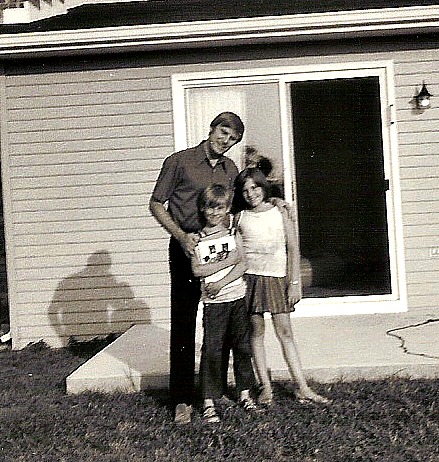 Last Sunday was Father's Day. What a wonderful day to celebrate the men who have shaped us and who are shaping our children. I feel indeed blessed to not only have had an exceptional father, but also to have an exceptional father for my children. 
I heard this blog post read the other day and was struck by its simplicity, its truth, and its applicability (is that a word??) to both dads and moms. But before we move on to the article, we need to face a hard truth: it is a rare father that does all 21 of these things. And mine certainly didn't. But then he (and my husband) both have their own unique personalities and good traits that aren't listed in this article.  
If we are mothers reading this, then let's appreciate the good things that are written here and also the wonderful things that may not be included here about our fathers and husbands. Let's apply what we can and become better mothers. 
If you are a father reading this, then I present this as encouragement and inspiration–not as a source of dissatisfaction or hopelessness.  Be the best, most godly father you can be with the resources you have. That is all God asks of you. 
And on a personal note, in this article the author shares how his father rubbed his legs when he was suffering from growing pains as a child. His mention of this brought one of my own favorite memories of my father rushing to my memory. How well I remember him rubbing my aching legs in the middle of the night, while we talked about what heaven will be like. It is one of my fondest memories of time spent with my dad.  
This was written by father and pastor, JoshMcPherson. You can find his original post here.
I don't want to be a good dad—I want to be a great dad.
But the longer I live and more ministry I do, the more I have come to realize there are precious few examples of grace in action when it comes to fatherhood. So on this Father's Day, I wanted to take a moment, heed Paul's exhortation (Eph. 6:1), and honor my own father, Greg.
Was he perfect? Nope.
Did he make mistakes? Sure.
Does he wish he could do things differently? I have no idea.
But in a land where few men finish well when it comes to the daunting task of fatherhood, I've found myself reflecting and marveling at the grace of God in my dad's life. He loved Jesus, repented often, and poured his life into his two sons. How much more could a boy ask for?
In your life, Dad, I have found a roadmap for my own role as father. So I wanted to take a few moments, and tell you thanks from the heart of a grateful son. Specifically, thank you for . . .
1. NEVER PUTTING ME DOWN
Not once. You never made fun of me, mocked me, or talked about me like I wasn't there. Never was I the butt of your jokes. In everything you built me up, encouraged me, and moved me forward. You always spoke of my future with great hope. "The Lord will give you great opportunities, Josh. Jesus has great plans for you, son." This sort of prophetic encouragement every boy needs, and I got it in bushels. Thanks, Dad.
2. RUNNING INTO MY ROOM
. . . the night I screamed in agony from growing pains. I was eight. You were half asleep. Tripping on a toy you went sprawling across the room in your underwear. We both burst out laughing. Then you rubbed my leg-cramps for an hour. I slept in the next day; you were up at 5 a.m. and out the door. You put my need to be comforted in front of your need for sleep. Thanks, Dad.
You loved Jesus passionately and it drew me in.
3. BEING THE TOUGHEST MAN I KNOW
. . . and crying in front of me often. It's good for a boy to see both. I've seen you cut down trees, fix tractors, build things, and tackle gut-wrenching church conflict with unflinching courage and razor-sharp biblical clarity. I've also seen you listen intently, hug often, and tear up quickly when moved by someone's pain or God's grace. Not the helpless, whimpering, cowardly sort of tears—the genuine, earnest, heartfelt tears of a man who feels and thinks deeply. You cry easily when talking about Jesus, the gospel, redemption, and the day God called you into ministry. I love that. Thanks, Dad.
I never felt more safe and loved than when held in your arms.
4. RAISING YOUR HANDS
. . . and singing loudly with the church. I distinctly remember as a young boy looking up and seeing tears roll down your cheek during worship. I couldn't articulate it then, but I knew that you were singing to someone who meant everything to you, who was great and big and awesome and worthy of your allegiance, and who gave you great joy. That is a gift to a young man. You didn't tell me to love Jesus passionately—you loved Jesus passionately and it drew me in. Thanks, Dad.
5. SPANKING US, THEN HUGGING US
That is a powerful parenting combination that no child's heart can resist. I never felt more safe and loved than when held in your arms as the sting of the spank faded and the assurance of your unshakable love filled my little heart. Redemptive discipline is a precious thing. Thanks, Dad.
6. LEAVING ME NOTES ON THE BATHROOM MIRROR
Sometimes they were a verse written out you'd read that morning, or a prayer for something big I was facing, or an apology for something said the night before. No matter the occasion, they were always encouraging, full of Scripture, and right on point. This told me you were thinking about me even when you were gone, and were vested in my success. Huge. I still have most of them to this day. Thanks, Dad.
Always you were there, Bible in hand, heart open, mind working.
7. PUTTING MY FRIENDS TO WORK
Mowing the lawn, cleaning the garage, working on a project in the shop. Every time my friends came over to our house, you worked us like dogs. I could never figure out why all the guys always wanted to come to my house.
But I figured it out later: you treated them like men. And then you'd fire up the BBQ and spend the rest of the day asking us what we wanted to do with our life that would make an eternal impact. Thanks, Dad.
8. READING YOUR BIBLE EVERY MORNING
That is the biggest memory I have: you, at the kitchen table, worn Bible in front of you, studying away. Not checking Facebook. Not returning email. Not reading the paper. Soaking in the Word. Sometimes tears were running down your face. Sometimes your eyebrows were burrowed in thought. Sometimes your head was bowed in prayer. Sometimes your pen was scratching furiously in your journal. But always you were there, Bible in hand, heart open, mind working. It left an indelible imprint on the life of a young boy about how a real man starts his day. Thanks, Dad.
9. LAUGHING LOUD, LONG, AND LOTS
At the dinner table. On a hunting trip. Or just whenever. Some of the most fun memories I have include watching you slap your thigh, throw back your head, and roar with laughter. I loved hearing your laugh. Still do to this day. You took many things in life blood-earnest, but you laughed at yourself often. That is a gift that has served me well in ministry. Thanks, Dad.
10. CHARGING ME RENT
You did this the day I turned 18 and was still living in your house. All of my other friends learned to freeload. I learned to work. And it wasn't done as a cruel punishment, but a teaching moment for taking responsibility and growing up as a man. Thanks, Dad.
You were not living life unless you're serving others and God's kingdom.
11. LOVING ME WITHOUT QUESTION OR HESITATION
I have questioned many things in my life, doubted many things, faced many unknowns. But there is one thing of which I have never questioned: your love for me has been unwavering and relentless, dependable and true. It's taught me a lot about how I am loved by my better heavenly Father. Thanks, Dad.
12. TURNING DOWN SPEAKING ENGAGEMENTS
. . . so you "wouldn't miss the important years." I didn't appreciate it then. I do now. Thanks, Dad.
13. WRESTLING WITH US AS KIDS
. . . every night when you came home from work. You were probably exhausted from work, but knew we were waiting behind the couch to launch a surprise attack. You could have said you were too tired. But you didn't. You wrestled until, giggling and short of breath, we begged for mercy (and asked for more at the same time). Thanks, Dad.
14. FILLING THE DINNER TABLE WITH STORIES OF GOSPEL VICTORIES
These were the best moments ever. To hear of a broken person made whole through the redeeming work of Jesus. My big takeaway from our dinner conversations was that you were not living life unless you're serving others and investing in God's kingdom. You whetted our appetite for gospel ministry early. Thanks, Dad.
15. READING THE PICTURE BIBLE EVERY NIGHT BEFORE BED
And oh, how you brought it to life! When Moses faced the Red Sea, I was overwhelmed with despair. When David stared down Goliath, I trembled with fear. When Jesus rose from the grave, we cheered and clapped for joy. Dad, when you read the Bible, The Story came to life. It's no wonder your two boys have given their life to teaching others that same Bible. Thanks, Dad.
16. BUYING A HOT TUB
. . . so we could have a place to "hash things over." Some of my best memories as a teen are coming home after something happened at school or with sports or with friends and asking, "Wanna hit the tub, Dad?" and knowing that you'd never say no, so we could have life-shaping conversations. Thanks, Dad.
17. TEACHING US THE IMPORTANCE OF MENTORS
You did this by having multiple mentors yourself and regularly showing us how they helped you. To this day, learning from men around me is a deeply held value of mine, one that has served me, my wife, our family, and our church well. Thanks, Dad.
A wise man is not a perfect man, but a repentant man.
18. SITTING ON THE FRONT ROW
. . . at church, Bible open, taking furious notes and bellowing hearty "Amen's" while I preach. In this, you show me what it's like for a man to be a lifelong learner.
19. CONFESSING SIN OFTEN
You were not perfect, but when you messed up, you were quick to confess it and repent of it. These made me feel safe, like I could follow you without fear. There was integrity in your life, and it gave me confidence in your leadership. You taught me by your example that a wise man is not a perfect man, but a repentant man. Thanks, Dad.
20. BEING THE FIRST PERSON I WANTED TO CALL
. . . when we found out Ella Mae would be born with Spina Bifida. That was a dark-night-of-the-soul moment. A confusing time. And all I knew was I needed to call my dad. You listened and affirmed your love for us and God's plan in all the pain. Then you prayed with us and invited us over to the house. We needed to "talk it out and make a plan for this new little blessing God's bringing into our lives." I needed someone to tell me that day that this little girl would be a blessing, and you did. Thanks, Dad.
21. LOVING MY WIFE LIKE YOUR OWN DAUGHTER
She feels your love, she feels your support. She knows that if we came to you for counsel with a relationship conflict between us, that you'd take her side first before you'd take mine. "I think we love her more than we love you, Josh. I know we like her more," you've said with a wink and a laugh. But it's communicated the point. And that's a wonderful thing for a daughter-in-law to know. Thanks, Dad.
I could go on but I'm way over word-count. So thanks, Dad, for loving Jesus and living a life that makes it easy to remember and honor. I love you deeply and am still watching closely as you follow Jesus and finish well. You have lived a life worth emulating, and I've been taking notes. May I learn from God's grace in your life to love my children the same.