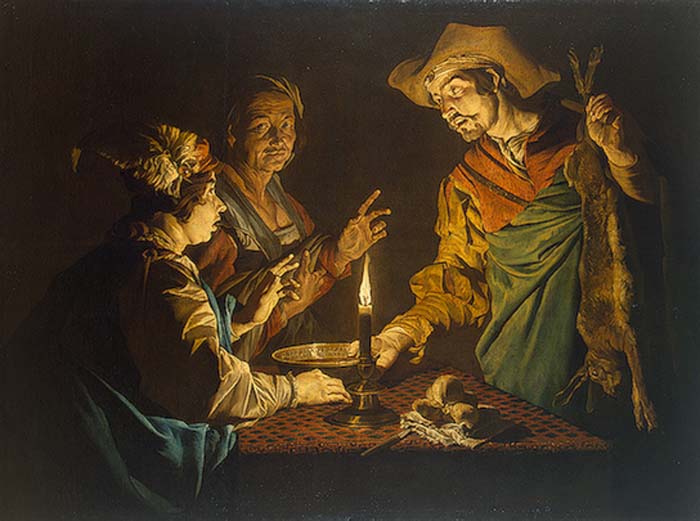 Do you remember Esau?  Yes, the guy in the Bible.  He was the older twin brother of Jacob.  One day he came in from the field weary and hungry.  His brother was in the midst of making a delicious red stew.  When Esau asked for some, Jacob saw his opportunity.  He told him that he would give him some stew in exchange for his birthright. In those days, this was a big deal.  The older son was much more privileged than the younger son and by trading his birthright for a bowl of stew, he was giving up his inheritance. You can read this story for yourself in Genesis 25.
I have always thought of Esau as very foolish!  What man in his right mind would exchange something so important for a bowl of food?  And then it hit me.  I do that almost everyday.  I am in the habit of regularly exchanging self-control and a healthy body for a bowl of ice cream or a serving of french fries.  When I think about it like this, I realize that I am not all that different than Esau.
We also do the same thing when we trade:
–our financial well-being for a car we can't afford
–our spiritual well-being for 2 hours of ungodly entertainment
–a healthy marriage for a moment of griping and complaining about something trivial
–our children's well-being for the temporary moment of peace that comes when we don't discipline them
–our Christian testimony for a glass of beer or an hour at the gambling table
–our integrity for a few bucks on a tax form
–a healthy body for an hour of laziness and tv-watching
Most of us are trading what is most important for what is trivial almost every day.  We wile away our entire lives on the unimportant, never realizing the great sacrifices we are making to do so.
Quite frankly, I can't even relate to what Esau did because it is not part of our culture.  We couldn't trade a birthright in our culture, even if we tried.  And so this story has always remained rather an enigma to me.  And, then the other day, as I was reading it once again, it was made so clear to me.  I can see how I am just like an American style Esau.  Trading what is most important to me almost every day for something really stupid.
Some of the things I am trading aren't even sinful in and of themselves.  A bowl of ice cream or an order of fries isn't sinful.  Buying a new car isn't sinful.  But it is the attitude.  It is the habit.  It is the lack of self-control.  It is the desire of self-gratification over the desire for doing what is right.
I don't know about you, but I will never read that story in the Bible the same way again.