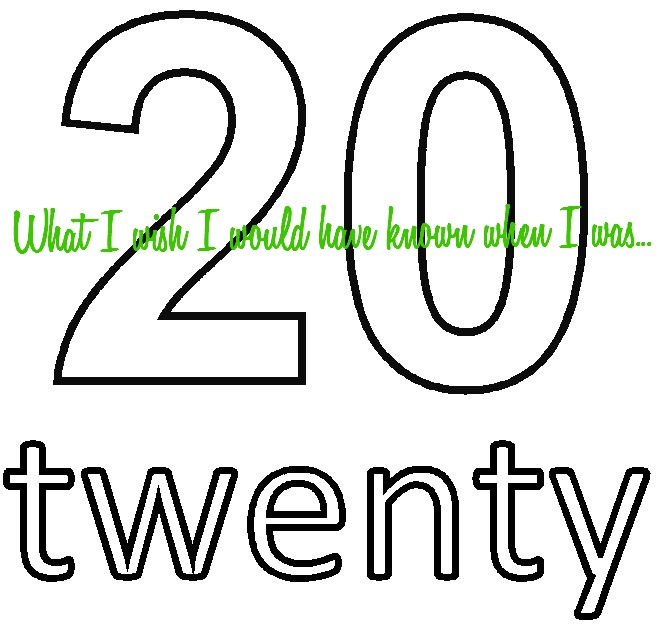 I was thinking the other day of some of the things that, had I known them when I was 20, would have made life much more enjoyable.    Here are some of the things I would tell my naive 20 year old self, if it was possible-
1.  Let it roll. If someone says something that offends you or doesn't buy you a gift (even though you bought them one) or steals your boyfriend or simply says something that just irritates you just let it roll. Because life is just too short for grudges.
2. The greatest personal satisfaction comes from giving–not getting.
3. You are not overweight! Just because you don't look like a magazine cover or a movie star doesn't mean you are overweight. Appreciate the body you have now, because it won't last.
4. Stepping out of your comfort zone will often yield incredible rewards.
5. Appreciate your parents. They have given more of themselves than you could ever realize. Don't take that for granted. Don't be so wrapped up in your own affairs that you forget they have feelings, too.
6. Expect good times less often. Appreciate them much more.
7. Don't assume you know why someone is acting or reacting in a certain way. It is hard enough to understand your own motives, much less someone else's.
8. Face your fears head-on!
9.  You don't need a loan to buy a car or a piece of furniture. Live on what you make.
10. Just because someone tells you your nose is too big or your feet are too small, doesn't mean its true. Find your worth in Jesus Christ, not in the opinions of others.
11. Money doesn't make you happy.
12.  Don't dwell on your fears and worrisome details of life. Figure it out as best you can, do what you can to resolve the problem, pray hard, and then think about something else.
13. You will blink and life will be half over. Savor every single moment of it.
This list certainly isn't exhaustive. Feel free to comment below and add some of the things you wish you would have known!