I have been buying cilantro these last few months on a regular basis. Cilantro is a wonderful fresh herb that makes salsas and Mexican dishes taste amazing. I tried to grow it last year but I don't think I gave it enough sunshine and it didn't last very long. But this spring, as I saw fresh cilantro plants in the grocery store, I would buy one that would last a week or two and then I would buy another one…that would last a week or two.  Finally, I went to the nursery and bought a cilantro plant to see if that would be more hardy (it is still alive, by the way).  But last Saturday, I went outside and found this: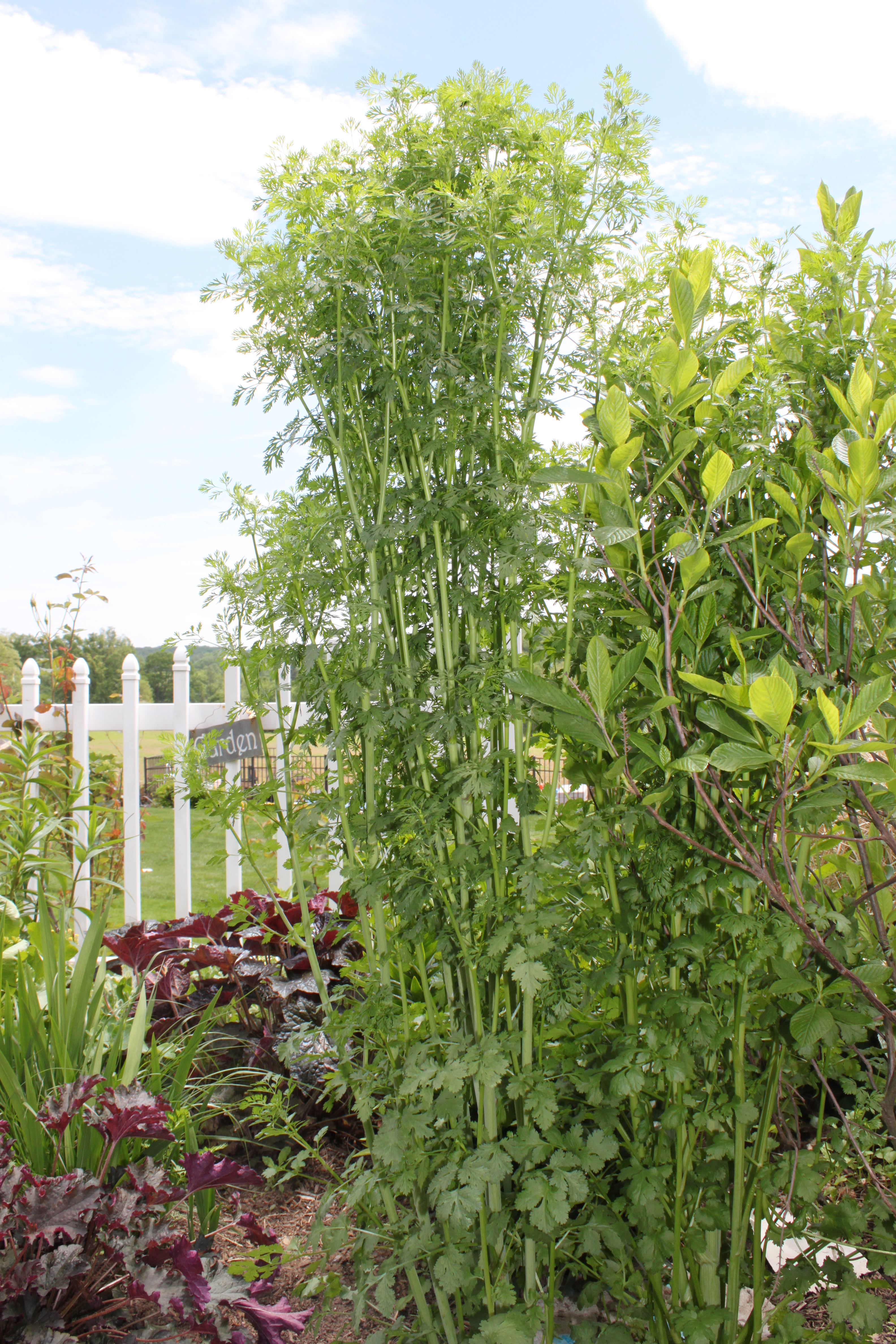 I stared at it and thought what in the world is this??  I did not plant that there!  And then I noticed the leaf and a light bulb went off.  I tore a bit off and rubbed it between my fingers.  How about that?  It was a giant cilantro plant growing right in the middle of my flower garden.  The plant was almost as tall as I was. I had been buying cilantro and here I had more than I could ever use right outside my kitchen door.
That is such a great picture of the riches we have in Christ, isn't it?  We long to be filled, so we try to fill ourselves with material possessions, relationships, and power.  The satisfaction doesn't last, so we keep "buying" more…perhaps it is the next level of the job or a bigger house or a different spouse.  But the satisfaction always dies and we are left looking for yet one more thing. And, yet, if we are a believer, true and lasting satisfaction is right within our grasp. It is right in front of us and we don't even realize it.
God waits to give us all we need.  He wants to be the One we run to when we are struggling.  He is ready to pour out spiritual blessings on us.  But we continue to wallow in the mud trying to fill ourselves up and basically making a mess out of things.  Buying more stuff only to watch it fade away. Gaining more popularity and power, only to grow old and watch it disappear.
You see, all of life is so fleeting and only one thing is of eternal value.  All of our life should be given to knowing Jesus Christ and making Him known.  That will fill us in a way that nothing else can. And it will take our eyes off of ourselves and put them on furthering the Kingdom. We live in a lost and dying world and God is waiting for the lost to come to Him, weary and broken and repentant, to give them a new life.  But many of us (including me) are so busy trying to fill our own hearts and lives that we can't worry too much about the lost state of others.
And, yet, just like my cilantro plant, God has been waiting there all along.  If we will obey His Word and turn our life completely over to Him, we will be filled and satisfied more than we can ever imagine.  Why do we wait?
I am not sure I wanted a cilantro plant in my flower garden. I have an herb garden for such things. But I may just leave it there to serve as a reminder that my God is my comfort and source of satisfaction…that He is my reason for living and my main priority.  After all, can you ever have too much cilantro?
Psalm 16:5 O LORD, You are the portion of my inheritance and my cup; You maintain my lot.