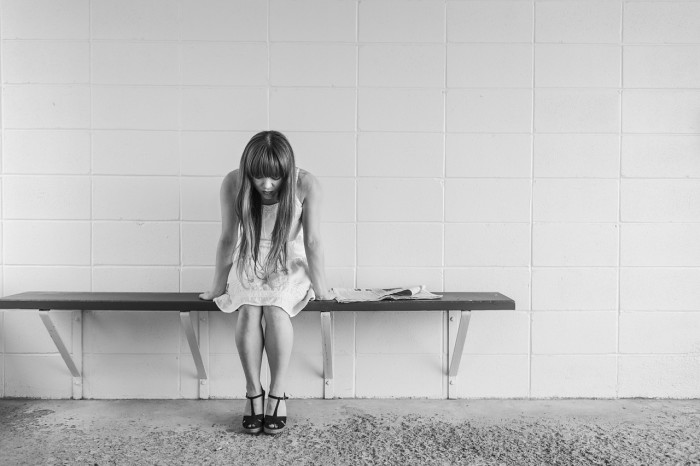 I would like to tell you that I am worry-free. But, alas, I am not. There are just so many things that can go wrong! If we are the kind of person that thinks too much, we can tend to be worriers. Am I the only one who thinks there is something desperately wrong if I am unable to get a hold of my child on their cell phone for ten minutes or if I have a strange pain somewhere?
Worry can be so debilitating.
It steals our peace.
It controls our thoughts.
It takes our joy.
And the wonderful reward for all this worry?
Nothing.
Absolutely nothing.
The time we spend worrying steals our present, yet makes no difference in the future. Worry keeps us locked up in a prison of our own making, far away from the joys and blessings of life.
When I was a young twenty-something, I was positively crippled by worry. I would lay on my sofa for wasted hours feeling sick because of worry. It was so awful. But God rescued me. He taught me to take my thoughts captive. I learned to move my mind from my worry to something else. Oh, the first few months it felt impossible. But it got easier and easier, until it became a habit. Of course, every now and then, a few question marks show up in my life to remind me that I haven't mastered worry.
Theologically, I have learned that worry is really an affront to God. When we worry, we are telling Him that He doesn't know what He is doing. That we can't trust Him.
But this week as I was reading in Luke 12 for the Bible Challenge, I found some very practical and helpful principles for this raging battle with worry and anxiety that so many of us face–
We are loved and valued by the Father. Luke 12:7 tells us that not even a sparrow is forgotten before God and that we are of far more value to Him than many sparrows. We need not fear.
The Holy Spirit will guide us through trials. Luke 12:11 tells us that the disciples brought before magistrates and authorities for the sake of Christ will be given words to answer the accusations through the Holy Spirit. When I read this verse the other day, I felt comforted to know that if (or when) the church faces persecution, we will not be alone. And there are other verses throughout scripture to show us that the Holy Spirit is there to comfort and to counsel us: John 14:26; Romans 15:13; 2 Timothy 1:14.
Worry changes nothing. Luke 12:25-26 asks this:

And which of you by worrying can add one cubit to his stature?

26 

If you then are not able to do the least, why are you anxious for the rest?

 


When things are outside our control, many of us tend to stew and fret and make those around us miserable (if we are honest!) and yet, all that frustration and misery won't change one thing. That is sobering to think about, isn't it? Especially for us worriers. How many precious hours have we wasted on this time-sapping activity?
God promises to take care of us. A little further on in Luke we read this in verse 28:

If then God so clothes the grass, which today is in the field and tomorrow is thrown into the oven, how much more will He clothe you, O you of little faith? 

Worry is probably a timeless sin that has affected almost all human beings at one time or another. And yet, Jesus tells us here that we can trust the Father. He will care for us.

Knowing God and making Him known needs to be our first priority. I don't think it is an accident that verses 34-35 (

Sell what you have and give alms; provide yourselves money bags which do not grow old, a treasure in the heavens that does not fail, where no thief approaches nor moth destroys.

34 For where your treasure is, there your heart will be also.) follow right after this whole passage on worry. After all, worry is often the result of having our priorities a little out of order. It is much easier to yield our will to the Father's when we can keep our worldly possessions in perspective or when we truly want to please the Father in all things first and foremost– even before our own health or popularity, before any relationship, or before our reputation. When we really keep God first in our lives and seek His kingdom, it helps us to sift and sort through all of the trivial–and not so trivial– things we worry about.
Of course, all of these principles are well and good, but if you are in the midst of a battle with worry this may feel a little rote to you. And some of you are facing really big struggles right now, with no good conclusion forthcoming. Illnesses, loss of jobs and income, straying kids. There are very legitimate causes for concern in so many of our lives. If this is the case, I encourage you to pray, begging God to help you live out these principles in your life. If you are a true believer, the Holy Spirit is there to comfort and guide you.
Sometimes in the midst of a deep, dark trial that has me captured by worry, I find myself unable to even pray. If you find yourself in a similar place ask a friend or family member to pray for you until you get though the worst of this.
But, most of all, let's keep our eyes on the Father, the author and finisher of our faith. He will never leave or forsake us. Let's glorify Him by showing the world that we trust Him implicitly instead of staying locked up in our prison of worry.