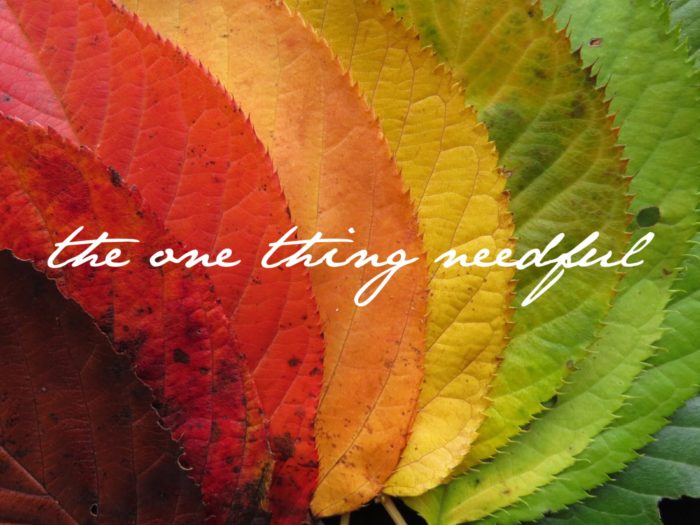 In preparing a Bible Study on Mary and Martha (Luke 10:38-42) recently, I was convicted once again how important it is to do the "one thing needful": Hear the words of the Lord. Today we do this by filling our hearts and minds with God's Word.
As I studied, I was reminded just how difficult it was for me to have my quiet time when I was a young mom. Life is really hectic then and it seems like as soon as you sit down to spend some time with the Lord, the baby starts crying or the children start fighting. With the unpredictability of days with kids and the overwhelming amount of cleaning, cooking, and laundry, it felt almost impossible for awhile.
Or you may be a caretaker for an elderly parent or be raising your grandchildren and feel exhausted all the time. Work may be demanding and you see no way to change your schedule right now. Whatever you situation, circumstances may be crowding out the hours you used to spend with the Lord.
Life will change and before you know it, you will have the time you so desire now, but until then, I thought you might appreciate a few ideas. In the list below, you will find some creative ways to make time for the Lord in the busy seasons of life. Some of the ideas are ones I have used and others are things that could have helped me if I had thought of them. I hope that they may help some of you incorporate worship and spiritual growth into your life, whatever stage you find yourself in!
1. Commit to reading just one chapter from the Bible each day and writing a summary sentence of the chapter in a notebook.
2. Listen to sermons of godly, trustworthy men. This list is growing shorter, almost by the day, as most men we trusted are now compromised either doctrinally or by their associations. But with YouTube and SermonAudio, you can find some really solid men still preaching. Most of them are pastors of small churches you've never heard of. Check out my brother, Pastor Dean Good, of Grace Church of North Olmsted (found at gcno.org) for one such pastor.
3. Commit to replacing some of your recreational reading or TV and Internet time with Christian classics, missionary biographies, and other books that will grow you as a Christian. Use discernment because the wrong book can change your theology! Some books to get you started: Loving God with All Your Mind by Elizabeth George; The Attributes of God by A.W. Pink; Soul Heights and Soul Depths by Octavius Winslow; George Muller: Delighted in God by Roger Steer; Gladys Aylward by Sam Wellman. You can find more suggestions at this page.
4. Use the snippets of time in your life. Time spent in the car, in the shower, waiting in the doctor's office or at soccer practices, and doing household chores can be used to memorize verses, listen to sermons, or pray.
5. Instead of automatically turning on that country or pop station, play Christian music. While, often, Christian contemporary and modern worship music has been found to be deeply compromised there are so many more options. Consider finding a CD or creating a playlist of hymns. You will be surprised at how these will bless your heart if you pay attention to the lyrics. Consider teaching these to your children. Look into other Christian music that is not in the mainstream or does not receive radio play. You will be surprised how much music is out there to bless your soul that you've never heard of. It's like a little treasure hunt…
6. Hold a Bible Study in your home or at your workplace for one or two other women during nap time or break time. This will function as an accountability for you because you will have to dig into the Word and be prepared! God will use this in your life and in the life of others if you are committed to teaching the literal Word of God, use biblical resources, and are humble enough to admit that you don't have all the answers.
7. Memorize Bible verses and passages, using bits and pieces of time that would be otherwise wasted by scrolling through Facebook or Instagram or whatever is your choice of wasting time. You can even do this with your kids, teaching them to hide God's Word in their heart at the same time you are hiding it in yours!
Do you have other ideas? I would love to hear how you have incorporated worship and devotional times into your busy seasons of life.
(Updated Oct 3, 2022)