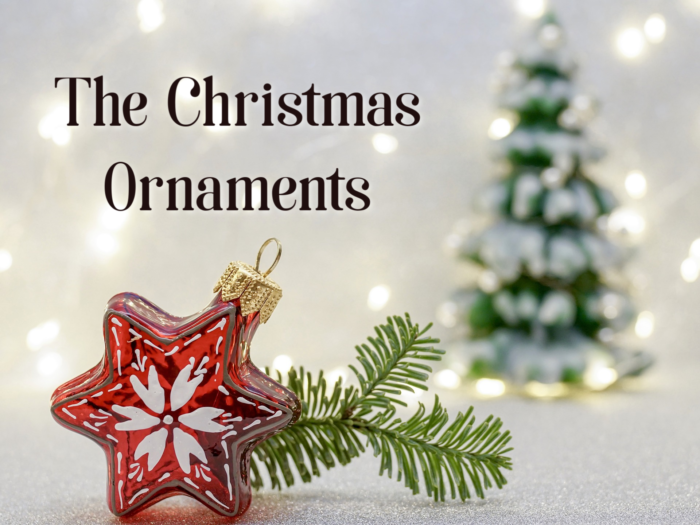 (Today is part 3 of this year's Christmas Story. You can find parts one and two here. Hope you enjoy it!)
A year later, Jack and Julie were engaged and excitedly planning their June wedding. It would be a small affair, with the majority of the wedding guests from their church family. Jack's family would make up the rest of the guest list. Julie was an only child and had lost her parents in a car accident a few years ago. She would invite what little family she had left but she doubted they would come such a long way.
The two worked extra hours to help pay for the wedding. Thankfully, Jack's parents had generously offered to pay for their wedding reception and so that was a big weight off of their minds.
As Christmas approached, Julie had started thinking about what wedding expenses she could cover with the $1000 gift she hoped to receive again. Would she get another ornament with the gift of money? She wondered. She'd try to remind herself that there was no guarantee it would show up again this year. But then her mind would take off again and she'd be dreamily thinking of what special thing could be purchased.
However, as the weeks passed by, she had to start considering the fact that it might not be coming this year.
Julie continued to take nursing classes, where she was doing very well. She also continued to work at the restaurant where Mrs. Gunderson's son had surprisingly stepped up to be its manager. It seemed that he couldn't bear to see the diner leave the family's hands and so he had left his well-paying sales job and had moved his family from Dallas, TX, back to his hometown in the east.
Julie found John to be a friendly and astute man in his mid-forties. He had brought back the stability that had disappeared upon his father's death and things had steadily improved at the restaurant. Mrs. Gunderson still helped out but she was so much less stressed now that John was in control.
Sadly, Mr. Bailey had passed away in March from complications of pneumonia. Mrs. Bailey became even more regular at the diner now that she was living all alone. Mrs. Gunderson and Mrs. Bailey became close friends and many times, after the evening rush, Julie and the other waitresses would take a much needed break with the ladies. They'd talk about how life used to be and offer the kind of advice that only comes with age and experience to their young friends as they navigated life's problems and puzzles.
But today, Julie had off from work. It was December 20 and no mysterious parcel had shown up yet. As she had always received it by now, her heart sank a bit. It wasn't just because she wouldn't have that extra money for the wedding, but, perhaps even more so, because she realized that she might never find out the identity of her generous benefactor.
Ted and Jack had offered to watch Lucy and Ava so that Maggie could go with Julie to find a wedding gown. As Julie excitedly waited to be picked up, she looked around her tiny apartment in the Brownstone. The little tree stood merrily on the table by the window and lights twinkled from her mama's homemade wreath on the wall. She loved this place and it was rather bittersweet to think about leaving it. In just six short months she would be moving into Jack's condo. But life continually changes and even wonderful changes can bring hard moments.
Julie's phone dinged. A text from Maggie indicated she had arrived and so, grabbing her bright pink coat and her purse, she ran down the two flights of stairs. One thing I won't miss when I leave this place is those stairs, she thought smiling.
Julie and Maggie had a wonderful afternoon. Julie would try on a gown and Maggie, true friend that she was, would stand back carefully looking at every angle. And then she would give her honest opinion. Maggie had become like a sister to Julie and this was of immeasurable value since she had no mom or sister to walk through this special time with her.
Julie had carefully tried on gowns that were in her $500 budget. And, while they were beautiful dresses, they just weren't quite right. They were too princess-y or too decorative. A few were just too simple and two or three were far too immodest.
At their last stop, a discount wedding shop, Julie's eyes rested on a simple, lace gown with a beaded overlay. It was perfect. She held her breath as she looked at the tag.
$1050.
She went through her wedding expenses in her mind to see if she could afford to spend that much on a gown. Where could I cut costs so that I can buy this gown? she mused.
As she was thinking about this, Maggie came up.
"Oh, Julie, that gown is gorgeous! It looks just like you."
"It does, doesn't it?" said Julie, longingly.
"Try it on!"
"But it's too expensive."
"Oh, just try it on. Here, give it to me." And she added it to the two or three she already held in her hand.
Julie saved the special dress for last when she went to the fitting room.
The first three were unimpressive. Finally, the satin and lace gown was pulled over head. Allowing the sales lady to button up the bodice in the back, Julie caught a glance of herself in the mirror. This was the dress. She just knew it.
As she stepped out of the fitting room, Maggie's eyes grew big.
"That's the dress." Her simple words confirmed what Julie herself was already thinking.
"That's how I feel, too. But I am just not sure I can afford it."
"You know, I want to check something. We were going to mark a few dresses on sale tomorrow and I think this may be one of them. I'll be right back," the kind sales lady went to the front of the store to check with her manager.
"Oh, wouldn't that be wonderful if it was?" breathed Maggie.
"It would indeed. But I don't want to get my hopes up," said Julie, even though her hopes were already up.
Soon the lady returned with a big smile on her face. "This is one of the dresses! Tomorrow we were going to knock $100 off of the price. Would that help?"
Okay, so $100 was better than nothing. But that still made it close to $1000. Twice what her budget was.
"Would it be possible to hold this for me until tomorrow?" she asked. She just didn't want to spend that kind of money without talking to Jack first.
"Sure. I will hold it in the back. I will just need some information from you."
They went up to the front to fill out a form and then Julie and Maggie were on their way home.
"I just wish I had the money to give to you, Jules, but with the kids in preschool and the furnace needing replaced, we just don't have it," said Maggie.
"Oh, I would never expect that. I may be able to change my budget around a bit. Or maybe my anonymous Christmas gift will still show up this year," she said it jokingly.
"Well, you never know…" said Maggie hopefully.
"True. But it is always here by the beginning of December and here we are at December 20. It's okay. It was such a needed, life-changing blessing these past two years. God knew I needed that money at just that time. It helped me pay my living expenses when I had no idea where I would turn. And just think—I would never have met Ted on the street if I wouldn't have gone shopping that day which means I would never have met you. And even my nursing classes are because of my kind, anonymous friend. God has been so good to me and supplied my needs. And, let's face it, the wedding gown really isn't a need," Julie laughed.
Maggie smiled and then soon their conversation turned to the upcoming annual gingerbread house contest and other Christmas activities.
After grabbing a bite to eat, Maggie dropped Julie at her apartment.
Julie stopped in the brownstone's foyer to check her mail. A familiar brown package lay there in all its glory. She blinked. Was she seeing things?
She carefully grabbed it and then delightedly ran up the stairs. Her heart sang as she thought about the beautiful gown that she could now afford. Closing the door behind her, she breathlessly sat down to open it.
Tearing away the paper, she carefully opened the red and green plaid box that lay underneath the brown wrapping. There, in a bed of sparkly tissue paper, lay a small woodland couple holding an "engaged" sign. It was a special ornament to celebrate her recent engagement. Along with it came a cashier's check for $5000 dollars and a small typed note:
Dear Julie,
I hope this gift will help with wedding expenses. I will be praying for you and your fiance as you plan your big day and will continue to pray for you both as you start your new life together. Best wishes!
Julie stood there absolutely stunned. She stared long and hard at the note, as if somehow it would reveal to her the answer she was looking for. But it was just a nondescript note. Black letters on plain white paper. There wouldn't be any answers there.