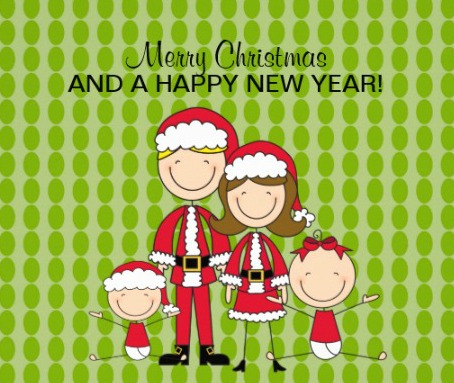 Dear Friends and Family,
This year was great! Jack was valedictorian and is headed to the best university in the country with a full scholarship. Little Suzy was the top gymnast in her league and has hopes to reach the Olympics. We all went on a missions trip that was absolutely wonderful! At least a hundred people came to know the Lord while we were there. John received a promotion. Susan is the head of the PTA. Our dog is perfect, as is our home, our car, and everything about our family. See the lovely pictures and please envy our lives. Because we have it all together.  And you don't.
Love,
John and Susan
Okay, so I am being a little facetious, here. Obviously. But I think this challenge of sharing good news can sometimes come across like this letter. And it brings to mind a few things–
First — as a writer– it is pretty important that we don't act like life is perfect. Because we all know it's not. One of my biggest concerns with writing a Christmas letter or even posting pictures on Facebook is that people would believe this about me. My husband and I argue, just like any other couple. There are many times my kids don't get along. And there are occasions where I would be downright embarrassed if you walked into my house. We struggle with being down and grumpy. We live out the consequences of sinful choices.
BUT, that being said, it is exciting to share the good news of our lives! So much of life is filled with hurt and difficulties and pain that we naturally want to celebrate the good! And so we should! As long as we can do so without giving the impression that we are somehow better than our neighbors or friends.
So let's write and post and share the wonderful blessings of our lives with grace and kindness, doing our best to avoid giving the impression that somehow we have it all together.
And second– as a reader– let's love our friends and family by being happy for them! Sometimes we can get a little resentful. Especially if we are going through a difficult season of our lives. We can't understand why that person has so many blessings when we have been hit by trial after trial. And it all seems so unfair. But Romans 12:15 tells us that we are to "Rejoice with those who rejoice, and weep with those who weep."
If we can keep a proper view of God's Sovereignty, we can follow this command so much more easily. You see, it is easy to grow jealous if we perceive our lives to be tougher than somebody else's, but if we know that our lives, as well as the life of the person we envy, are under God's Sovereignty and His holy plan, then it makes it not only possible but delightful to rejoice with them!
I add here, as well, that no matter what it looks like, you can be guaranteed that no life is perfect on this earth and trials and struggles abound in all lives — even the ones that look perfect.
This post is specifically about Christmas but is really applicable year round. I hope that you can truly enjoy the wonderful blessings and victories of your family members and friends because this is what leads to true fellowship.