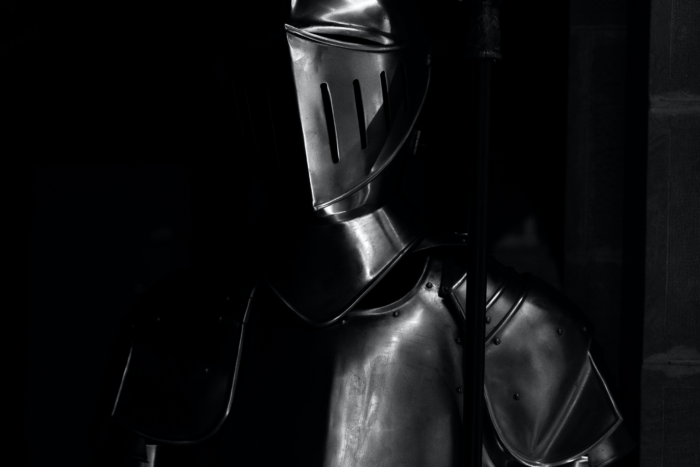 In reading Ephesians 6 this morning, verses 11-13 once again hit me—
"Put on the whole armor of God, that you may be able to stand against the schemes of the devil. For we do not wrestle against flesh and blood, but against the rulers, against the authorities, against the cosmic powers over this present darkness, against the spiritual forces of evil in the heavenly places. Therefore take up the whole armor of God, that you may be able to withstand in the evil day, and having done all, to stand firm."
We can draw a few important conclusions from these verses.
First, we have no armor without God. Our defensive and offensive armor comes from Him alone. When we try to stand alone using our own devices and intellect we fail miserably.
Second, the devil is scheming against Christians. Think of that for a moment. He wants to hinder you. He wants to distract you. He wants you so wrapped up and consumed with your own problems that you are of no consequence in God's Kingdom. He wants to render you ineffective as a believer so that you are not sharing the Gospel or helping other believers grow.
Third, the devil rules the current world. God has sovereignly given him this control. He does this through— "rulers, against the authorities, against the cosmic powers over this present darkness, against the spiritual forces of evil in the heavenly places."
This reminds us that our enemies are not people. We are not fighting against wicked people but against wicked powers. People are the lost and deceived tools that Satan uses.
Fourth, This world is incredibly evil and wicked. Only Jesus can make a beautiful and good world. And He has promised to do just that for His own some day in the future. We, in our sinful and broken humanness, are absolutely helpless. Clearly, our job isn't to fix the world but to stand firm.
Fifth, the fact that Paul tells us to put on "armor" and then goes on to identify our enemy shows very clearly that we are in a battle. So many Christians want to ignore this battle and pretend it doesn't exist. I'd venture to say that this is why so many are losing their kids to the world. Christianity it is not all positive vibes and happy days. It's taking up our cross, enduring persecution, and fighting battles.
Sixth and finally, we can only stand firm if we have on the armor of God. God has given us specific pieces of armor to help us in what we are called to as Christians. We must put on all pieces if we are to stand strong and firm. I believe it has always been important to wear this spiritual armor but, as these last days grow darker and the world becomes more evil (as we should expect because this was prophesied in Matthew 24) it becomes imperative that we Christians don the full armor of God—both for our own protection and in order to have the strength necessary to do the works God has set out for us to do (Ephesians 2:10).
I wasn't planning to write anything today but as I started to reflect on these verses, I thought this might remind encourage some of you as it has me. Have a great weekend!