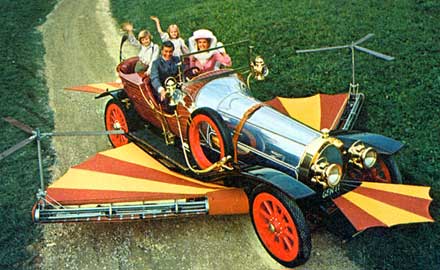 It has come to my attention recently that there is a country that has been adopting socialism over the last number of years. At first, things looked brighter. But, eventually, in spite of the great promises this system makes to its people, it became very evident that this was not going to turn the country into utopia. In fact, the opposite is true. The people there are in dire straits. Socialism is tearing into shreds the quality of life the citizens of this country once knew. People die because they cannot get the medicine they need. People cannot meet their basic needs because the store shelves are empty. EMPTY. Even the food supply is scarce! Can you even imagine? I am not making this up. This is their reality.
And the movie Chitty Chitty Bang Bang just keeps coming to my mind. Have you ever seen it? When I was a young girl, this was my very favorite movie. I loved the crazy inventer, Caractacus Potts (played by Dick Van Dyke) and the Candy Factory owner's daughter, Truly Scrumptious (played by Sally Ann Howes). I loved Grandpa and Jeremy and Jemima. I loved the car that could fly! And I loved the soundtrack and can still sing most of the songs by heart. And then there is the super scary part where the family lands in Vulgaria–where the Queen hates children and has locked every last one of them up in the castle dungeon.
Does anyone remember what happens next? I do recognize that I may be the only person on the planet who loves this movie! Anyway...
The "Childcatcher" comes looking for Jeremy and Jemima. He can smell them. He creeps around looking for the hidden children. But he doesn't find them. So he tries a different tactic.
He decorates his jail wagon with brightly colored panels so that it looks like a candy store. He changes into a colorful outfit and walks around the village, shouting–
Gum Drops and Ice Cream! Lollipops! All Free Today!
Jeremy and Jemima hear him and come running. He promises them free candy if they come into his "store". Smiling from ear to ear at the prospect of free candy they enter the wagon. In a wink, the door locks behind them, the sides fall away, and we see the children riding away clinging to the metal bars and screaming for help. They have been deceived. They were gullible and fell for his evil trick.
Doesn't this remind you so much of the Socialistic agenda? Outlandish, wonderful promises are made and, yet, if you look at this system realistically and historically, there is no possible way for the promises to actually be kept. In fact, if we take the time to truly think about it (rather than to let our greed for free stuff take over), we can see that it will destroy the country we love–and that it is just one short step to Communism from there.
I do not generally write about politics, but this scene from this old movie just keeps playing itself over and over again in my mind. How do we get people to see that their desire for free stuff is like Jeremy and Jemima's desire for free candy? And that if we should ever take that step into the wagon of Socialism, it won't be to receive free stuff but instead to be imprisoned in a horrible system from which there is no escape?
We have trained our young people to desire socialism. We have done this in a million ways–from training them to be self-absorbed and entitled to never training them to work hard and to think of others. Now let me assure you that I believe there are still many, many good families–both Christians and non-Christians– who have taught and are still teaching their children good morals and how to work hard. They are teaching them to think of others and to serve their fellow man.
But the fact remains that there are many who are not. And to these young people free equals good. They haven't been taught to think through the consequences of their choices. Let's face it, many aren't even being taught to think at all.
But I guess many of us fall for a similar trick when we fall for sin. We see pleasure and easy money and fun and believe Satan's lie that it won't cost anything. But when we step through that door, the candy-coated walls fall away and we see the prison bars of addiction, debt, and obesity. Just to name a few.
Yes, we are all guilty of this to some extent. So it would be best not to be too terribly hard on our friends who think that Socialism is the answer to our country's problems. It does look pretty good to anyone who hasn't thought through how the system ends, looking at it both realistically and historically.
It's important we think anything out to its inevitable end–whether it is a system of government or a choice to sit down at the gambling table.
Everything costs. We'd best remember that.
*If you are interested in reading further, here are two posts on two different countries and there Socialism nightmare: One article is here and another one is here.