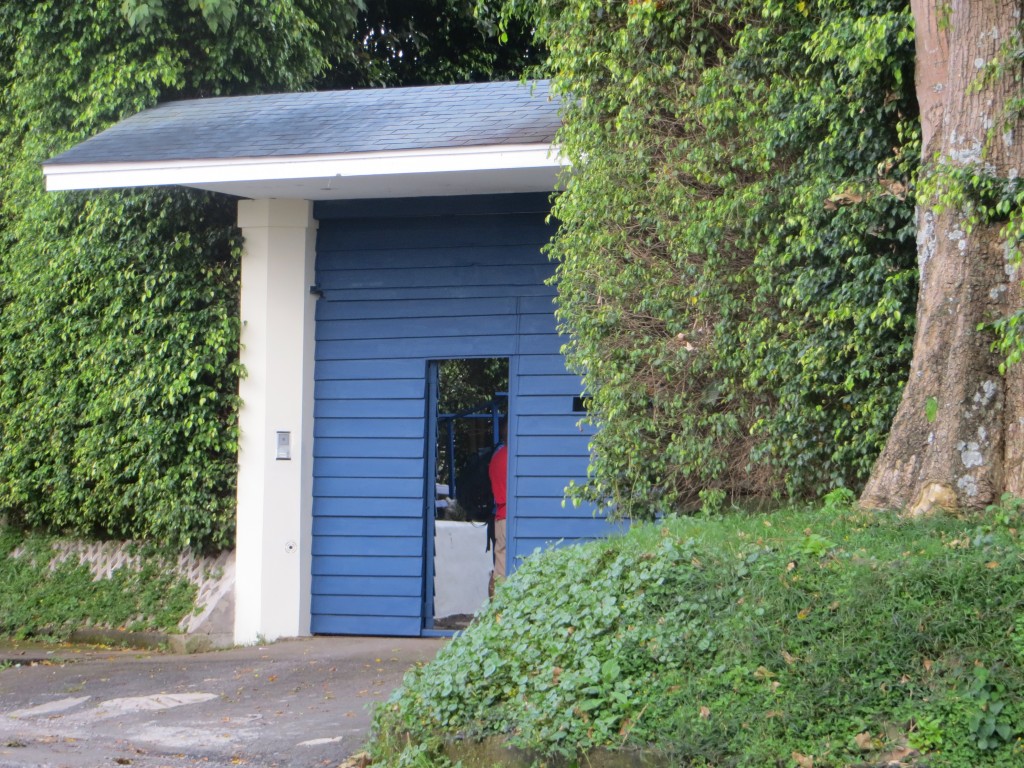 Our week in Costa Rica was almost over. It was Thursday afternoon and we had been to one private children's home and two public children's homes already. We were told this one was different. This was a real home owned by a couple who had adopted all 46 of the children living there. My mind tried to comprehend that, but it seemed to be beyond my scope of imagination. 46?!? I was to find out that it was actually many more.
After driving through city streets, seeing hundreds of homes behind iron bars, the bus pulled up to a beautiful, plant-covered wall. As we got out, we saw a big blue gate. As we walked towards the gate, we heard the laughter of children behind the wall and even a couple of dogs barking.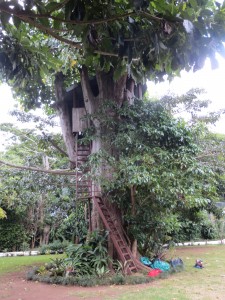 As the blue gate swung open and our team walked up the driveway, I smiled with delight. For here was a beautiful oasis in the city of San Jose. There was a big backyard and in the middle of it stood a huge tree. As we looked up, we saw an immense tree house tucked within its branches. Children of all ages and sizes played happily. The house, white with blue trim, looked warm and welcoming. Up on the roof and at the upstairs open windows were several teenagers watching us.
Our team was there to play with the children for a few hours. After a few minutes, I noticed that a few of the ladies were headed around back. They were headed to the outdoor dining room to use the tables. I hurried to join them. As we walked around the back of the house, I came upon an outdoor room that was obviously the laundry room. This large, long room was probably used daily, evidenced by the little onesies hanging on the line just outside the door and the mounds and mounds of laundry I could see over the wall.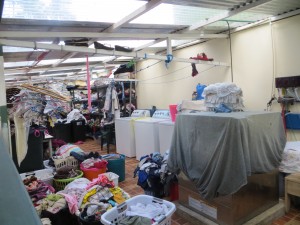 We took a left and walked down a pathway to the outdoor kitchen, located on the right. To my left, I saw a shelf that reached to the ceiling, filled with little shoes. As we walked into the dining room and started coloring, we noticed a couple older teenagers, blonde and blue-eyed, who didn't look Costa Rican. As I talked to one, I found out that this 17 year old girl from Austria was just finishing up a 3 month term as a volunteer here in the house known as Casa de Pan.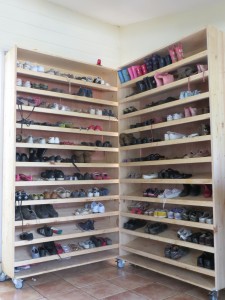 At one point, I went in search of a bathroom. I found one for our use, in the center of a new building that stood beside the house. The bathroom was finished (I can certainly understand why that would have been a priority), but there was an older gentleman working on finishing the rooms to either side. On my way there, I poked my head in the room and offered a smile and a "Buenas Dias". The man smiled, offered a firm handshake, and told me his name was Victor. He then pointed to the little boy playing at his feet and told me with a smile that his name was Victor, as well. We talked for a few minutes, using his limited English, my limited Spanish, and a few hand motions, and then I left. At the time, I did not realize that Victor was the heroic head of this wonderful household.
After awhile, I headed to the backyard to join in the fun there. As I snapped a few photos, I drank in the loveliness of the place. Here were 46 children who would not get lost in the system. Here were 46 beautiful souls that had found home. And not just any home, but a home run by parents with faith in Jesus Christ. It was truly amazing. As I contemplated this couple, I will be painfully honest and let you know that I started to feel just a bit shallow in my "work" for the Lord. How much more I could give.
As I was looking around and thinking, my eye caught movement on the front porch. I saw my sister-in-law and my daughter following an older lady into the house, along with our Costa Rican leader and our American team leader. I hurried to catch up and joined the end of the line. This looked like it might be an opportunity to see a bit more of the inner workings of this incredible place.
Inside, we were taken to a beautiful large living room. Right inside the door was a girl of about twelve holding a three week old baby, swathed in a pink blanket. The girl offered her to my sister-in-law, who after a few minutes, graciously handed her to my baby-loving daughter. There the baby nestled in for a nap in the arms of my contented daughter for the duration of our time inside.
We were told to have a seat. Melba, a calm, kind, and comfortable-looking woman sat on a sofa with Raymond, our Costa Rican leader, us three women sat on another sofa, and Steve, our team leader, sat on a chair.
As Melba started to speak, I had no idea that this would be the most impactful and inspiring hour of my entire week. I will share Part 2 tomorrow.