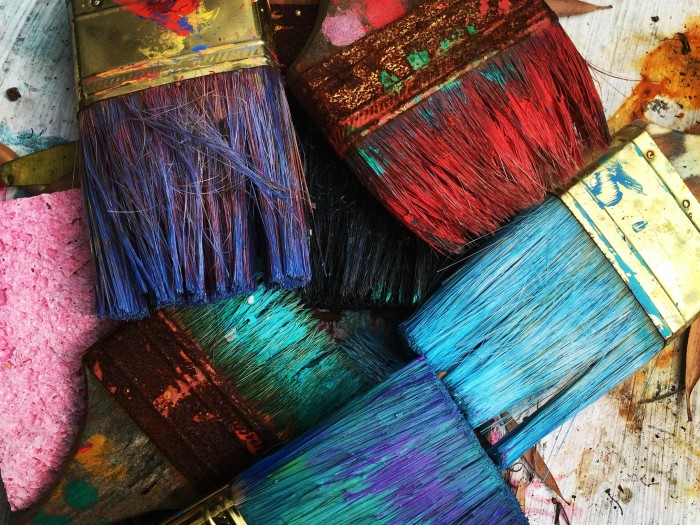 My youngest daughter has been after me for awhile now to help her paint her room. She is quite the little artist (I will share a few photos of her work below for anyone interested) and so she decided the other day that she would like to move back into the old room that she used to share with her sister. There is lots of natural light in that room and it will be perfect for her.
She has been talking about re-doing one of the bedrooms for awhile now but, for some reason, I have been hesitating. I think it is because I have enjoyed having a little status quo around here for a bit after all of those weddings. Whew! That was quite a ride. Just today I realized that I actually do not have to do any wedding planning (or paying!) this summer. It almost feels strange!
It is rather ironic, though, that I–the one who says never to be satisfied with Status Quo (see my tagline up above??)–am thankful for it. At least when it comes to home life. I am tired of changes. I just want something to remain the same for a year. Or two. Of course, we all know that this doesn't happen. While changes  are always flowing in and out of our lives through the years, there are certain times that changes happen right after the other and you can hardly catch your breath. Like when your kids start to move out and start their own lives.
But I digress.
So back to the room…
My daughter found just the right comforter set and we took it to Lowe's yesterday to match the paint. Did you know they do that? They did a fantastic job in pulling the perfect blue-green shade she wanted from the pillow sham we provided. No more staring at paint swatches, trying to find just the right shade.
We took the paint home, ate some lunch, and then got to work. I trimmed for her and she rolled behind me. As I trimmed, I couldn't help but notice the other colors peeking out from behind my paint brush and I took a little trip down memory lane. We moved into this house when the two youngest girls were just one and three and so the first color I saw below my brush was a pale pink. I remember finding a cool idea somewhere–it wasn't Pinterest because that didn't exist–and painting all four walls a different pastel shade. I was pleased when I was done, although I am not sure the girls ever really loved it. And then several years ago, they started complaining about living in a "baby" room and begged to have it redone. As I painted, I remembered the girls' giving very different opinions about colors and then finally settling on purple and gray; and so the next color under my brush was a medium shade of purple. And now I was covering the purple of the past with a beautiful aqua.
I tried to cover all of the previous colors beneath the brush but it is so hard to do that perfectly. Kind of like life. No matter what good changes we make, there are always vestiges of our past that cling to us. They peek out when we get frustrated or upset. Or when we are disappointed or anxious.
When we get saved, God provides the Holy Spirit to help us to live a life that glorifies and pleases Him. But we still battle our flesh and sometimes those battles can be quite fierce. This is one of the hardest things, isn't it? As we grow in Christ, it is like we are painting a wall and covering our old man with our new man. But the old man is always there lying beneath the surface. And the more we grow in Christ, the less of the old man we should see. But we can never–on this side of glory–cover him completely.
Paul puts it this way in Galatians 5:16-26–
I say then: Walk in the Spirit, and you shall not fulfill the lust of the flesh. 17 For the flesh lusts against the Spirit, and the Spirit against the flesh; and these are contrary to one another, so that you do not do the things that you wish. 18 But if you are led by the Spirit, you are not under the law.
So this means that our flesh is always warring against us, trying to take us down and keep us from living a godly life. It means that we will always have temptations that we need to fight. And that can be exhausting. But true believers keep fighting.
So what exactly does an ungodly life look like, as compared to a godly life? Well, Paul goes on to share that very specifically in verses 19-26 of the same chapter–
19 Now the works of the flesh are evident, which are: adultery,[c] fornication, uncleanness, lewdness, 20 idolatry, sorcery, hatred, contentions, jealousies, outbursts of wrath, selfish ambitions, dissensions, heresies, 21 envy, murders,[d] drunkenness, revelries, and the like; of which I tell you beforehand, just as I also told you in time past, that those who practice such things will not inherit the kingdom of God.
22 But the fruit of the Spirit is love, joy, peace, longsuffering, kindness, goodness, faithfulness, 23 gentleness, self-control. Against such there is no law. 24 And those who are Christ's have crucified the flesh with its passions and desires. 25 If we live in the Spirit, let us also walk in the Spirit. 26 Let us not become conceited, provoking one another, envying one another.
Our old life of sin and our new life in Christ will look vastly different. Just like the walls I was painting. They were one color and I painted them a different color. I could say that I painted them a different color, but if the wall was still purple, this would prove that my words were not true. Salvation is a bit like this, as well. Many, many people say that they have "accepted Jesus", but this is not what we use to prove salvation. The verses we see above show us what an unbeliever looks like compared to a genuine Christian and this is what will prove a person's profession of faith.
Sure, we all have struggles with sin and some of the old color bleeds through sometimes and we will blindly miss a few spots. But true believers hold their paint brush in their hand at all times, working diligently at covering the old man completely so that he shows through as little as possible. Those who say they are believer but really aren't will live in their sin, claiming forgiveness under the cross. But this goes against all that is in scripture. Forgiveness only comes with genuine repentance. A hard, unrepentant, arrogant heart is not one that has been changed by Jesus Christ.
Are these hard words to hear? They are if someone we love dearly is not exhibiting any of the fruits of the spirit from the verses above but, instead, abounds in the works of the flesh. What does that mean about their eternal destiny? I surely can't judge but it does give cause for concern.
Sometimes when someone is just getting started at painting their wall, much of the old man still shows. New believers need a ton of grace, just like we did, too, when we got saved. We can only do what we know and they don't know very much yet, do they? I shudder more for those who have claimed Christ for years and years and yet there are no changes. It is like they have a paint brush right beside them but hesitate to pick it up because they kind of like their old color. A true believer always has a paint brush in their hand. Paul puts it this way in Philippians 2:12-13–
Therefore, my beloved, as you have always obeyed, not as in my presence only, but now much more in my absence, work out your own salvation with fear and trembling; 13 for it is God who works in you both to will and to do for His good pleasure.
Paul also says this in 2 Corinthians 5:17–
Therefore, if anyone is in Christ, he is a new creation; old things have passed away; behold, all things have become new.
Notice he doesn't say that someone in Christ might become a new creation. He says he is. Genuine new life in Christ is best determined by the fruit in someone's life. Fruit that will continue to grow –albeit sometimes at a snail's pace–throughout their entire life.
While I have used the painting analogy, the author of Hebrews uses a different (and better) analogy in chapter 12, verses 1-2–
Therefore we also, since we are surrounded by so great a cloud of witnesses, let us lay aside every weight, and the sin which so easily ensnares us, and let us run with endurance the race that is set before us, 2 looking unto Jesus, the author and finisher of our faith, who for the joy that was set before Him endured the cross, despising the shame, and has sat down at the right hand of the throne of God.
However you want to explain it, it is abundantly clear that genuine salvation will involve a lifetime struggle of removing sin from our lives and growing in the fruits of the Spirit. This is not only how we will finish the race and bring glory to God, but also how others will know that we are genuinely saved.
I know this is not a popular thing to write these days. I get it. But I also know that this is what God's Word says. As I looked for verses, I found an abundance of them throughout all of the New Testament to add credence to what I have written here. True salvation means you are a different color. If someone has remained the same color, there is much reason to doubt their salvation.
Okay, enough hard stuff. That was hard to write and I am sure it was hard to read. But don't take my word for it. If this post has struck a cord in you, I hope that you will dig into the scriptures for yourself and search them out. Study them in context, using good commentaries and biblical helps if you need to. This is a big deal in this age of easy-believism and it is really important that we understand this important truth from the Bible.
Now, to lighten things up a bit, I will post a few photos of my daughter's artwork below. I hope that you enjoy them–