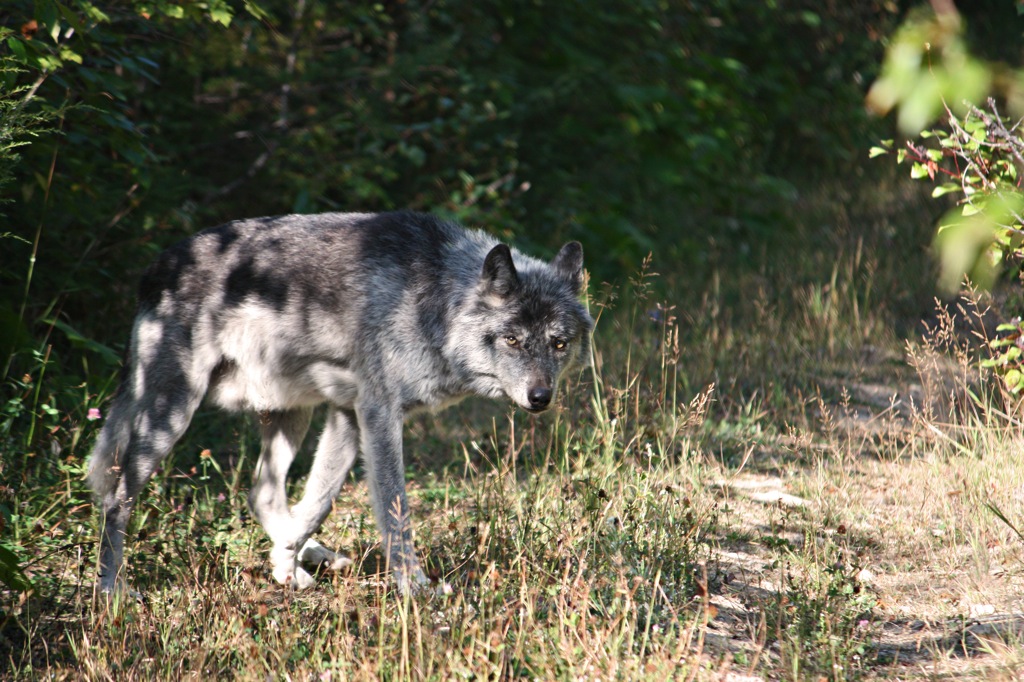 Over the past year I have become aware of a few wolves in the modern day church. They are surprising wolves, quite honestly, and by all accounts, play the part of a sheep quite well–almost perfectly. In one case, I was appalled to read a review of a popular book that basically redefines Christianity. The man who wrote it is a popular evangelical preacher. And I was equally appalled to attend a conference where I heard a live presentation by a very popular Christian author who so effectively weaved together true doctrine with heresy that it was almost impossible to define between the two. I am not going to go into who they are here, as my purpose for blogging is not to take a controversial stand against certain persons. However, there are a few things we need to be looking for when we choose to listen to or read the books of another person (no matter how famous). So here are a few criteria that can be used to spot a wolf–
1.  Wolves use buzz words like "social justice" and "rights of the poor" on a frequent basis. The term "social justice" is never found in scripture but is found in books written by Karl Marx. In other words, it is a communist term, not a biblical one. From a biblical standpoint we are to extend mercy and help, but it's not about "social justice".  Now, let me be clear, I am not saying that all people who use this term are wolves. It has become such a popular term that it may be used quite innocently. But when I hear this word, my ears perk up and I make sure to investigate further. Along that same line, Wolves try to make us feel guilty for any material blessings we enjoy. There is a big push for communism in this country and the church has jumped on board, adding a spiritual twist to it. Wolves give the message that if we have something that someone else doesn't have we are materialistic and selfish. But this is not a biblical point of view. While we are called to be good stewards of our money, there is no sin in being wealthy. The sin comes in when our treasure, hope, and joy is found in our wealth. The sin comes when we use our wealth only for our own good and satisfaction, giving no thought whatsoever to the poor and needy (Matthew 6:20, Proverbs 13:22, Genesis 13:2, I Timothy 6:7-10).
2.  Wolves focus on love and tolerance alone. However, tolerance has been re-defined to mean that anyone can do anything they want and it's okay. (Of course, there is no tolerance for those who believe scripture teaches living a holy life. They categorically define that as legalism.) There is very little, if any, talk about sin and moral justice. There is almost no mention of righteous living. If you never leave church feeling convicted of sin in your life, it may just be led by a wolf.  They do not preach about sin, because sin is not important to their religion. It is all about love. But I ask you–doesn't that leave a gigantic hole in the gospel? If there is no sin, there is no gospel (Romans 6:23).
3.  Experience always trumps biblical doctrine. And so wolves teach that the foundation of spiritual religion is personal experiences and feelings, rather than the Word of God. This was has reached its tentacles into even the most conservative churches. Someone once asked my husband when he was in church leadership how he can argue against someone's experience. But I ask you– doesn't it seem like the lion who is seeking to devour us (I Peter 5:8) and the angel of light (II Corinthians 11:14-15) could offer counterfeit experiences?
4.  Wolves tell us that any confrontation is equal to judgment. They will quote Matthew 7:1 emphatically, conveniently ignoring verses like Matthew 7:16 and James 2:26. Church discipline and confronting a sinning church member are almost unheard of anymore. Wolves teach that confrontation is the opposite of love. But the Bible teaches us otherwise. Check Matthew 18:15, Galatians 6:1, and 2 Timothy 2:24-26.
5.  Wolves conveniently forget about the scriptures that have to do with worldliness and holiness — or they re-define them to mean something different than they have meant for the last 2000 years.  All tradition is thrown to the wind, so that they can satisfy worldly desires or grow mega-churches and gain popularity (or both). Of course, not all mega-churches are bad and don't confuse traditions with traditional interpretation of scripture–they are two very different things. If your pastor is discarding traditional interpretations of scripture faster than you can blink, you may want to make sure that he's not a wolf. If your pastor is using worldly entertainment such as ungodly movies and songs to promote scriptural principles or is more like a stand-up comedian than an expositor of God's Word, you may want to run. Wolves change their churches to appeal to the world instead of making an effort to be separate from it (I John 2:15).
6.  Wolves also conveniently forget that Christians are going to be hated in this world and the road to heaven is narrow (Matthew 7:14, Matthew 10:22). They proclaim the salvation of thousands because of a prayer whispered at an alter, even if no transformation or any life change has ever taken place.  They tell us that we can expect the praise and honor of the world. They teach us to join with the world to solve big problems. But Jesus said in John 15:19 that the world will hate us because we are not of it.
7.  Wolves encourage new age spiritualism, giving them new names that sound biblical. Contemplative prayer, breath prayers, divine mystery, centering prayer, inner light, labyrinth, and spiritual formation are all terms that find their origins in far eastern religions. This is a very serious infiltration in the church today, moving people towards one world religion. It it so important that we be well read and aware of what's going on, so that we will not be fooled.  Be very, very wary and keep your eyes open (I John 4:1, I Timothy 4:1, Jude 1:4).
8. Wolves are not very careful with their associations. They partner with known false teachers in the Christian religion and these days we even find some of them partnering with teachers of all religions. Be very careful of a teacher who has condoned, partnered with, or quotes any speaker or author who has clearly turned away from the Gospel and biblical doctrine. I could give a zillion examples of this (i.e. Focus on the Family, along with many others, promoting The Shack and Francis Chan promoting Mike Bickle) and we should find this most disturbing (Romans 16:17-18).
Now, in presenting this list, I want to make it very clear that I do not believe that all pastors and teachers promoting one or two of these seven things is a wolf. Some very sincere pastors and teachers have been deceived. If you believe that your pastor or spiritual leader has been deceived, make it a matter of prayer and then talk to them about it.
But what I am saying is that  you might want to investigate because they could be one.  We need to stop relying on fallible men for our spiritual growth. While they can be used to help us to grow, God's Word needs to be our compass, so that we can spot a false teacher. We need to love the Truth. We need to study the scriptures and we need to study with  humility, integrity, the guidance of the Holy Spirit, and a willingness to mold our lives to the lessons held within its pages. We need to be careful not to manipulate the Bible to say what we want it to say.
The other thing we have to do is to be very careful not to allow the pendulum to swing the other way so that we shy away from helping the poor and loving our neighbor. The Bible clearly teaches that we are to do both. The gospel is about justice and love.
Let us be ready and willing to fight the wolves that have surreptitiously made their way in among the true church flock (John 10:11-14). Let us step outside of status quo and stand up and be a light in this very dark church age!