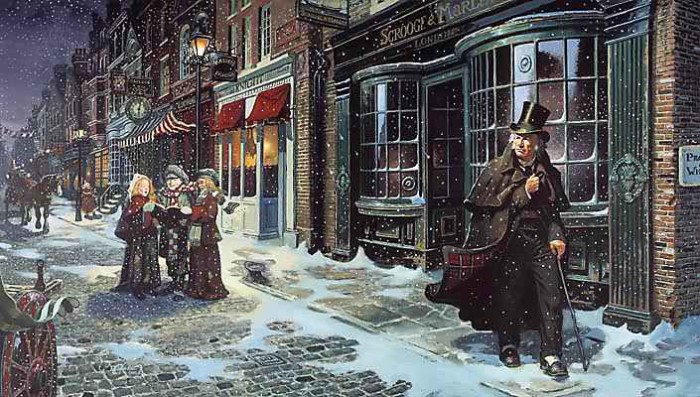 "Men's courses will foreshadow certain ends, to which, if persevered in, they must lead,' said Scrooge. 'But if the courses be departed from, the ends will change. Say it is thus with what you show me." Charles Dickens
I sat cozily in my recliner with a mug of hot coffee on the table beside me. This was the morning I would catch up on my Bible reading. Somehow with all of the holiday activity, I had managed to fall a few days behind schedule. I opened up my chronological Bible to pick up where I had left off. I looked down and saw that I was starting Ephesians. What I didn't realize was just how convicted I'd be by the end of reading this short epistle of Paul's.
As I read through all six chapters that morning, several verses jumped out at me, pointing out a particular sin in my life that I had downplayed until I almost believed it wasn't a sin. Almost. It brought to mind Hebrews 4:12–
For the word of God is alive and active. Sharper than any double-edged sword, it penetrates even to dividing soul and spirit, joints and marrow; it judges the thoughts and attitudes of the heart.
This particular December morning, God's word was certainly piercing my soul, showing me a sinful habit that has yielded unwanted fruit in my life. And will continue to do so unless I change it.
A little later on that same day, I turned on my favorite version of A Christmas Carol. It stars George C. Scott as Scrooge and Edward Woodward as the "ghost" of Christmas Present. It's a great version.
I was working on something else while watching so I wasn't paying real close attention to the dialogue. But as Scrooge knelt over his own grave asking if these things of the future would be or just might be, it hit me–
All of us have futures that will be that are based on the choices we are making today. Unlike Scrooge, most of us do not have the opportunity to have our future illuminated so clearly before our eyes by the "ghost" of Christmas future. But we do have the Word of God which clearly shows us the narrow path of righteousness and the dreadful consequences of walking the broad way.
So why then do we stay on our path to destruction?
I think it is because it happens so subtly and so gradually.
Scrooge never set out to be a miserable, stingy old man. When asked what they want to be, no twenty year old ever says that they hope to be a homeless drunk or a lonely, cold-hearted woman.
But every action, every choice, and every attitude we cultivate about our circumstances add up and lead us somewhere. And we have a great deal of freedom in determining where that place will be. For some of us it is leading us to miserable loneliness and to the devastating health and financial consequences of self-indulgence. For others, it is leading to peace of mind and strong family bonds.
How easy it is to talk ourselves into sin with a mental promise to change tomorrow. Our pride and love for self keep us careening on the path to destruction, somehow talking ourselves into postponing change. As we read, it is probably very easy for us to think of someone who is really on the pathway to destruction–like a friend who drinks too much or a father who spends too much time at the office but I'd like to throw out a challenge to you: what are the behaviors and attitudes that are leading you to a place you don't want to go? Where have you decided you are going to do things your way and ignore the principles of God as laid down in His Word?
Of course, the great news is that we don't have to keep going in the wrong direction in our lives. We can choose to leave the broad way of destruction and take up traveling on the the narrow path of righteousness. Whether it's an addiction to drugs, food, alcohol, or even to social media, we can make a choice this very day to change. Whether it's anger, a habit of lying, an unforgiving heart, gossip, sexual sin, or any other sin named in scripture, we can choose, by the strength of the Holy Spirit living in us, to make changes.
God used Ephesians to convict and challenge me to change. And it won't be easy.
Sometimes change feels downright impossible, but God promises us victory– maybe not 100% of the time (as we will continue to fight our flesh all our years on this earth) but we can have victory over sinful habits. We don't have to throw up our hands in defeat and shout "I give up!" Check out I Corinthians 15:57; I Corinthians 10:13; I John 1:9; Ephesians 6:10; Psalm 3:8; Romans 8:31-32; and Proverbs 21:31 for some biblical encouragement.
I have had victory over other sins. I know that God not only can deliver me from sinful habits, but He already has done that many times over the years.
And, so as I was reading the other morning, I realized that I don't need any ghost to tell me about my future, because I have the Bible. And that is enough for me. Because it's only by being in the Word that we can ever have any hope of real and lasting change–the kind of change that reaches way down deep into our hearts and changes us from the inside out.