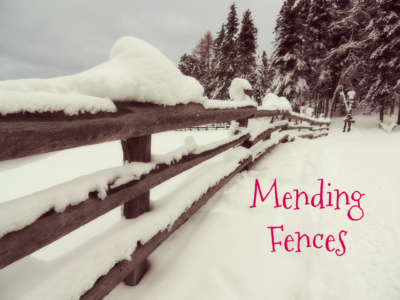 Sometimes things don't work out as we had hoped. And that is when it is hard to trust. But sometimes they do. And those times help us to trust in the times when they don't. God continues to be sovereign over all, whether things turn out like we want or don't. Our job is to submit and obey and leave the rest to Him. This is how we find inner peace, even when things aren't going like we hoped in our circumstances. This is an important lesson Eliza had to learn in this story and, surely, it is one we should all learn.

I really hope you enjoyed this year's story and, if you have, I'd appreciate if you'd take a moment to let me know. This helps me to decide if I should continue this tradition of writing a fictional story for Christmas here at the blog. You can find this entire story, along with my other Christmas stories, here. I hope you all have a wonderful holiday season and may we remember the real reason for the season! And now, without any further words from me, here is Part 5 and the conclusion to this year's story–

______________________________________
I hummed merrily along with the Christmas music playing on the TV. The music, along with a fake crackling fire picture, was courtesy of a local TV station. It would play for a few hours on this Christmas morning.
I gathered the ingredients of my homemade apple spice coffee cake and started mixing it up. It was a long-time tradition and one we all loved. I'd put it in the oven and then go and get Mom and bring her here for the day.
Greta came sleepily into the kitchen while I was making it.
"Merry Christmas!" I said cheerily.
"Merry Christmas," she groaned, "why is it that the older you get the less you care about getting up on Christmas morning?"
"That just means you are growing up!" I laughed.
"So Aunt Evie never contacted you?" she asked. It had been three weeks since we had prayed in that booth. And the three of us had continued to pray—sometimes together and sometimes alone– every day since then.
The world that had seemed bright and cheery only a moment before suddenly darkened. "No, she didn't. I guess it will never happen. But God has His reasons. I can't change her. I can only control me."
That's what I had learned through this whole ordeal. While I was deeply saddened that Evie wouldn't forgive me, I recognized that I had now done all I could do and, in that, I found peace. I had lived out Romans 12:18 and it had changed my perspective.
While peace with God was always possible through His Son, peace with and between people was not always possible. I needed to learn to be okay with this hard truth. I understood that now.
"Well, we will have a great Christmas, anyway!" I gave Greta a quick kiss and then grabbed my jacket, "I'm going to get Gram. Can you take the cake out when the timer goes off? I might be back because it needs to bake a full hour, but just in case—"
"Sure, Mom. I'm going to go read but I'll listen for it. See you soon." Greta smiled as she held up her Jane Austen novel. She poured herself a glass of orange juice and took it, along with her book, to her favorite chair in the family room.
It took me considerably less than an hour to pick up Mom. Traffic was nil on Christmas morning and I was soon pulling back into my driveway. In front of the house was a red SUV. For a brief moment I wondered who was visiting, but then I remembered that the neighbor's often had their visitors park in front of our house. They must have some family visiting for Christmas.
I went around and helped Mom across the icy driveway. It had snowed again lightly last night and with the cold temperatures it just wasn't melting. She gave me a hard time for helping her but I knew, down deep, she appreciated it.
I opened the front door to the sound of voices. At first I thought it was the TV but then I recognized one voice.
No…
It couldn't possibly be…
"Evie?!" Mom shouted her name with glee. She pulled away from me and Mom and daughter ran toward each other.
"Evie! Oh, Evie! I knew you'd come! I just knew you would!"
Tears streamed down both of their faces. I, on the other hand, stood back. I was still unsure exactly how this would go. It had been a very long time and there was so very much "water under the bridge".
After a few minutes, Evie pulled herself from Mom's embrace and turned toward me.
"I have decided that enough is enough. I want to forgive you. I am working on it. This is my step towards forgiveness." She said hesitantly and then proceeded to introduce us to her family. Her husband, Mark, stepped forward and shook my hand. With thick, wavy blonde hair and glasses, his firm handshake and serious brown eyes were nothing like Rick's. I was thankful for this. And then she pulled her children forward. Ten-year old Bryce looked just like his father. Eight-year old Trace looked like Evie. And five-year old Savannah looked like…
"Why she is the spitting image of you, Eliza!" My mom said what we were all thinking.
"She is, isn't she?" My sister laughed and it was a happy laugh. It was the laugh I remembered from our childhood days.
And that's when I knew that everything was going to be alright.
And it was. From that time forward, the two sisters became friends again. Eventually they became best friends again. But that would take some time.
For this year, it was enough for me that we were together. It was the best Christmas gift ever!