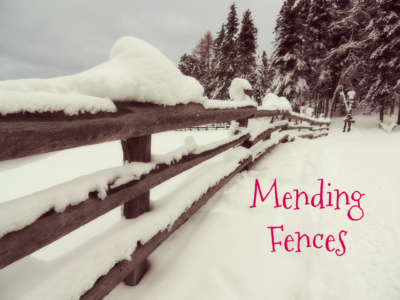 Many years ago, Eliza hurt Evie in an indescribably painful way. It has been years since they talked. Today it Part 4 of this tragic story–one that is all too common in so many families. Is this dynamic part of the fabric of your family life? Will everyone in your family be around the Christmas table this year? Is there anything you can do to change that? Is there forgiveness you can offer to someone? Is there a grudge you need to release? Or perhaps you need to extend a heartfelt apology? We can't control the other person's response to us. But we can, like Eliza, reach out and do our part. 
Romans 12:18 says "If it is possible, as much as depends on you, live peaceably with all men." Is there anything we can do during this holiday season to make sure we are living out this verse with our own families, friends, co-workers, and church family?
A little encouragement for today before we get into our story. And now–are you ready for Part 4? (Click here to read the rest of the story)
______________________________
The phone rang and I anxiously looked at the caller ID, praying I'd see my sister's name. It had been eight weeks since I had sent the letter and hope still surged in me every time I heard the phone ring. But I hadn't received a phone call, a letter, or an email with any indication that she had even gotten the letter. In fact, it was like I hadn't even sent it.
I answered the call and took care of a minor situation at work. It was my day off again and I had arranged to pick up Mom and meet Greta for lunch close to her school. It was almost Christmas now and holiday decorations and lights were everywhere. I loved this time of year!
I climbed in my Honda Accord and put on some Bing Crosby in preparation for Mom. She just loved listening to the tunes from her past. Especially the holiday ones. I think they reminded her of better days.
In an hour, Mom was in my car and we were driving as sporadic snowflakes fell around the car. The weatherman was calling for a couple of inches of snow later on in the day. I glanced up at the leaden sky, hoping it would hold off until we were all home.
Greta was waiting for us at the restaurant. I held on to Mom's arm as I led her over to the booth.
"Hi, Mom! Hi, Grandma!" Greta gave her a warm hug.
"Oh, hello, dear! How are you doing?" Mom's face always lit up in Greta's presence.
After ordering hamburgers and fries, we started talking about the holidays while we sipped on our cokes. It had been just the three of us since Dad had died and we chatted about our normal Christmas traditions. Greta suggested we start some new ones.
"I think we should build a gingerbread house. How about it, Gram? You want to help?"
"Sure, dear. I'll do what I can. I used to make some pretty good gingerbread in my day. I wonder if I can remember how?" Mom's brow crinkled as she tried to remember her recipe. As she and Greta talked about gingerbread, I thought of all of the heartache I had caused her and almost started to cry. Ever since I had sent that letter I seemed to be just a little more emotional. I just wished Evie would answer one way or another. But my hope was starting to dwindle now.
"Mom, are you okay?" Greta knew me so well.
"Sure," I gave a wry smile.
"Gram, Mom just hasn't been herself recently. Do you know what's going on?"
"I do not, but I most certainly agree with you. I have been thinking the same thing. What is wrong, Eliza? You haven't been yourself for weeks now," Mom's direct question made me squirm. Why couldn't I be a better actress? I really did not want to have this discussion.
"I'm okay—" I started.
With those words, my mom grabbed my hands and her green eyes—so like Evie's—grew very serious as she looked straight at me, "Honey, it's alright to say you'd rather not say but it is not okay to lie."
I looked at her. And then at Greta. And then I sighed as one small tear made its way down the right side of my face.
"Mom, what's going on?"
"Alright. I'll tell you. I decided to send Evie a letter, asking her one last time to forgive me. I thought it might be my Christmas gift to you both. But that was eight weeks ago now and she hasn't even bothered to respond. I guess I just need to realize that our relationship will never be healed. It is what it is. But it's hard."
Mom sighed and then said these wise words: "You know something I have learned through the years? Forgiveness is a two-way street. You can't force someone to forgive you. You did the right thing and I'm proud of you. The ball is in Evie's court now. Why don't we pray for her right now?"
And so we lifted Evie up to the Lord right there in the restaurant booth, begging God to help her to forgive me. Asking Him to soften her heart so that we could tell her what He had done for us.